Les Alpes de la Méditerranée (France)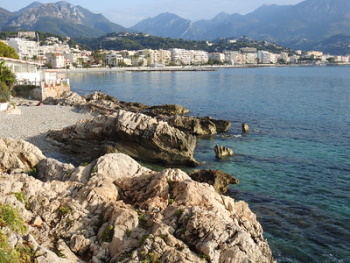 Les Alpes de la Méditerranée (France) is part of the Tentative list of France in order to qualify for inclusion in the World Heritage List.
Les Alpes de la Méditerranée are a region south of the Alpine chain that was formed 30 million years ago by a special tectonic phenomenon. The Mediterranean Alps represent an example of an active mountain range, still under construction, that was transversely ruptured by the opening of an ocean basin (the western Mediterranean). This process resulted in a unique topography and an altitude difference of almost 6000 metres from the peaks of the Argentera-Mercantour at 3300 metres to the sea ground at -2500 metres, with no coastal plain or continental shelf. This example contributes to the understanding of global tectonics and Earth history. The property includes both terrestrial locations and a maritime area in France, Italy and Monaco.
Map of Les Alpes de la Méditerranée (France)
Load map
The coordinates shown for all tentative sites were produced as a community effort. They are not official and may change on inscription.
Community Reviews
---
Visited in August, 2018. It is quite strange that nobody has ever described the places so far as all they look as very popular tourist destinations. From UNESCO heritage point of view it is an idea to put together the efforts of France, Italy and Monaco and inscribe part of Mediterranean Alps in those countries. Initially I intended to see the area in Monaco but since on our map it is placed in the middle of the ocean I opt for something more conventional and decided for French Mercantour National Park.
Stayed overnight in small village of Fontan (Chambres d'Hôtes Le Terminus, 63 Avenue Bottone, family owned with restaurant, budget / midrange accommodation). If you have your own transport it may be a good starting point to start exploration of the area (at least the eastern part of Mercantour National Park, around Mount Bego) but you can choose any other place around Tende. As the Park is accessible by foot only you can leave a car in numerous parkings around local road D91. Main idea was to visit Vallée des Merveilles (alpine valley with prehistoric rock art). I start from the side road –exact google location 44°06'49.8"N 7°29'42.3"E. The place is within park borders, there are also tables with maps of the area and basic information about the park
From this point there is also a hiking path towards Valmasque river and via Lac Vert to Vallée des Merveilles. The path is well marked and at the beginning quite flat and easy. After around 3-4 km it started to be steep and climbs up Refuge de Valmasque – mountain hut, beautifully located near Lac Vert (https://refugedevalmasque.ffcam.fr/reservation.html), nice area, attitude 2233 meters above sea level. From there additional 2 hours of mountain hike to Vallée des Merveilles and six- seven more hours to finish the loop around Bego massif. Since I started the journey too late I finally decided to go back using the same path. Anyway it was a great experience, views on the way were pretty spectacular. There were several chamoises on the way one of them you can see on the photo. This part of Alps is mostly build of limestone so it can be compared to Dolomites, Durmitor in Montenegro or (to some extend) Pirin in Bulgaria – at least the scenery is similar.
Later on, viewing the map, I realized that if you want to go just for Vallée des Merveilles the best place to start is somewhere around St Grat, leaving the car at the end of M171 (location: 44.07392099522017, 7.399967378553145). Once it is inscribed I will certainly come back to see much more, maybe other areas.
More about the park http://www.mercantour-parcnational.fr/en
Or https://www.tendemerveilles.com/ the latter page is more about Vallée des Merveilles
All photos are from areas inside Mercantour National Park bottom left, than clockwise: Lac Vert, Valmasque Valley, Valmasque Valley, Chamois.
---
Site Info
Full Name

Les Alpes de la Méditerranée (France)

Country

Added

2017

Type

Natural

Categories

Link
Site History
2019

Requested by State Party to not be examined
2017

Revision

Includes former TWHS Espace transfrontalier Marittime-Mercantour (Les Alpes de la Mer) (2013)
2017

Added to Tentative List
Visitors
80 Community Members have visited.