Verla Groundwood and Board Mill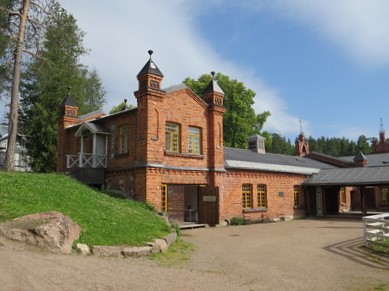 The Verla Groundwood and Board Mill is a well-preserved rural industrial settlement that was used for pulp, paper, and board production.
The ca. 50 buildings consist of the wood-processing mill, board-drying plant, storehouses, workers' houses and the owner's residence. The separate production area held water power plants. It has a forest setting where wood as a raw material and water as a source of energy were easily at hand. The mill was founded in 1882 and continued to operate until 1964. It produced mainly (paper)board for export to Russia, Europe and the USA.
Community Perspective: Join a tour of the interior as it explains the story of how the factory was run. Nan and Tsunami have described how to reach the site by public transport; unfortunately, the bus hours do not correspond well with the timing of the tours.

Map of Verla Groundwood and Board Mill
Load map
Community Reviews
---
Japan / USA / Europe - 16-Oct-19 -
I couldn't justify going back to Finland just to visit Verla Groundwood and Board Mill and Sammallahdenmäki to finish the Finnish sites. So, after realizing the Finland's geological similarity to Canada, where I have seen the most massive color change of foliage in Autumn, I decided to go to Finland in late September.
This trip was originally planned in late September 2018, but I had to postpone it for 1 year. At that time there was bus running between Kouvola and Verla only on Tuesdays. But this time it was running on Tuesdays and also on Thursdays. So I went on a Thursday.
https://www.matkahuolto.fi/en/
Last year when I planned this trip, I couldn't time myself on a Tuesday, so my plan was to take a bus that ran from Kouvola to Jaala several times a day on weekdays, to get off the bus at Selänpääntien risteys (61°02'25.8"N 26°33'14.7"E), and to walk for several kilo meters to Verla.
But this year the direct bus to Verla dropped me off right by the WH proper right before the visitor hut opened at 11 am, and I took a tour at 12 pm that lasted a little less than an hour.
But the only bus back to Kouvola left Verla at 5:30 pm, so I had to spend all afternoon at the WH proper, which wasn't so bad until the area closed at 4 pm.
Besides the cardboard-producing Mill, the site also offers the original owner's house, a new monument for pine seeds that will apparently sustain life in the surrounding forest, 3 local craft shops, a cafe and a large rock with "rock art" on the lake.
When I went to see the rock art, I was completely puzzled because I could not locate such rock art. Unlike some other WHSs in Scandinavia with rock engravings, these are just paintings on the rock that have completely faded away by now. A girl at the visitor hut stated that Astuvansalmi, which is a TWHS in Finland that she had visited, had the largest numbers of rock paintings in Finland where they were still clearly visible.
The hearty potato soup with salmon the cafe was serving for lunch may well be the best Finnish food I have ever had. I thought what was wrong with Jacques Chirac who declared back in 2005 that Finnish food was the worst in Europe? A few hours later I read in the news that Chirac passed away on that day. (A few days later I was surprised to find the same soup at a restaurant in Ukraine, listed in the menu as Finnish Soup.) I spent the remaining afternoon working online at the cafe.
The photo shows the 420,000 pine seeds at the monument. As far as the Autumn color goes, the pine seeds signify that many trees in Finland are evergreens.
Read more from Tsunami here.
---
Verla is a well-preserved example of a 19th century Finnish wood processing plant. The most renowned product in Finland was the cardboard that was used to print maps on display in Finnish schools. At least, that's what our resident Finnish traveler - Juha - mentioned over beers in Helsinki.
The mill remains in a mostly original, 19th century state. Because of size limitations, the owners never extended or modernized the mill. Instead, the company slowly phased it out. They continued to operate it in the traditional way until the last workers reached retirement age (1960s).
While interesting and somewhat fitting for a country, that produces loads of timber, Verla is not a great site. It's relatively recent (late 19th century) and of a rather small scope given the period. The comparison that came to mind is Engelsberg, but that site is a century older.
Getting There
In summer (roughly June to early September), and then only on weekends, there are two daily shuttle rides from Kouvola station to Verla. These continue to Repovesi National Park. Outside summer or on a weekday, I am not sure how you can manage. The only recommendation I found online was to rent a bike.
The bus itself is new and really comfy. It was paid for by the EU. The region tries to boost tourism. On summer weekends, the bus does a morning round (2019: 9:15-10:00, returning 11.40-12:25) and an afternoon round (13:10-13:55, returning 15:35-16:20). 1:30h is enough to visit the site, but the guided tours are not well scheduled with the bus arrival and departure times. To catch my return ride and not wanting to spend the remainder of the day in Verla, I had to cut the guided tour short and left half way through. If you plan to do the same, give the guide a heads up.
In Kouvola, the bus to Verla departs outside the train station and is easy to spot. In Verla, the drop-off point is also the pick-up point for the return trip. In my case the bus ran early, but at each stop we waited for the scheduled departure time. To pay for the ride, you need cash (5€ each way).
To get to Kouvola from Helsinki take a train. These do not run hourly, so expect to spend some time hanging around the train station. After my visit, I continued - again via train - from Kouvola to Petäjävesi (two transfers). What should have been a relaxed trip was quite nerve-wracking because of a delay. I was worried to miss my connection and end up somewhere in the country side. Fortunately, Finnish Rail made an effort to ensure the connections and all worked out fine.
Final remark: Getting public transport information in Finland is harder than it should be. There is no central search engine available. You need to check bus connections and trains separately. Also note that Google Maps is incomplete. If you can choose between bus and train, I would opt for the bus.
While You Are There
In Verla you can also see a small rock art site. Repovesi National Park seems nice.
---
This was the second site we visited on our tour through Finland. Generally speaking I've quite enjoyed industrial Heritage sites like those in Germany and England, and I quite enjoyed this one as well. The large main mill building is excellently preserved, and is apparently much as it was when the factory shut down in the 1960s.
The first stage of the mill tour involves watching a film that details the workflow of the mill, showing how the raw logs were eventually turned into cardboard and the like. It was quite cool to walk out of the presentation room into the factory proper, and see the exact same locations and machinery we'd just seen on the screen - a little jarring, but cool in its own small way.
Around the mill itself there's also the large owners house which is quite impressive, along with several other outbuildings of the mill. We spent a bit of time wandering the grounds, though the highlight was definitely the mill building. The cafe in one of the buildings had some tasty local Finnish specialties which we hungrily devoured!
My only real complaint with this site was that photos and videos weren't allowed inside! I'm really not sure why - there isn't delicate painting to be protected, no trade secrets, and it's definitely not crowded enough to be a crowd management issue either. Maybe they've had problems with people filming the tour guides? Either way, we found it strange and it made for a rather difficult video!
Read more from Joel on the Road here.
---
3.00 The Netherlands - 27-Jul-13 -
I kicked off my long weekend trip to Finland with a visit to the Verla Mill. I had stayed overnight near Heinola, already en route between Helsinki and Verla. I arrived in Verla around the opening hour at 9.30 am after an uneventful drive and decided to have a look first at the rock paintings at the nearby lake. They apparently show a row of reindeer, but even using the largest zoom on my camera I couldn't make the scene out.
The old Verla settlement has a similar setting to the Engelsberg Ironworks in Sweden. A handful of wooden red buildings were scattered around. Nothing too special at first sight. Fortunately this time I could join a tour of the interior, something that should not be missed as it tells the story well. I had to share my tour with about 30 recent immigrants to Finland, who were learning Finnish and so the tour was conducted in that language only. I was provided with a leaflet in Dutch however that explained the main facts about the locations we visited.
The tour starts with an impressive short film that shows the mill in operation (starring elderly employees, probably the film was shot in the last days of the factory's existence). Verla was a cardboard factory, and the whole elaborate process is shown. The horses, the men, and the women all had their specific tasks. You're not allowed to take pictures inside, but John Booth (see photo beside his review below) has been naughty and caught a glimpse of what it looks like.
The site is quite popular with visitors, maybe because it is within driving distance from Helsinki. It has two souvenir shops and a café to cater to them. The guided tour costs 8 EUR, but you can roam around freely among the historic buildings.
---
Reaching Verla requires careful planning as there is a bus service from Kouvola twice on Tuesdays only. So I went on the morning bus, spent the day visiting the site which covers a large area on the bank of the Kymi River. A delicious buffet lunch is served in the refectory. And there are walks into the village and the surrounding birch forest.
The river at one time formed the boundary between Sweden and Russia, and the remains of the old customs house can be seen. There are also some ancient rock engravings to be seen on a cliff overlooking the river. I returned to Kouvola on the afternoon bus.
---
Verla is a rather small place in the forest. It's about 150 km to go from Finnish capital Helsingfors.
Verla is a very well restored mill. It is small scale and easy to understand. The surroundings are nice. If you are intersted in industry heritage, this is good. Minor problems are that there is no connection with the social situation for the workers like some houses where people lived, some church and other social arrangements. The exhibitions in other languages than finnish is poor but nice books can be bought. One thing that may seem peculiar today is that the works seems to have been runned the last 10 years 1955-64 without profit just to make a socially acceptable exit so that workers could retire. That is only 50 years ago but would be impossible in todays fast and unresponisble economy.
---
Site Info
Site Links
Unesco Website
Official Website
In the News
Visitors
91 Community Members have visited.