Three parallel rivers of Yunnan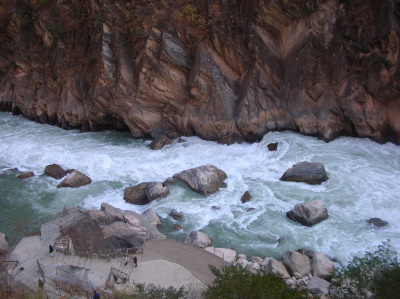 The Three Parallel Rivers of Yunnan Protected Areas represent a landscape of river gorges and high mountains.
The areas contain the watershed areas of the Yangtze (Jinsha), Mekong (Lacang) and Salween (Nujiang) rivers and glaciated peaks of over 6,000m altitude. It also has significant geological value, with it being on the "collision point" of tectonic plates and holding landforms such as alpine karst and alpine Danxia.
Community Perspective: Although this is mostly high mountain scenery no one will get to, a few component parts are accessible from the city of Zhongdian/Shangrila, including the Tiger Leaping Gorge, Podatso National Park (see Jarek's review), Balagezong Scenic Spot and Napa Hai (labelled as an "influencing area").

Map of Three parallel rivers of Yunnan
Load map
Community Reviews
---
There are pleasant experiences that fade in your memory over time, and there are experiences that will remain embedded for the rest of your life. My two-day hike of Tiger Leaping Gorge will stay with me, clearly and fondly. The colourful mountains, the gorge, and the pleasant mountain villages along the way make this hike unforgettable.
First, a general overview of the hiking trail:
The trail is fairly easy to follow, although not consistently marked. There were couple of instances where we missed a turn, but village folks were able to point us to the right path fairly quickly.
The trail is not technically challenging, but portions of the trails are on the cliff's edge. A very unfortunate misstep could result in serious injury or death, but as long as you are not intentionally walking on the very edge of the trail, you should be safe.
There are some switchbacks and inclines that will strain most hikers' energy, especially in heat. We hiked in April (so not in the middle of the summer) but I found myself drinking copiously every few steps upwards. A person of average fitness should be able to complete the hike in 1.5 to 2 days.
There are number of guesthouses along the trail. Halfway Guesthouse has unreal scenery from their patio (and washroom).
When we hiked (April 2019), there were few hikers but not very many, especially as the hikers from the bus that we took dispersed throughout the day. For most of the hike, we were the only hikers within our sights. There were road and bridge constructions happening when we were there, and knowing the Chinese authorities' affinity for mass tourism, I wouldn't be too surprised if the trail become less "wild" sometime in the future.
Moving on to the more finer practical details:
It's easy to get to the Tiger Leaping Gorge trailheads from Lijiang (another UNESCO World Heritage Site). From Lijiang, you should be able to find or arrange - ask your lodging - a morning bus to Qiaotou or other Tiger Leaping Gorge access points.
We started the hike at the village of Qiaotou. From Qiatour to the start of the actual trail is unimpressive.
Halfway Guesthouse is a convenient place to stop your first day of hiking. If Halfway is full, there should be other less famous guesthouses that you could try. Interestingly, Halfway Guesthouse is located more than halfway of the typical two-day hike that most people do. Meaning, your second day will be shorter and easier.
Many people stop their hike at Tina's Guesthouse, where you can catch a bus back to Qiaotou and Lijiang. You could also extend your adventure by hiking to Walnut Garden.
From Tina's Guesthouse, there are several paths down to the river. Even though it was downhill, I found the hike very tiring.
From the gorge, you can climb the "Sky Ladder" rather than slogging your way through multiple switchbacks. Ladder to the Sky is literally a ladder on a cliff face. Even four years later, I am amazed that my desire to avoid switchbacks was greater than my concern for falling to my death. On the ladder, I was very focused in making sure that my one hand was securely gripping a rung before I released the other hand to reach for the next rung.
Oh, did the site have Outstanding Universal Value? I don't know. I was too focused on the view. And not falling off the ladder.
---
Graham
The other reviews are all centred around the Yangtse river. But there are 3 rivers and the Salween in the far west is more remote and unspoilt. It takes 2 days to get to the best bits from Dali in the south but it's worth it. A real adventure!!
---
Visited November, 2012. It is not an easy site to visit. It is not easy to mark precisely what was really inscribed as three parallel rivers. There are no good maps available in Yunnan. I have to do a lot of paperwork before going there and found out that the easiest way to visit one of the inscribed areas is to go to Shangri-La (former Zhongdian) and try to reach the site from there.
Shangri-La has its own charm (and it is good to stay there for some time, city is very interesting including old town, as well as surrounding countryside) and located nearby Podatso (Potatso or Pudacuo) National Park which is part of Haba Snow Mountains Area and one of the inscribed UNESCOs.
The park is 22 km from the town by good asphalted road. I am not sure about a public transport there but you can easily arrange a tour from Shangri-La or go there by bike (that I did). To get there it is about 2 hours (the road goes really through the mountains). Once you arrive at park entrance (visitors center) you should buy very expensive ticket to go through (in fact it was the most expensive entrance fee I have ever encounter in China - 190 Yuan).
For that price you get free bus transportation inside the park and the possibility of perform different treks inside. The most popular is around Shudu Lake (approx. 4 km, photo attached, google coordinates 27.905487, 99.948334) and on the banks of Bita Lake (similar distance, google coordinates 27.822645, 99.987970). Transportation between treks is assured by the same free bus. Another interesting place is Militang - huge meadow surrounded by small hills. The landscapes are amazing, be aware that you are located at the attitude over 3.500 meters above sea level, Militang is even higher at around 3700.
Other option to see the world heritage area around Shangri-La is to go to Balagezong Scenic Spot (National Park). It is located some 70-80 km north of the town, and there are daily tours the town (I found one agency offering tours for 50 Yuan per person but they required 3 person as a minimum)
---
Anthony Sun
These sites are always hard to determine whether you have visited them. However my guide when I visited ShangriLa from Lijiang in October of 2008, confirmed that Tiger Leaping Gorge is part of Haba Snow Mountain and then in ShangriLa I visited the Potatso National Park and found that Bita Lake is located in the park. Both Tiger Leaping Gorge and Potatso Park are very popular local tourist sites and should be the destination for anyone who wants to check this WHS off their list.
---
P. Welch
I've been twice in the last 20 months to this area because I found it so beautiful the first time (April 2004). But when I returned a few weeks ago (November 2005), I found so much development going on that I had the feeling one needs to travel quickly to this area before it loses all its natural charm. Very modern four and six-lane highways are being put up--wonderful in some regards, but isn't part of the romance of a place getting there? Modern, gleaming gas stations are springing up to support the road networks. China Mobile cell phone towers are everywhere, creating wonderful cell service but definitely not wanted in the scene view. The city of Dali seems to be in competition with the city of Lijiang; they're now building their own "old town completely with running spring". Zhongdian meanwhile is building its own new "old town" -- and all of these while featuring quaint cobbled streets and Naxi and Tibetan houses, sell the most dreadful tourist trinkets (plastic "Tibetan" beads, tin "silver jewelry", fake old coins, Tibetan "dreamcatchers", Naxi t-shirts, etc. etc.) We returned to a wonderful valley near Zhongdian to discover it had turned into a major construction site where they are building--yes! another new "old city" and a chairlift to haul hundreds of tourists daily up over the once pristine valleys and peaks. Pretty soon we'll probably have white water rafting camps along the rivers. Can't something be done to explain that these sites should be preserved, that they are a part of our natural heritage and heritage they already have (or had). You can't build heritage. What I discovered was the real culture being destroyed for a new Epcot style "cultural experience for tourists". Go quickly.
---
3.00 The Netherlands - 25-Oct-94 -
In 1994, I travelled around Yunnan Province for one month. It was one of the best trips of my life, and still at the right moment. Kunming was just starting to become a big, modern city and Lijiang and Dali saw the first influx of tourists. However, I did visit more remote places during that trip, of which Zhongdian stands out the most. We arrived after a long bus trip by night through the mountains. The air was thin, making the climb to the first floor of our hotel already difficult.
In the next days, we explored the surroundings. With a car and a female driver (I still clearly picture her immaculate white gloves), we went on a day trip to (what I now think was) Napa Hai. Writing this review, over 10 years later, the memories of the heavenly landscape all come back. The fresh mountain air, the endless views over the plateau, the yellow hey stacks, the rivers and lakes, numerous yaks. Still sunny in October, we enjoyed just strolling around, having small talk (the mime-type) with local women doing their laundry in the streams (members of the minority groups that populate this area).
I have been hesitant to add this site to my Visited list, mainly because it's not very clear what exactly belongs to the "Three parallel rivers of Yunnan protected areas" and because I didn't write down the names of the places visited in 1994. After some research, I believe the place I went to was Napa Hai, and that is included in the protected areas.
Zhongdian was renamed Xianggelila a few years ago, marketing itself as the spot of James Hilton's mythical Shangri-La. The town itself certainly isn't, but its surrounding Tibetan countryside - well, it could be!
---
Site Info
Full Name

Three parallel rivers of Yunnan protected areas

Unesco ID

Country

Inscribed

Type

Natural

Criteria

7

8

9

10

Categories

Link
Site Links
Unesco Website
Official Website
In the News
Visitors
96 Community Members have visited.