Three parallel rivers of Yunnan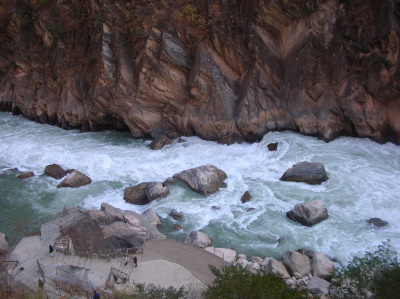 The Three Parallel Rivers of Yunnan Protected Areas represent a landscape of river gorges and high mountains.
The areas are situated in Yunnan Province, south-west China. The site consists of 15 protected areas (in eight geographic clusters) in the mountainous northwest of the Province. It extends over a total area of 1.698.400 ha, encompassing the watershed areas of the Yangtse (Jinsha), Mekong (Lacang) and Salween (Nujiang) rivers.
The protected areas include:
- Gaoligong Mountain Nature Reserve
- Baimang Snow Mountain Nature Reserve
- Haba Snow Mountain Reserve
- Bita Lake Nature Reserve
- Yunling Nature Reserve
- Gongshan Area
- Yueliangshan Area
- Pianma Area
- Meili Snow Mountain Area
- Julong Lake Area
- Laowoshan Area
- Hongshan Area
- Qianhu Mountain Scenic Area
- Laojun Mountain Scenic Area
Map of Three parallel rivers of Yunnan
Legend
Visit October 1994
In 1994, I travelled around Yunnan Province for one month. It was one of the best trips of my life, and still at the right moment. Kunming was just starting to become a big, modern city and Lijiang and Dali saw the first influx of tourists. However, I did visit more remote places during that trip, of which Zhongdian stands out the most. We arrived after a long bustrip by night through the mountains. The air was thin, making the climb to the first floor of our hotel already difficult.
In the next days we explored the surroundings. With a car and a female driver (I still clearly picture her immaculate white gloves) we went on a day trip to (what I now think was) Napa Hai. Writing this review, over 10 years later, the memories of the heavenly landscape all come back. The fresh mountain air, the endless views over the plateau, the yellow hey stacks, the rivers and lakes, numerous yaks. Still sunny in October, we enjoyed just strolling around, having small talk (the mime-type) with local women doing their laundry in the streams (members of the minority groups that populate this area).
I have been hesitant to add this site to my Visited list, mainly because it's not very clear what exactly belongs to the "Three parallel rivers of Yunnan protected areas" and because I didn't write down the names of the places I visited in 1994. After some research I believe the place I went to was Napa Hai, and that is included in the protected areas.
Zhongdian was renamed to Xianggelila a few years ago, marketing itself as the spot of James Hilton's mythical Shangri-La. The town itself certainly isn't, but its surrounding Tibetan countryside - well, it could be!
Community Reviews
---
---
---
---
---
Community Rating
Community Rating 4.10. Based on 5 votes.
Site Info
Full name: Three parallel rivers of Yunnan protected areas
Unesco ID: 1083
Inscribed: 2003
Type: Natural
Criteria: 7 8 9 10
Site Links
Unesco Website
Official Website
Related
In the News
Connections
The site has 27 connections. Show all
Visitors
69 community members have visited Three parallel rivers of Yunnan. Show all