Sanchi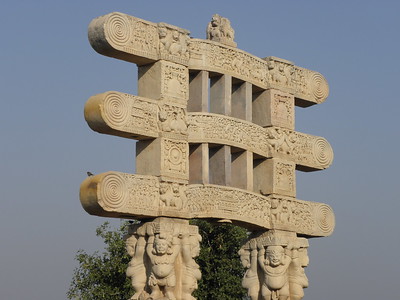 The Buddhist Monuments at Sanchi represent the remains of an ancient major Buddhist sanctuary.
The site is known for its sculptured decorative work in stone of high artistic quality, notably in Stupa no. 1 and 3. It also holds the enshrined remains of two chief disciples of Buddha, and therefore has stayed a place of pilgrimage. The site has ruins of about 50 monuments, among them are three large stupas, temples, a monastery and monolithic pillars.
Community Perspective: The main stupa at the hilltop is definitely the most eye-catching sight here. The site can be visited as a day trip from Bhopal, combined with the Rock Shelters of Bhimbetka. The best time for photography is in the late afternoon.
Community Reviews
---
Visited this WHS on the same day I visited another WHS, Bhimbetka caves. At morning 9, except myself and another Bengali Family, site was empty. No English guides were available at that time. Used wikipedia as my guide material.
Wikipedia has excellent information about the Toranas, which have carvings in the stones as if they are carved on wood. Such precision. Lord Buddha is represented as different animals, Bodhi Tree, stupas in those carvings(Toranas). 
There are some old non functioning temples too were there. Spent close to 2 hours in the site. This site is must visit for any history/architecture lovers.
---
5.00 The Philippines - 01-Feb-18 -
Sanchi is a pleasant site to visit and going there is convenient too from Bhopal. I went to this WHS via train, and came back on a bus, both took less than an hour. The Great Stupa is surprisingly the most well-preserved structure there and it could, in my opinion, easily have been a WHS on its own as a single monument for its history and high level or artistry. The elevated site is relatively large with various ruins of other Buddhist temples and shrines. I enjoyed some good 2 hours on site, absorbing all the details, of which some date back to 300BC -- it is after all the oldest standing stone structure in the subcontinent. The museum at the base is also interesting, most especially the stone pillars with erotic scenes displayed in the garden.
The Sanchi stupa is similar to other great stupas in a way that it was built on top of a hill. It might even have been the precedent for such planning and layout, which was applied to the much younger Borobudur, Wat Mahathat in southern Thailand, and even Dambulla.
---
I visited this WHS in November 2016. It is an hour away from Bhopal and two hours away from Bhimbetka.
The Great Stupa is the oldest stone structure in India and the main highlight of this stupa as well as of Stupa 3 are the elaborately carved toranas or ornamental gateways.
They are truly of OUV and almost in pristine condition. There are also other minor remains of pillars, temples and unfinished stupas as well as an informative museum down hill from the stupas so allow at least 3 hours to visit thoroughly.
There are 2 UNESCO inscription plaques (one in brass similar to the others in Karnataka and one in marble) near the entrance to the site. Best time for photography is in the late afternoon.
---
3.50 The Netherlands - 02-Feb-11 -
I was the only visitor here, having arrived already at 8.50 a.m. after a 7.30 start from Bhopal. The 250rs entry ticket has to be bought at the base of the hill, where there is also an archeological museum (which I did not visit). Then a steep uphill climb follows, fortunately I had a car to take me. There was no one to check my ticket at the gate. But I did not surprise the suddenly appearing security lady - I had to open my bag to show nothing was in it besides a bottle of water, a notebook and a pen.
The main stupa at the hilltop is definitely the most eye-catching sight here. You'll have to come in the late afternoon however to get really great pictures of it. The stupa looks like a stupa always does, a perfect dome. Wonderful are its four sculptured gateways, they are the main reason for turning this site into a WHS. Taking their age into consideration, the quality of the sculptures is really unique.
The base of the stupa also has inscriptions of donations given by devotees – a practice that obviously predates the namedropping at western museum collections nowadays. The four gateways lead to a Buddha statue each. Although most of the on-site carvings are in perfect condition, 3 out of 4 Buddhas have their heads smashed in. Probably not a coincidence. The stupa has two ambulatories, by which I "climbed" it.
There are a number of other Buddhist monuments at this sanctuary, none of them however can rival the main Stupa. Stupa no. 3 lies next to no. 1, and is a smaller and less elaborate version of it. Stupa no.2, which is located a few 100 metres downhill from the main complex, is even simpler. On your way there you'll pass the remains of a large monastery and a giant stone begging bowl.
My site visit lasted about 80 minutes. Afterward, I went on directly to the Rock Shelters of Bhimbetka, which are located about 1.5 hours away on the other (south) side of Bhopal. In total it took me 6.5 hours to take in both WHS on the same day, so I arrived back in time at the hotel for a late lunch and an afternoon relaxing at the pool reading a book on early Indian history. A very satisfying day!
---
North of Bhopal, on a small hilltop is some of the oldest and most interesting Buddhist sites in India – the monuments of Sanchi. History tells that when emperor Ashoka once embraced Buddhism he built his first "stupa" at Sanchi and later several more, as well as other religious structures. Some centuries later, when Buddhism was slowly absorbed into Hinduism, the site was forgotten and not rediscovered until 1818 by the Brittish army.
The gates to the stupas – the "toranas" are the real highlight of Sanchi. Absolutely brilliantly carved stone depicts episodes of Buddas life and it is said that the toranas are possibly the best and finest Buddhist art in India.
---
Site Info
Site Links
Unesco Website
Official Website
In the News
Visitors
70 Community Members have visited.