Sanchi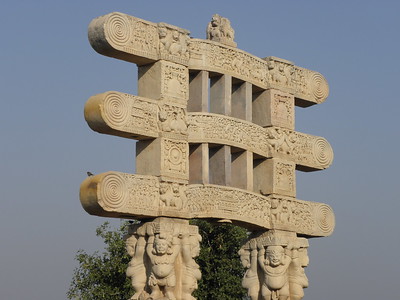 The Buddhist Monuments at Sanchi, especially the sculptured decorative work on the four gateways of Stupa no. 1, comprise an unrivalled masterpiece of Early Buddhist Art.
The site has ruins of about 50 monuments, among them are 3 large stupas, temples, a monastery and monolithic pillars. Sanchi was a major Buddhist sanctuary from the 3rd century BC til the 1st century AD.
Emperor Asoka converted to Buddhism around 250 BC, and founded a sanctuary here. He also had a 12m high stone column erected with his edicts on it.
Stupa no. 1, or the 'Great Stupa' is the principal monument. It has porticoes with stone railings and is over 16m high. It is particularly famous for the extraordinarily rich decorative work on the four monumental gateways or torana that provide access. The essential theme represented in the decorative work revolves around the former lives of Buddha.
There are two other stupas on site, both dating to the 2nd century BC. All stupas are crowned by a chhatra, a parasol-like structure symbolising high rank, which was intended to honour and shelter the relics.
The Buddhist monuments at Sanchi were rediscovered in 1818, after having been overgrown for over 600 years.
Visit February 2011
I was the only visitor here, having arrived already at 8.50 a.m. after a 7.30 start from Bhopal. The 250rs entry ticket has to be bought at the base of the hill, where there is also an archeological museum (which I did not visit). Then a steep uphill climb follows, fortunately I had a car to take me. There was noone to check my ticket at the gate. But I did not surprise the suddenly appearing security lady - I had to open my bag to show nothing was in it besides a bottle of water, a notebook and a pen.
The main stupa at the hill-top is definitely the most eye-catching sight here. You'll have to come in the late afternoon however to get really great pictures of it. The stupa looks like a stupa always does, a perfect dome. Wonderful are its four sculptured gateways, they are the main reason for turning this site into a WHS. Taking their age into consideration, the quality of the sculptures is really unique.
The base of the stupa also has inscriptions of donations given by devotees – a practice that obviously predates the namedropping at western museum collections nowadays. The four gateways lead to a Buddha statue each. Although most of the on site carvings are in perfect condition, 3 out of 4 Buddhas have their heads smashed in. Probably not a coincidence. The stupa has two ambulatories, by which I "climbed" it.
There are a number of other Buddhist monuments at this sanctuary, none of them however can rival the main Stupa. Stupa no. 3 lies next to no. 1, and is a smaller and less elaborate version of it. Stupa no.2, which is located a few 100 metres downhill from the main complex, is even simpler. On your way there you'll pass the remains of a large monastery and a giant stone begging bowl.
My site visit lasted about 80 minutes. Afterwards I went on directly to the Rock Shelters of Bhimbetka, which are located about 1.5 hours away on the other (south) side of Bhopal. In total it took me 6.5 hours to take in both WHS on the same day, so I arrived back in time at the hotel for a late lunch and an afternoon relaxing at the pool reading a book on early Indian history. A very satisfying day!
Click
here
to see more of my photos of Sanchi
Community Reviews
---
---
---
---
---
Community Rating
Community Rating 3.79. Based on 7 votes.
Site Info
Full name: Buddhist Monuments at Sanchi
Unesco ID: 524
Inscribed: 1989
Type: Cultural
Criteria: 1 2 3 4 6
Site Links
Unesco Website
Official Website
In the News
Connections
The site has 11 connections. Show all
Visitors
44 community members have visited Sanchi. Show all