Safranbolu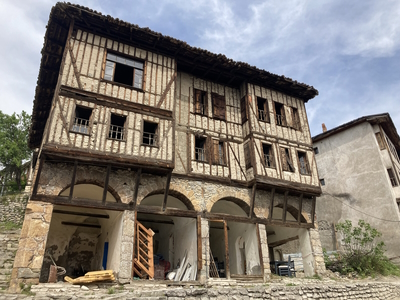 The City of Safranbolu is an example of a typical Ottoman trade town. It has played a key role in the caravan trade on the main route between Europe and the Orient.
The Old Town preserves many old buildings, with 1008 registered historical artifacts. These are: 1 private museum, 25 mosques, 5 tombs, 8 historical fountains, 5 Turkish baths, 3 caravanserais, 1 historical clock tower, 1 sundial and hundreds of houses and mansions. Also there are mounds of ancient settlements, rock tombs and historical bridges. The Old Town is situated in a deep ravine in a fairly dry area in the rain shadow of the mountains.
The name of the town derives from saffron, since Safranbolu was a trading place and a center for growing saffron.
Community Reviews
---
I visited Safranbolu as my first stop for 2 nights during my Spring 2021 road trip round Turkey. Having previously visited Istanbul and Edirne already, and due to the interstate lockdowns and restrictions imposed after Ramadan, I decided not to risk getting blocked in Istanbul so I drove straight to Safranbolu during the early hours of the day upon arrival in Istanbul Grand Airport.
Safranbolu is a typical Ottoman city made up of several small districts or neighborhoods with typical buildings and streets. It played a key role in the caravan trade over many centuries and even though the city underwent a deep process of industrialisation due to the huge iron and steel enterprises in the 20th century, the traditional aspects of the Ottoman city surprisingly remained pretty much intact. Even though the city lacks the iconic monuments of Bursa for example, its ensemble is much more unique as an Ottoman city and this can be admired from the several panoramic viewpoints around the city.
Three distinct historic districts are listed in this WHS: Çukur, the central market place area of the inner city, Kıranköy and Bağlar (the vineyards). Çukur lies in the lower part of Safranbolu bordered between two rivers. Here the highlight for me was wandering around the curvy narrow streets of the market, which are surrounded by the houses and workshops of Anatolian craftsmen and "nomads" who in the past continously left Asia.
In contrast, Kıranköy was formerly a non-Muslim district, with a socio-architectural pattern similar to that of contemporary European towns, with the artisans and tradesmen living above their shops and organised in guilds. The houses in this district are built of stone, in contrast to the wooden houses in Çukur, which illustrates how the separation of Muslim and non-Muslim quarters during the Ottoman Period enabled each community to establish settlements according to their own traditions. The crescent sign painted on most of the houses outside this district reminded me of the division of districts in Alcala de Henares in Spain. The Bağlar (vineyards) district consists of single houses set within large gardens. This district lies on the northwest slope of Safranbolu, looking to the south, and was the summer resort for the city.
Several residences in Safranbolu have been bought and restored by boutique hotel owners during the last decades. However, the city doesn't seem to suffer from overcrowding, and it still is resisting the temptation to be fully converted into a museum city. Especially very early in the morning around sunrise, it was a pleasure to wander about in the meandering streets following the irresistable scent of freshly baked bread from the only "simit" baker in town and watching locals gather for morning prayer in the several mosques. The only minor difficulty was trying not to slip on the cobble stoned streets which were still wet with morning dew the first time I visited. I wouldn't imagine walking here when it is raining or snowing!
The best panoramic viewpoints are from the Old Government House and Clock Tower also known as Kent Museum (free and terrace always open) or from the newly restored Hidirlik Tepesi panoramic terrace (small payment and not always open which can be a pain if you want to get good morning light for photography). From both opposite viewpoints (each with their own black and gold UNESCO WHS inscription plaque), the multi-chimneyed Cinci Hammam and the Köprülü Mehmet Pasa Mosque will stand out and are worth visiting together with the Cinci Hani caravanserai in the old town district of Çarsi. If you have time and don't mind some hiking, the Küre Mountains, Yörük Köyü (Nomad Village), and the Incekaya Aqueduct are definitely worth a visit.
All in all, I think Safranbolu possesses OUV as one of the few remnants of traditional Ottoman cities. In a way, its half-timbered houses with antlers hanging from the rooftops reminded me of the old town of Ohrid in North Macedonia and even though I haven't visited, it makes me curious to visit scenic Berat in Albania which in a way seems comparable. It also made me look deeper into the several listed caravanserai and Seljuk monuments around Turkey which make up 2 separate but very interesting tentative WHS. For centuries, the caravan trade was the main commercial link between Asia and Europe. As a result, characteristic towns such as Safranbolu developed along its route up until the emergence of railways in the 19th century which brought an end to the caravan trade.
---
Safranbolu was our first stop during our trip to Turkey in late April / early May 2019. Going there by car is quite easy, from Istanbul it takes around 4 hours, mostly on highway Istanbul-Ankara. Proximity of Istanbul makes Safranbolu a popular site – there were quite many tourists on Saturday afternoon, but mostly Turkish and only a few foreigners.
Safranbolu was inscribed for well preserved center, being a good example of a typical Ottoman city of pre-industrial era. And indeed it seems really authentic and most of the buildings saved their original shape with white walls and brown wooden frames. Many of them serve as restaurants, guest houses or handicraft shops. One of the most symbolic buildings is local hammam Cinci, located near the main square, with conspicuous number of domes.
To fully admire the beauty of the town, one must climb up the hill with former palace, serving as local museum. It is not far away from the center and the panorama makes the short climb worthwhile. The museum is also quite interesting and presents daily life of craftsmen and merchants centuries ago.
The town's name comes from saffron, a spice that still is produced nearby. Safranbolu is proud of its saffron heritage – there is a big monument of this plant in the center, you can eat saffron ice cream or buy saffron soap, perfumes etc.
Overall, Safranbolu is a very nice town which is worth a visit. It is not very big so a couple of hours would suffice, although those who decide to stay overnight won't be bored.
---
August 2008. Safranbolu is a lovely old town stuffed with the beautiful wood frame houses built by the merchants. Some of these are open as museum houses, others have been turned into guest houses - some well, others not. Very relaxing to wander round the narrow lanes of the old town, scramble up to the castle and clock tower for a panoramic view, take a tour of some surrounding areas to take in the caves, the ancient aquaduct. Doesn't feel over-run by tourists.
---
Site Info
Full Name

City of Safranbolu

Unesco ID

Country

Inscribed

Type

Cultural

Criteria

2

4

5

Categories

Link
Site History
1992

Deferred

More Info on boundaries
Site Links
Unesco Website
Official Website
In the News
Visitors
93 Community Members have visited.