Peninsula Valdes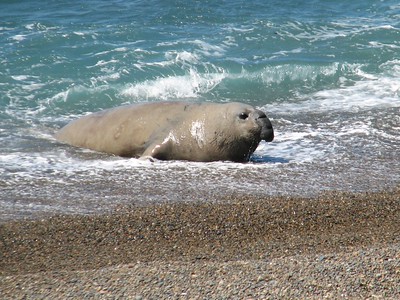 Península Valdés is the natural habitat of the endangered southern right whale. The peninsula also holds important groups of elephant seals, sea lions and orcas (a.k.a. "killer whales").
With an isthmus of only 11 kms wide, the Valdes Peninsula is almost an island. It has a dynamic coastal zone with active sand dunes. There are also numerous cliffs, bays and lagoons. The interior of the land is Patagonian desert steppe. The climate is dry with strong winds.
Southern right whales come to these bays to breed and give birth between June and December. They number circa 3000. The whales can be up to 17 meters long and weigh 100 tons. The orcas in these waters have developed a unique and successful hunting strategy: they chase small sea lions or elephant seals into the shallow surf until the beach, where they grab them.
Community Reviews
---
I have visited Peninsula Valdés beginning of December 2022. I was staying in La Tosca Hostel in Puerto Madryn with my girlfriend and we decided to rent an (expensive) car for two days to visit the Península for two days. The car cost 56.000 ARS which was at this time about 80€ per day with the beneficial Westerm Union Blue Dollar rate to obtain Pesos. Petrol for 2 days would cost around 10.000 ARS for about 500-600 km that we drove. In the hostel we were able to take two other travellers with us for the first day so we could share the experience and cost with them which made it for this day slighly less expensive for us than a guided tour in addition to the fact that we do not like guided tours that much as we prefer to take our own speed.
The drive onto the peninsula is already almost an hour from Puerto Madryn. You will pass by an entry point on which you need to pay the entry fee for the park. After another half an our of driving you will reach the info center which will give you information on flora and fauna of the peninsula. However the information e.g. on Orcas in the water is even within the info center contradictory. So we found it a bit tricky. There is also a viewpoint from which you can see over the landscape which looks pretty much like the rest of the region (many bushes, almost no trees, quite dry).
From the visitor center there is a 5 km drive to Isla de los pajaros which you can see from the shoreline. It´s nice because the legend says that the form of the island inspired Antione de Saint Exupery for his picture with the hat that looks like a Boa swallowing an elephant. Also you can see some of the bids from distance like penguins.
The rest of the peninsula is very huge. There are only a few points worth the visit like Punta Norte, Punta Delgada and Caleta Valdés. In two days we drove almost 500 km on gravel roads to reach the points (Caleta Valdés twice as we were hoping to see Orcas coming to the beach, but we were unlucky probably because it was too windy.). As a driver I must say I´m not sure if I might have preferred in this case the tour instead of the own car as not that much individualization of the trip was possible by having an own car and it´s obviously more exhausting to drive with a normal car on the gravel roads all the time plus you also have to drive a lot to reach the different spots. The advantage was that we could make a stop here and there to see some of the land animals like rabbits and mainly guanacos aside the road. At the shore points we were not that lucky. We´ve seen the penguin colony which is great as the penguins come really close. The sea elephant and sea lion colony can be seen from the top of the reef at Punta Norte and Caleta Valdés. The fascinating part of an orca trying to grab one of the mammals did not happen when we were there. Additionally Punta Delgada is closed since a long time. I would say it´s not worth getting close to it therefore as the road looks similar to the rest of the peninsula. The only interesting part this ride has is the view on the salinas that mark the lowest points of south america with -42 meters. But again not really worth the ride.
We have stayed the night in the hostel in the supply hub of the peninsula in Puerto Piramides and were able to pick up another traveller to share for the next day. However all in all on the second day we have seen nothing really new. The whale watching tour was closed due to end of season plus stormy weather. The only other highlight we will go for is snorkling with the sea lions at another sea lion colony in Puntoa Lomo near Puerto Madryn which is outside the WHS.
All in all it´s a great visit with many animals however also way bigger territiory than a lot think before they go for it and not easy to see all of the fascinating animals.
Read more from Timonator here.
---
I went with a friend to Peninsula Valdes in Sept 2017. We flew in to Trelew and rented a car. We did need to taxi from the international airport to the domestic airport in Buenos Aires, which was a bit of a hassle and took up a bit of time.
The driving itself was easy and uneventful. The roads were fine and we arrived around dusk. We spent the first night in Puerto Madryn, which is a small city south of our destination, which was Puerto Piramides, a tiny town to the north. We drove to Puerto Piramides after breakfast the next day. On our way up, we pulled over many times to enjoy watching the frolicking whales, which were astonishingly close to shore. In some places, you could see 6 or more in a glance. We were pleased with this, since wildlife viewing was the purpose of this excursion.
Our excursions in Puerto Piramides included the Yellow Submarine whale viewing, and we were not disappointed. There were many, many whales and dolphins. It was a bit crowded below deck so we mostly were on top.
We drove up to the point and hiked down to the beach the next day. There are vast sheep ranches in this area, and guanacos, burrowing owls, some kind of wild cat, an armadillo (sadly, deceased) and many birds were seen on the drive. At the beach, we saw vast numbers of sea lions and a few sea elephants. We looked for, but did not see, several male penguins which had arrived ahead of the flock to start nesting. We were too early in the season for penguins, apparently.
We saw orcas through the binoculars and learned that the big, famous male who instigated the sea lion beach snatching hadn't been seen in two seasons and was presumed dead. Of course, nobody knows for sure. He was the subject of many spectacular photos and documentaries, but don't assume you'll show up on the shore and witness such an event. Apparently that brazen hunting strategy was only partially adopted by other members of the pod, and was mainly done by that male.
There are some very interesting rock formations (the Pyramid point). I would have loved to do the snorkeling with the sea lions, but we did not have time in the schedule. In Trelew there was an excellent dinosaur museum.
If you are a fan of nature, marine life and like huge open spaces, this is a great spot to visit. We spent 4 days and loved it all. A city lover might be a bit bored out there, though. The small hotel we stayed at was very minimal, with little to no soundproofing, but had a comfortable bed and hot water. The food in town was good and well priced. There are some large ranches scattered around the peninsula that cater (all-inclusive )to tourists, but we preferred the budget hotel and our own itinerary.
---
In October 2017, I spent a few days at Península Valdés, probably the best place on the South American mainland to see marine wildlife, where I saw nesting Magellanic penguins (the penguins were generally indifferent to visitors and waddled to within a few feet of me, often too close for photography), southern right whales (which visit the warm waters surrounding the peninsula between May and December to mate and give birth), guanacos, rheas and Patagonian mara. But the best wildlife viewing was around 50 miles from Puerto Madryn at Punta Ninfas, where my guide and I climbed down 300 ft cliffs to a rocky beach that's home to several breeding harems of southern elephant seals. Due to the tricky descent, the beach doesn't receive many visitors, and I was the only visitor during my three-hour stay. In addition to the elephant seals, I was lucky to see several killer whales patrolling the coastline, but they didn't attempt to capture any of the baby seals resting along the shoreline — the area is famous for orcas that employ this unique hunting style. I visited the peninsula and Punta Ninfas with Marcos from Catalejo Travel -- he was one of the best naturalists that I have encountered.
---
I think the authorities have done an excellent job of protecting the peninsula and making it accessible for tourists. There are a lot of information booths and good viewing points so you can see the animals and the landscapes. But visitors are also kept a respectful distance so as to not disturb the wildlife.
I organised a tour through my accommodation in Puerto Madryn and was happy doing it that way.
Read more from Michael Turtle here.
---
Peninsula Valdes is a world heritage site primarily about the fauna you can find on the peninsula. You get to see whales, penguins and sea lions. With a little luck you may also stumble across an Orca swimming near the shore line. The landscape is very similar to Patagonia overall with the noted exception of the sand cliffs and beaches.
To explore the peninsula I booked a tour. The island is way too large to do any exploring by foot or by bike and the sites too far apart. You end up spending loads of time driving across the island to get to the different view points. Our guide estimated that a round trip from Puerto Madryn is about 450km, a good part of it on gravel roads.
To really get to see all the animals you will probably need multiple days and tries. On my day trip I saw penguins, sea lions and whales, but no Orcas. Also, the whales didn't come that close to our boat. If you plan going, make sure to check the season and the presence of the animals.
Getting There
The hub for Peninsula Valdes is Puerto Madryn. There is a local airport, but most flights go via Trelew. There is a shuttle service from Puerto Madryn to Trelew (Transfer PMY) which you can preorder online or in your hotel and it provides a connection to all flights, even the early ones. However, they forgot my reservation and I only caught my flight because another couple had ordered via the hostel. So, in the evening have your hotel call the shuttle service to confirm.
Puerto Madryn also offers many bus connections. You can travel along the coast to Rio Gallegos if you want to get to El Calafate and Los Glaciares "fast". Or you can turn inland to Esquel (recommended for Los Alerces and Cueva de los Manos) and travel along scenic Ruta 40. To connect to Buenos Aires by bus is possible, but seems rather painful.
Getting In
Peninsula Valdes is huge. Please check the distances yourself. There is no way you can explore this by foot or by bike. So either you rent a car or go with a tour. If you rent a car, get full insurance (LDW). This applies to all of Argentina.
Tours are offered all around town; it's easiest to ask in your hotel. Prices were around 70 USD for the tour and another 70 USD for whale watching. You are not guaranteed to go whale watching, so this part is optional on their and your part. Please consider staying on land if you know to be susceptible to sea sickness.
While You Are There
There is a sea lion colony just south of Puerto Madryn that can be reached by bike. Puerto Madryn also has a beach. If you rent a car you can also visit one of the largest penguin colony of the world at Punta Toma. Finally, Trelew is another Welch immigrant town.
---
Gino Da Silva
Inside the Valdes Peninsula there are only one village, Puerto Piramides and you can sleep there, this beautifull place is waiting for you. Every year, hundreds of Southern Right Whales close in on the waters of the Valdes Peninsula, Province of Chubut. Puerto Piramides is the only port town offering Whale Watching tours.Its surroundings are ideal for all sorts of open air activities and excursions, as well as for catching up on your rest and dinning, so you pay the entrance only one time and enjoy the wonders that nature has stored in this World Heritage. You can visit the site of this village www.puertopiramides.gov.ar
---
4.00 The Netherlands - 29-Oct-08 -
On first impression, Peninsula Valdes is much alike the Patagonian mainland: a flat land full of scrubs able to withstand the strong winds, dotted with huge private sheep farms. A number of common animals have run over the isthmus too: for example, the Patagonian hares (maras), which are like giant cavies, and the speedy rheas with their chicks.
Our first real stop was at the beach where the Elephant seals live. They seemed a sleepy bunch, lazing around in the sun. Almost all of the 100 or so we saw were females or calves. One big bull was defending the beach. However, there was one moment of suspense: a younger bull casually swam along the coastline looking for a female to mate with. When he had found two laying close to the water, he decided to take his chance and quickly lugged himself up to the beach. The big bull wouldn't have anyone touch his women though, and gave out a loud roar (without even bothering to move an inch). This message was fully understood by the younger one and he quickly retraced his 'steps' and went back to the sea.
The morning hadn't started out well for the seals – a few hours before an orca had come up to the beach and grabbed one of the elephant seals. National Geographic was there at the right moment (the photographer was just leaving when we arrived), and of course, had it all on camera!
Whale Watching obviously is the highlight of anyone's visit here. It was my first time, and I really enjoyed it. From the little town of Puerto Pirámides no less than six companies offer trips. Due to too strong winds, we had to wait until 16.30 to take off. The boatmen don't have to navigate very far into the bay to encounter these giants. Right at the start we saw one southern right whale jumping up and down. These whales are easy to see and follow, not as difficult as dolphins for example. It's hard to take good pictures though as the whales come to the surface for short periods only. Also, as the boats are fully loaded (a bit too much for real comfort), it's quite hard to get in a good position and keep standing upright with your camera in hand while the boat is rocking. Most of the time we stayed with a mother with a white (albino) calf. They're just so huge, often it is like watching a submarine.
---
Peninsular Valdes offers some of the best opportunities of any continental location worldwide to view 3 iconic marine mammals – Whales (The "Southern Right" in this case), Elephant Seals and Orcas (or "Killer Whales" – though strictly these are "Ocean Dolphins" rather than "Whales"). Add to these further creatures such as penguins, sea-lions and a sample of Patagonian terrestrial animals such as Guanaco, Armadillo, Rhea and Mara ("Hare") and anyone interested in wildlife will find plenty to see! The UNESCO site covers both the terrestrial Peninsular and the waters of the Gulfs to its north and south.
However, as always with wildlife, time is needed if you want to get those views you may have seen in National Geographic programs! You also need to choose the optimal months and these do not coincide for all 3 of the iconic species. Our most recent (and second) visit was in early November 2007. This was determined by our schedule for visiting S Georgia and the Antarctic. Our experiences were as follows
ELEPHANT SEALS. September/October might have been more optimal since most of the males, having arrived around August, had already left and their spectacular "fights" were not on view. It must also be said that, for those who are going on to S Georgia or the Antarctic, the views of Elephant Seals on Valdes are somewhat "tame" compared with what you will see later since the numbers are considerably lower and the viewing (understandably) is kept to a distance of around 200 metres or more behind fences or up on cliffs. So quality close-up photography isn't possible –there is no walking right among the creatures on the beach as on S Georgia!
WHALES. Their "best season" is Sept-Nov but they are viewable May-Dec. You can get whale views outside the Park from the promenade at PM or nearby beaches but these do not really match the close ups of swimming, blowing and breaching which you should get from a boat trip in the Park. Whale watching was the main purpose of our visit and we did 3 trips, having good views on each (photos), but it was only on the last that we encountered whales who "took an interest" in the boat (which is not allowed to chase them) and hung around! As always with wildlife "time on the trail" is what counts!
ORCA. November was not the best time for these and we didn't see any here. They may be seen along the ocean facing coast between September and April but are best in Feb/Mar. Your chances of just seeing them "en passant" in your vehicle are not great (whatever the tour salesmen in PM say!) and really you need to throw time and money at the problem by staying nearby with your personal transport to increase your chances – choose a time of high tide if you want to see them catching seals (and still hope for very good luck!).
So, herewith, a few logistical points to help you optimise your visit
a. The Peninsular is surprisingly large "up close" and a round trip from the major local town of Puerto Madryn (PM) will eat up over 400kms. A group might find a rent-a-car the most pleasant way of covering the ground – a lot of the roads are dirt however so watch the insurance excess!
b. There are daily peninsular minibus tours from PM at around Arg $115 (US$1 = Arg $3.1). These will give you a reasonable "feel" for the place but the land scenery is, in all honesty, rather bleak/dull and you will see similar, as well as the terrestrial creatures, during any other land travelling you might do elsewhere in Patagonia. Such a tour will give you a relatively short stop at 1 or 2 elephant seal haul-outs and a penguin colony. It will also include a stop of up to 2 hours at Puerto Pyramides where the whale-watching boats are concentrated. A boat trip will be an extra Arg $75 for a 1hour +/- trip.
c. If you want to stay in the Peninsular overnight and/or arrange your own boat trips there is a daily bus ("Mar y Valle") at 9.30am from PM to Puerto Pyramides (hotels and hostels) returning at 6pm. Tickets are Arg $12 each way.
d. There is an Arg $40 entrance fee per day to the park. If you are on the public bus the tickets are issued with incredible slowness and bureaucracy by a single guard dealing with up to 40 people, noting details such as nationality in a little book, as well as handling cash/tickets etc – thus delaying arrival at Pyramides and reducing your boat possibilities! Tickets can be purchased at tourist offices in town or the bus station if you want to do your bit to speed this up!
e. The public bus doesn't stop at the newly built visitor centre at the neck of the Peninsular. This isn't a terrible loss but you will miss some great toilets, a baleen whale skeleton , some explanatory displays on topography/geology/fauna/history etc and a somewhat disappointing viewing tower.
f. Depending on a combination of wind and tide, boats may not operate at all some days or for parts of days (all boats are launched by tractor from the beach). A coastguard forecast is available in PM and the tourist office at the bus station posts whether/when the port is open to help avoid a "wasted" journey. I understand that daily park entrances might be extended if there is a blank day when you get there. The minibus tours schedule their boat trip to am/pm according to port closures - if it fully closed then you just miss it (payment for the boat is made at Pyramides anyway)
g. There is much debate over which of the numerous boats and companies is "best" for whale watching in terms of the type of boat and of the length of trip made. If you are on a minibus trip you will have no choice anyway and, even if you make your own arrangements, there may not be much more since the various companies exchange customers in order to maximise loads and minimize trips!
h. The lengths of our 3 trips varied considerably from under an hour to almost 2 hours. This seemed to depend both on how cooperative/interested the whales were and on whether the operator wanted a quick return to fit in another trip! Discounts down to Arg $65 and $55 are available on 2nd/3rd trips booked with the same company. Timing of departures is totally in accordance with Argentine culture in such matters – they WILL be late!
i. We noted 3 main types of boat being used. A large catamaran, a smaller sports-fishing type "speed boat" and a rubber-hulled "zodiac" type craft. You may be lucky (or you may have time to make the choice) and get a trip which is less than full, but normally the boats are pretty packed (I would even say over- packed for good viewing). The catamaran is very wide and I gather that views are pretty minimal when whales are on "the other side" and moving across isn't easy. I found the rubber-hulled craft too low as whales are best viewed from above in most circumstances (unless you are very lucky and get a whale which is very "interested" in swimming around the boat). I personally preferred the "speed boat" which had high viewpoints on the bow and on a platform above the wheelhouse (but hanging onto the railings in the swell whilst taking photos wasn't easy – life jackets are compulsory!).
So - best of luck with your "decisions" on these matters!!
---
Vaughn Tanner
United States of America, Washington State -
I visited the Penisula Valdez in November of 1983. In my visit, I saw Sea Lions lounging on the beach at Punta Norte; a literal mass of birds on Isla de los Pajaros; an enormous Elephant Seal on the eastern shore; and viewed right whales from the bluff overlooking Puerto Piramide. It was a long time ago and I understand that the area has seen many improvements. This was a memorable trip and I look forward to a return visit in the future.
---
Site Info
Full Name

Peninsula Valdes

Unesco ID

Country

Inscribed

Type

Natural

Criteria

10

Categories

Link
Site Links
Unesco Website
Official Website
Related
In the News
Visitors
81 Community Members have visited.