Peninsula Valdes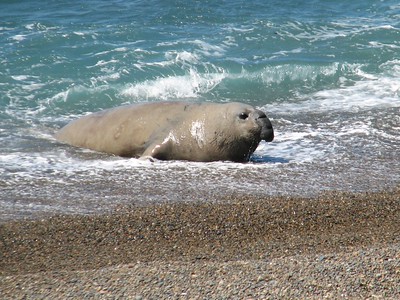 Península Valdés is the natural habitat of the endangered southern right whale. The peninsula also holds important groups of elephant seals, sea lions and orcas (a.k.a. "killer whales").
With an isthmus of only 11 kms wide, the Valdes Peninsula is almost an island. It has a dynamic coastal zone with active sand dunes. There are also numerous cliffs, bays and lagoons. The interior of the land is Patagonian desert steppe. The climate is dry with strong winds.
Southern right whales come to these bays to breed and give birth between June and December. They number circa 3000. The whales can be up to 17 meters long and weigh 100 tons.
The orcas in these waters have developed a unique and successful hunting strategy: they chase small sea lions or elephant seals into the shallow surf until the beach, where they grab them.
Map of Peninsula Valdes
Legend
Visit October 2008
On first impression Peninsula Valdes is much alike the Patagonian mainland: a flat land full of scrubs able to withstand the strong winds, dotted with huge private sheep farms. A number of the common animals have run over the isthmus too: for example the Patagonian hares (maras), which are like giant cavias, and the speedy rheas with their chicks.
Our first real stop was at the beach where the Elephant seals live. They seemed a sleepy bunch, lazing around in the sun. Almost all of the 100 or so we saw were females or calves. One big bull was defending the beach. However there was one moment of suspense: a younger bull casually swam along the coast line looking for a female to mate with. When he had found two lying close to the water, he decided to take his chance an quickly lugged himself up to the beach. The big bull wouldn't have anyone touch his women though, and gave out a loud roar (without even bothering to move an inch). This message was fully understood by the younger one and he quickly retraced his 'steps' and went back to the sea.
The morning hadn't started out well for the seals – a few hours before an orca had come up to the beach and grabbed one of the elephant seals. National Geographic was there at the right moment (the photographer was just leaving when we arrived), and of course had it all on camera!
Whale Watching obviously is the highlight of anyone's visit here. It was my first time, and I really enjoyed it. From the little town of Puerto Pirámides no less than six companies offer trips. Due to too strong winds, we had to wait until 16.30 to take off. The boatsmen don't have to navigate very far into the bay to encounter these giants. Right at the start we saw one southern right whale jumping up and down. These whales are easy to see and to follow, not as difficult as dolphins for example. It's hard to take good pictures though as the whales come to the surface for short periods only. Also, as the boats are fully loaded (a bit too much for real comfort), it's quite hard to get a good position and keep standing upright with your camera in hand while the boat is rocking. Most of the time we stayed with a mother with a white (albino) calf. They're just so huge, often it is like watching a submarine.
Community Reviews
---
---
---
---
---
---
---
Community Rating
Community Rating 4.08. Based on 6 votes.
Site Info
Full name: Peninsula Valdes
Unesco ID: 937
Inscribed: 1999
Type: Natural
Criteria: 10
Site Links
Unesco Website
Official Website
Related
In the News
Connections
The site has 23 connections. Show all
Visitors
54 community members have visited Peninsula Valdes. Show all