Cueva de las Manos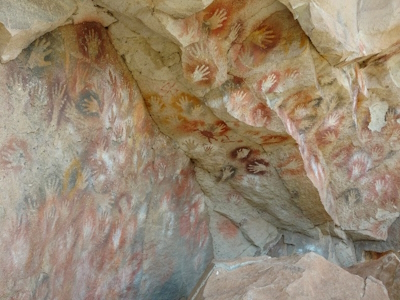 Cueva de las Manos, Río Pinturas, is a cave of archaeological and paleontogical importance.
The Cave lies in the valley of the Pinturas River, in an isolated spot in the Patagonian landscape. It is famous (and gets its name) for the paintings of hands, made by the indigenous inhabitants (possibly forefathers of the Tehuelches) some 9,000 years ago.
Community Reviews
---
From Los Antiguos we have booked a trip for 50 EUR per person (blue dollar rate) with Chelenco Tours to the Cueva de las manos. We also looked into renting a private car or a remise, but the next private car available would have been in Comodoro Rivadavia, a 5 hour drive away, and even when we were there earlier all rental cars were sold out short term. We didn't take the remise (kind of taxi) as we thought from a tour would give us more information for not much more money.

After a roughly two hour drive, the first part along spectacular glaciar formed landscape of Lago Buenos Aires, the second on famous ruta 40 and the last part on a bad gravel road going up and down through the steppe with some spectacular rock formations we have reached the visitor center at 11 a.m. on a Thursday. Based on the other reviews here I expected in this remote place almost no other visitors but I was wrong. The 11 o'clock tour was already full and we were only able to take the tour one hour later with almost 25 visitors mostly spanish speaking. As our Castellan is not good and technical enough yet to understand everything we asked for English explainations also and the guide willingly explained everything in Spanish first and afterwards in English for us and a handfull others.

We walked on the wooden structures along the rock structures in which also the main cave is and got to see the many colourful hands as well as some of the animal paintings and some newer, special paintings which could show stars, a sharmane, the full moon and some foorprints of ñandus and a puma. Additionally you get to see great views of the comparably green valley below the walkway with Río Pintura. Also unfortunately some modern vandalism can be found from the time between discovery and first excavations in 1973 and the time where the site got more protected, I guess latest with its inscription in 1999.

I found the paintings quite fascinating when walking past them however I find it hard to get in my head that the oldest ones originate from around 6300 B.C.. Taking that into account the site is even more fascinating.

On the way back to Los Antiguos Chelenco tours stopped at Tierra de Colores also along ruta 40 where a lookout is visited with views in a valley with colourful rocks of volcanic origin. Colours are mainly red but also white, yellow and even pink.
Read more from Timonator here.
---
This is not an easy place to get to but I did not regret the effort to get here. If you have your own car, then you can drive here on your way between other parts of Patagonia. For me, I found a tour operator that stopped here between Puerto Madryn and El Calafate (two other WHS).
The caves here are incredible and it's likely you'll almost have the place to yourself. The hand paintings are really vivid and you can get quite close to them.
Read more from Michael Turtle here.
---
When you travel in Patagonia you will get to see endless plains, some hills, plenty of bushes and almost no trees. Over time the landscape feels quite monotonous, especially if you are spending days (and nights) on busses and cars traversing it.
As such, going to Cueva de los Manos was a great stop. At first it looks like all the surroundings. I even wondered why humans settled here in the first place. And then a lush, green canyon pops up, the canyon of Rio Pinturas. It's an oasis and you understand why early humans came here. Their primary legacy are rock art paintings, specifically hands with the most famous one having six fingers.
Getting There
The site lies along Ruta 40. If you are travelling by car you can go simply turn off the highway. Note that it's still quite a distance from the main road on a steep and pretty much terrible gravel road. This probably also stands in the way of hitchhiking here.
There are daily busses to Los Antiguos/Perito Moreno from Esquel (Los Alerces) and at least bidaily ones from El Calafate or El Chalten (Los Glaciares). Having made it to Perito Moreno, though, doesn't really help as the actual site is still a 1,5h drive away.
Seeing I was short on time (I only wanted to stay one night in sleepy Perito Moreno), I arranged for a tour to pick me up at the bus stop. There are two tour operators I found online operating on alternating days: Chelenco and Zoyen. Both run tours from the more touristy Los Antiguos via Perito Moreno to the site.
While Zoyen did not bother to reply, Chelenco were very helpful, but also very expensive charging 90 USD. I felt this was a bit much for a group tour with maybe 3h transfer in total and 3h on site and that included a way too generous lunch break and some organizational hickups. Finally, they forgot the lunch box that was supposed to be part of the price. Unfortunately, there aren't all that many tourists, so you probably have little choice.
Lonely Planet claims you can get a tour/taxi in Perito Moreno for as little as 50 USD. Same price as mentioned by Jarek. But I was short on time and frankly didn't see any hints in Perito Moreno that such a thing existed. It's probably best to contact the site, the tourist information in Perito Moreno or your hotel to check what they recommend.
---
Site visited in March 2012. All prices were valid at that time with utilization of official peso - dollar rate of exchange. Currently you can exchange your money on black market when rates are much more convenient.
In March 2012 it was extremaly expensive place (like the whole Argentina), normal entry ticket costs 50 ARS (which is around 12 USD) but as it is located in remote area (no public transport) you should combine that with an organised trip (from nearby Perito Moreno town the trip costs 220 ARS per person, around 50 USD). If you don't want to stay in Perito Moreno overnight (the place itself has limited accommodation, especially on weekends !) this should be planned carefully - there are limited transportation between Caleta Olivia (on the coastline) and Perito Moreno as well as on legendary Ruta 40.
---
Roman Flueck
I have visited the caves in 1973. Just after a broken axle of the car which I bought in Buenos Aires. My wife and I found the place through some local people we met. We had to travers a river, the rucksack on my head because the water was too deep. It was a marvelous experience to see the cueva de los manos because it was only discovered in 1972 I guess?
regards,
Roman Flueck
---
Site Info
Site Links
Unesco Website
Official Website
Related
Visitors
21 Community Members have visited.