Peking Man Site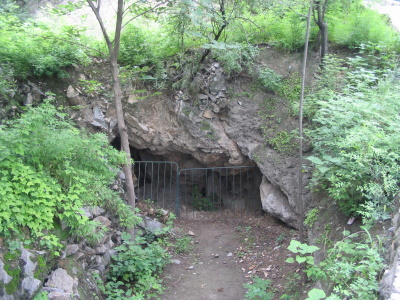 The Peking Man Site at Zhoukoudian is an important finding place of early Asian hominids such as one of the first specimens of Homo erectus, dubbed Peking Man.
Over 500.000 years ago, the caves in this limestone area were inhabited by early hominids. They stayed for the next 300.000 years. When this hominid race disappeared, the caves became naturally filled in, and the tools, food scraps and bones in them remained covered by deposits until modern times. The site was discovered in 1921 by the Swede John Gunnar Andersson. Intensive excavation began in 1927. The site yielded nearly 200 pieces of Peking Man fossil (representing around 40 individuals), over 10.000 stone artifacts, several layers of ash as evidence of fire use, and more than 100 specimen of fossil animal.
In the Upper Cave, discovered in 1930, the remains of 20.000 to 10.000 years old homo sapiens have been found.
Map of Peking Man Site
Legend
Visit April 2004
Maps were unfolded at my hotel when I asked about how to go to Zhoukoudian. It didn't became very clear if there is a bus going there, so I opted to hire a taxi for a few hours. The driver didn't know how to get there either, but with a map and some directions asked under way we drove to Zhoukoudian. After leaving the expressway, we even encountered a large sign "Peking Man World Heritage Site, Zhoukoudian", accompanied by a picture of Peking Man himself and the Unesco logo. At the end of the road through town, we stumbled upon a parking lot and a ticket office (marked Beijing ren). I was pleased to have made it here, as it looked like not many people ever got here.
Behind the entrance, following steep steps through the woods, the first place to see is the Peking Man cave (the one that was discovered in 1921). Signs in English detail the findings here. I had the place all to myself, it was so quiet that I expected some prehistoric animal to creep from under the stones. A great place to contemplate man's life during the past 500.000 years though.
I walked around the other caves and the interesting museum. The phrase 'Few go to visit Peking Man site anymore' (the title of a Seattle newspaper article you can find in the links section above) didn't prove true today however: about half an hour after I had arrived, some twelve buses filled up the parking lot and released hundreds of screaming schoolchildren. All wearing their school's training suits, they ran around the place filling in questionnaires and picknicking at every possible spot (with the chicken legs their mothers packed them, or a bag from McDonalds).
Community Reviews
---
---
---
---
---
---
---
Community Rating
Community Rating 2.35. Based on 13 votes.
Site Info
Full name: Peking Man Site at Zhoukoudian
Unesco ID: 449
Inscribed: 1987
Type: Cultural
Criteria: 3 6
Site Links
Unesco Website
Official Website
Related
In the News
From the Forum
Connections
The site has 9 connections.
Visitors
96 community members have visited Peking Man Site. Show all