Ningaloo Coast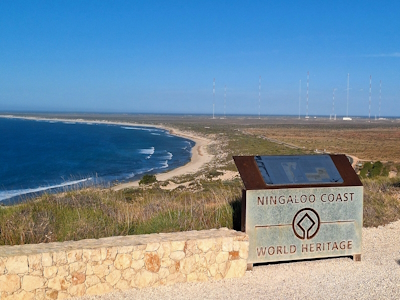 The Ningaloo Coast holds a fringing coral reef known for its seasonal feeding concentrations of the whale shark.
Due to seasonal nutrient upwelling, a group of 300-500 whale sharks gather here yearly. The marine area also is rich in coral, reef fish, mollusc, turtle and crustacean species. Adjacent to Ningaloo Reef, the limestone karst landscape of Cape Range has a remarkable density of underground caves and other karst features, providing a habitat for birds and reptiles.
Community Perspective: This is a hard-to-reach site, but it still is popular with the diving crowd. Zoë has described such a scuba diving trip. The best chance to see a whale shark is from mid-March to the end of July.
Community Reviews
---
4.00 Chinese-Canadian - 15-Dec-21 -
Ningaloo Coast is a marvel of nature but it's a hard to visit. You COULD just drive the National Route 1 and step into the land areas, off-roading isn't allowed but I'm sure it stretches far enough for road access somewhere. As you can see in my picture you won't really see much. It's pretty much a deserted place with little vegetation although it could be slightly more bushy as it goes further in. The picture shows Cape Range National Park by the way. You can also fly into Learmonth Airport from Perth and you don't have to go far but if you want to visit Shark Bay it's still quite a drive back and forth and I remember checking rental cars - none offered enough mileage to make it worth it and besides: the drive up the Highway 1 is quite nice and one should think about going further north as well.
I have visited the Ningaloo Coast twice and the first one was not very good that I didn't even want to count it.
The first visit was when I was quite new to scuba diving and (I wanna say "like me" but not really) most tourists were college partiers staying at the biggest hostel in Coral Bay that comes with a bar and stays open until late night. In the morning they were quiet but they also weren't the best divers which brought another annoyance. The scuba trips are mainly catered for unprofessional divers that want to see mantas at all cost. Scuba diving is, in my opinion, the only way to really see this beautiful place but I find it crazy that some people are desperate to catch the glimpse of a manta zooming past blurry and unrecognizable. I do understand how a manta is special but there are places in the world were you can easily see these like Mexico or Mozambique (ok not the EASIEST access), but then apparently divers in Tubbatha are desperate to catch whalesharks, Palau always had people screaming "manta over there!" but I say: see what you get and don't waste your time trying to spot something that has a really low chance. As these dives go out daily I think that's what really come to Coral Bay to see. I spoke to the diveshop afterwards and they said that they do have "other" dives (I think she means more professional) that go out further but are scheduled less frequently. Because I only had one day schedule for diving this was all I got from my experience and I thought the site is very mediocre.
When I told people about my experience they claimed I picked a bad package or bad dive operator. I went back a couple of years ago just before Covid-19 locked down everything including Australia, in March 2019. This time I stayed in Exmouth. The whaleshark season tends to start at the end of March but the "regular" dive operator often guarantees to see one because they have either already seen one recently or they just seem to know. Anyway, we saw one and it was great. Mantas were not in the area around this time but I want to say it again: mantas aren't usually hanging around like in a petting zoo unless you are hiding out at a cleaning station. The area around Exmouth is not part of the site but you don't have to go far by boat to reach it, and Lighthouse Reef is actually closer than from Coral Bay.
I still don't see the attraction of the sandy dunes in the area but the diving for my second was great enough that I have to rate the place highly.
---
Justin Carmack
Nigaloo has some of the best scuba diving in the world, along with the nearby Navy pier. I actually prefer it to the Great Barrier Reef, as you don't need long boat rides, and can dive right off shore if you want. Its really common to take road trips up the coast from Perth with a camper van, and you can camp anywhere on great beaches near the road. Besides diving, they also offer whale shark tours where a small plane flies over head searching for the sharks so that you don't have to search all day by boat. Awesome place.
---
This site is located in the remote north-west corner of Western Australia where it rarely rains, and the scrub hardly grows more than knee high, so provides no natural shade from the rays of the sun. In April,when it was a balmy 39degC and the flies were in abundance, I drove from Exmouth along the bitumen to its end at Yardie Creek. From here southwards 4WD vehicles are mandatory. The drive was 170 kms each way, and there are numerous beaches where stops can be made to inspect the reef and its occupants.
For variety along the way there is the Milyering Information Centre providing a wealth of information about the denizens of the deep. Also there is the Vlamingh Head lighthouse, sited on the highest promontory, and overlooking the graves of the many ships that fell afoul of the reef before the lighthouse was constructed.
---
Garret Pittsenbarger
I visited Ningaloo reef in 2005. It was beautiful and one of a kind. It should make the list just for the "Ayers rock" brain coral. But its also in the path of migratory animals like dolphins, manta rays, humpback whales, and dugongs. Then there are the whale sharks that pass through. Then there is the bush surrounding the area that lends its own beauty with wildflowers, termite mounds, and the occasional gorge.
---
Site Info
Full Name

Ningaloo Coast

Unesco ID

Country

Inscribed

Type

Natural

Criteria

7

10

Categories

Link
Site Links
Unesco Website
Official Website
Related
In the News
Visitors
48 Community Members have visited.