Kilimanjaro National Park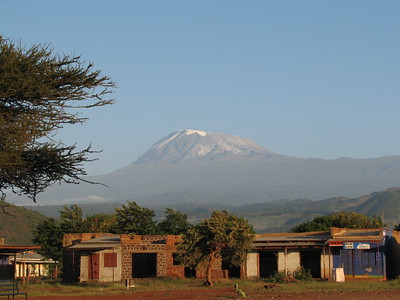 Kilimanjaro is the highest mountain in Africa (5895m), and one of the largest volcanoes in the world. It also is the largest single free-standing mountain mass in the world, rising 4877 meters above the surrounding plains. Kilimanjaro has two peaks: Kibo and Mawenzi.
It's a natural heritage site since 1987, because of its exceptional natural beauty and its rare and endangered plants and animal species. Vegetation types vary from low to high altitude: montane forest, moorland, upland moor, alpine bogs and alpine desert.
Map of Kilimanjaro National Park
Legend
Visit December 2008
Kilimanjaro is mostly known for being the highest mountain in Africa, and for being one of the most accessible high ones to climb. My visit however was a day trip only. I did a hike to the Mandara hut, the first "station" of the climb. I went with a group of 4, accompanied by 2 local Chagga guides (aged 53 and 64). These men (brothers) had been up and down the mountain all their lives, so they were knowledgeable guides and good companions.
The entrance gate to the National Park is located near the outskirts of Marangu town. There we first had to register and pay (60 US dollar, only by VISA credit card).
The trail up to the Mandara hut is 8.2 km long and goes up to 2700m. It entirely leads through thick forest. The path is well marked and looks relatively flat. But in reality you're climbing during the whole stretch.
This thick forest with many high trees also means that you are well hidden from the sun. Monkeys are seen occassionally along this path, but all we did hear were birds and the cracking noises the trees make. The guides pointed out some of the flowers - colourful little things amidst the dark green, light green, olive and hundreds of other kinds of green of the trees and their leafs.
We met quite a number of climbers on their way down. Our guides never failed to ask them "Did you make it to the top?" - which invoked a broad smile on many of the European, American and Japanese faces. We also encountered lots of local porters, who seemed to transport whole kitchens on their necks. Sometimes also casually holding some bags of bread in their free hands.
After a little more than 3 hours we arrived at Mandara Hut. This actually is a complex of huts. After registering again that we made it there, we had some lunch (that we brought with us) and just hang around taking in the atmosphere.
After 1 hour the guides prompted us to return. Dark clouds had appeared, so we tried to get back before the rain started. We walked down relatively easy in 2.5 hours. Now we really felt how steep the path actually is. And one has to be aware all the time not to trample on the rocks and roots that cover the path from time to time.
But we made it back safely, signed out at the entrance gate and drank a cold beer with our guides to celebrate this fine day.
P.S.: the peaks of Mount Kilimanjaro are often covered in clouds. Your best bet for a good photo is around 7 a.m. I took the large photo above from Marangu bus station around that time.
Community Reviews
---
My wife and I climbed Kilimanjaro in March 2011. We used a local company named Zara Tours, who I would fully recommend (it's not permitted to climb Kilimanjaro without guides).
Although you have a choice of routes, to maximise our chances of summiting we picked the longest route: Machame. This meant basically five days up, and 1.5 days back down, staying in tents the entire way. This gives you the longest amount of time to acclimatise to the altitude, as hypoxia is more likely to stop you reaching the summit than your legs are.
Along the way, you pass through rainforest, alpine forest, moorlands, and eventually the last couple of days it's just a rocky moonscape. Not much wildlife to speak of other than birds and insects.
Our porters and guides were great, and we felt in safe hands at all times. The only disappointment was that we arrived on the summit before sunrise, and the heavy clouds rolled in early that day so we couldn't see a thing!
As another reviewer said, if you want to just "see" Kilimanjaro from the base, your best bet is to stay a night or two in the nearby town of Moshi. The summit is usually shrouded in cloud during the day, but is typically clear around sunrise and sunset.
Good luck!
You can see more of my UNESCO World Heritage Journey on Youtube, via the link below.
Read more from Joel Baldwin here.
---
Peter Howard, Kenya 16-Jan-11
I have climbed Kilimanjaro a couple of times in recent years to photograph and carry out research for a forthcoming book about Africa's natural world heritage sites. Its an exhilarating experience, particularly the final day of the climb, reaching the crater rim at dawn as the early morning glow illuminates the snowfields and glaciers. A slideshow of my best photographs is now available on the African Natural Heritage website, together with comments, other information about the park, a map and links to other websites including satellite images from Google Earth. Follow the link below:
www.africannaturalheritage.org/Kilimanjaro-National-Park-Tanzania.html
---
If you have just viewed this WHS from "ground level" in Amboseli Park or from Arusha why not try climbing it? It is possible for anyone who is reasonably fit and does a bit of mental and physical preparation.
I did it back in 1974 but no doubt it will be much busier, more commercialised and costly now. In those days there was only 1 route – from Marangu. But now there are many to choose from. I can't therefore comment on which is better. The Marangu is the "classic", and has huts (whereas the others require camping) but uses the same route up and down whereas others provide some variety! I turned up at the Marangu hotel and made up a group with 4 other tourists there. The hotel arranged the porters etc. I see from the web site that the hotel is still there offering the same services (though the English colonial ladies who ran it on those days have no doubt passed on unfortunately). It is certainly pleasantly located for a stay before and after and possibly more so than a hotel in Arusha or Moshi. We went up without hut bookings but I doubt that that is possible nowadays. Even then the middle hut (Horombo) got over-full as it alone is used on the upward and downward route.
Each day passes through different country – forest, savannah and high mountain desert. The Giant Lobelia and other unique botanical species are a highlight of the walk together with the views and the understanding you gain of the enormous bulk of this mountain. Although there are animals in the park you are not likely to see much other than birds. The final day's climb from Kibo hut is traditionally started very early so that arrival at the rim (Gilman's Point) is achieved in time for sunrise and before the views across to Mawenzi are obscured by the clouds which soon build up. This also leaves time to walk round to the summit at Uhuru Peak on a snow covered path looking down into the glaciers and ice needles in the crater – if you are up to it! (Though I understand that "global warming" across the years since my 1974 climb might have removed most of the ice and snow)
Estimates of the success rates vary - some say as low as 30% others up around 80% to Gilmans point but lower to Uhuru. It is certainly true that many will be forced to give up - particularly on the final morning climb from Kibo. Of our 5 only 3 of us made it to Gilmans and we all went on to Uhuru. Those who gave up suggested that they had not entered the task with the right degree of commitment, having decided to do the climb whilst passing through Tanzania on an Africa trip. First of all, given the cost and commitment you are going to have to face it is worth ensuring you are as fit as you can be before you go, but altitude sickness can hit anyone however fit – and there is little chance to acclimatise on this trip. You can arrange an extra night at Horombo but some might believe that only gives you more chance of getting sick! Be very careful with your diet – I took my own supplements and avoided some of the prepared meals – you climb on your stomach and you need energy not lots of bulk! Also only drink filtered water and remember that, at altitude hot tea and coffee are probably not properly boiled. We learned 2 words of Swahili which helped with success :-
"Twende" –"Lets go" - this after the frequent rest stops. It is not a race. There is more than enough time each day to get between the huts so you might as well have plenty of rest stops!
"Polepole" – "Slowly". If you are breathing heavily you are going too fast/hard!
So "Go for it!" and good luck!
---
Community Rating
Community Rating 4.33. Based on 3 votes.
Your Rating
Site Info
Full name: Kilimanjaro National Park
Unesco ID: 403
Inscribed: 1987
Type: Natural
Criteria: 7
Site Links
Unesco Website
Official Website
Related
Connections
The site has 26 connections. Show all
Visitors
53 community members have visited Kilimanjaro National Park. Show all