Kilimanjaro National Park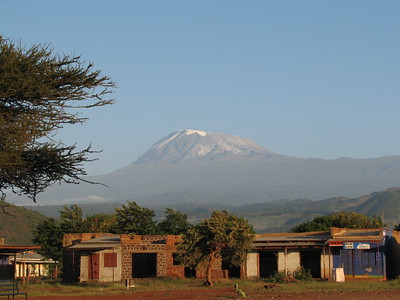 Kilimanjaro National Park protects the highest mountain in Africa (5,895m), which is also one of the largest volcanoes in the world.
Mount Kilimanjaro stands out for its snow-capped peak and glaciers. There are five vegetation zones that cover its various altitudes: montane forest, moorland, upland moor, alpine bogs and alpine desert. The park is rich in mammal species.
Community Perspective: Climbing Kilimanjaro is "possible for anyone who is reasonably fit and does a bit of mental and physical preparation" – and 5 of the reviewers so far did so. However, it is possible to visit the park on a day hike too – see the reviews of Squiffy and Els.

Map of Kilimanjaro National Park
Load map
Community Reviews
---
5.00 Netherlands - 01-Aug-21 -
Kilimanjaro is a fascinating mountain/volcano and also a highly interesting nature park.
I climbed this mountain in 7 days with two good friends. The first day we spotted monkeys in the beautiful rain forest. We climbed up in the next rainy days. The 5th day before the summit finally the clouds were gone and we saw the majestic summit covered in snow.
In the night we departed from the highest camp (4600mtr.) and we climbed in the snow until the sun started to rise. Amazing views of sunset and the summit (5895mtr).
A long way down to the last camp at 3100 mtr. The final half day was a pleasant walk to the exit of this beautiful national park.
We combined this climb with a safari trough serengeti and ngorongoro national park. Spectacular trip!!
---
Kilimanjaro National Park is centered around Mount Kilimanjaro, the highest peak in Tanzania and in Africa at 19,341 ft / 5895 m. A dormant volcano (and the world's largest free-standing volcano), Kilimanjaro towers over an otherwise relatively flat area. The mountain is big enough to create its own weather patterns. When the mountain isn't covered in clouds, you get a stunning view of it from the nearest town, Moshi; though I've heard you can spend days in Moshi without ever seeing it.
I climbed Mt. Kilimanjaro via the Lemosho Route (8 day / 7 nights) in September 2020 on a private guided trip with a major outfitter. The "climb" is more of a treak--there is no technical mountaineering, only a bit of rock scrambling in several places. Climbing it was a very special experience and I'd highly recommend it to anyone who is in decent physical shape!
Date(s) Visited: September 1-8, 2020
Rating: Five stars. A giant dormant volcano with five different ecosystems on its slopes, plus the opportunity for active outdoor adventure. What else could a natural site offer?
Logistics: Moshi is the large town at the base of the mountain, and it's located only about 45 minutes to 1 hour from Kilimanjaro International Airport (JRO), which is serviced by a number of international airlines.
The main climbing seasons are December through February and June through October. You are required to use an organized private or group tour to climb, and there are countless operators to choose from (with varying safety records). I picked the operator based on its safety record and because it is one of the companies recommended by the Kilimanjaro Porters Assistance Project, which tracks which companies provide fair treatment of local staff (https://kiliporters.org/climb-with-a-partner-for-responsible-travel-company/).
Climbing Mt. Kilimanjaro can take anywhere from 5 days to 2 weeks, but most of the routes are 7 or 8 days. In all of the routes, you will start in the cloud forest on the lower slopes of the mountain (where you'll spot birds, monkeys, etc.) and then ascend through moorland to the alpine desert zone and (on the summit day) the artic zone. Generally, you will climb and acclimatize for a number of days and then on the second-to-the-last day leave "base camp" around midnight or 1am and ascend to the summit, watching sunrise on the way. You then descend the rest of that day and the final day of the trek. All of the routes are well labeled and the park is very clean, well-maintained. However, climbing is popular, and in high season, you may have 200-400 people summiting on the same day as you are.
I chose the Lemosho Route because it is (supposedly -- I have nothing to compare it to!) the most scenic route. The Lemosho (and seldom offered Shira Route) cross the Shira Plateau, where you have dramatic views of the mountain. It then meets up with the popular Machame Route for days 3-7 or 4-8 (depending on how long your trek is).
There is a TON of information about the various routes, the physical fitness required to climb, and what gear to pack.
---
The white-necked raven eyed us beadily. It was not an attractive bird. Its feathers were scruffy and its heavy beak was all too obviously designed for scavenging on carcasses. All the same, I was glad to see it. We were in northern Tanzania, one of the most famous wildlife destinations in the world. But that raven, I realised, was the first sign of life we had seen in hours.
Firstly, hats off to those reviewers below who have summited Mount Kilimanjaro. It's a great undertaking and I hope to follow in your footsteps one day. We debated whether trying to fit in the full ascent on our trip to Tanzania. We could have done – but it would have involved sacrificing other aspects of our itinerary. And, as our travel agent pointed out to us, "This is supposed to be a honeymoon, not an endurance test!" (The endurance test comes once the honeymoon is over I guess…)
So, like Els, we settled for a day hike on Kilimanjaro. From what I can gather, many of the trail heads are located outside Kilimanjaro National Park itself. The World Heritage Site occupies exactly the same dimensions as the National Park and both start 'at the tree line'. So if you are still trolling through forest, you are not yet in the National Park / World Heritage Site (I think). And that's a shame, because it's the forests that hold much of the wildlife. All of the overnight huts are located within the Park proper, though.
Our entire walk was above the treeline as we chose to take the Shira Route from the western Londorossi Gate. We were staying out towards Longido, west of the mountain, so it made sense. It also allowed us to maximise our time within the World Heritage Site. Beyond Londorossi Gate the road is passable for vehicles and so we swerved the first 1000m of ascent through a 30 minute drive. From there it was only a 90 minute walk to Shira Camp. The route took us across the Shira Plateau. The word to describe the surroundings would be 'unearthly'. It resembled nothing so much as a particularly godforsaken stretch of Scottish moorland. To our left was the slope up to Uhuru Peak, shielded from view by dirty grey clouds. To our right was Shira Peak. Ahead, 'Shira Cathedral'. And underfoot was mostly uneven rock, though with enough soil strewn about to support a regular alpine rock garden of hardy plant life. Sadly, we didn't spot any of the weird giant lobelia that can be found here. Nor did we spot any wildlife – or, indeed, anyone else. Despite all the bustle down at the park offices at Londorossi Gate we didn't spot anyone else on our trek across the Plateau towards Shira Camp. It was just the pair of us and our guide (for whom this must have literally been a walk in the park; he told us he had summited some 200 times). Our wildlife sightings were that single solitary raven and a brief glimpse of a mouse, and they were both once we had retraced our steps to the Land Rover. Larger wildlife is not unknown up on the plateau; indeed we crossed the gorge of the Simba River, named after lions that are infrequently seen.
I would stress one point that Els made in her review – Park fees are payable only by card. There was a group of Americans at Londorossi Gate when we arrived. They were still there when we left over four hours later. Upon arrival they discovered that none of their party's assorted debit or credit cards worked and they had needed to send someone all the way back to Moshi to withdraw cash. They were now racing the clock; if their friend didn't get back soon they wouldn't be able to leave for Shira Camp before night fell. And regardless of whether they set off that day or the next their booking still required them to leave the National Park on a fixed date. A day's delay undermined their chances of getting up to the summit and back down again safely.
World Heritage-iness: 2.5
My Experience: 2
(Visited Jan 2015)
---
We climbed Mount Kilimanjaro end of September using the Machame route (six days, five days up and one day down).
The first day – starting at the Machame gate (1.600m) to Machame camp (almost 3.000m) – is a 10km walk through tropical forest where some monkeys can be spotted.
Day two is short with only 5km but also steep since it ends at Shira camp at 3.800m. Right from the start the forest changes to heathland/moorland.
Day three is again a 10km walk where you climb to 4.600m but descend again to Barranco camp at 4.000m. Plant and animal life disappears further in this alpine desert.
The fourth day (9km) takes you from Barranco camp to Barafu camp at 4.600m and also crosses alpine desert.
And then finally summit night! We got up around midnight to start the 6km climb to the arctic ice fields at Uhuru peak at 5.895m, which we reached after 9 hours of climbing. However, what goes up must come down so the same day we descended back to Barafu camp. In principle, it is not allowed to stay at Barafu camp after summiting but taking into account the physical state of one of our group members an exception was made.
However, this also meant that on day six we had to go all the way down from Barafu camp to Mweka gate at 1.600m, or a 23km walk.
Plenty of detailed information about the different routes is available online, but what it's really like to climb Mount Kilimanjaro is usually limited to 'you can do it if you set your mind to it'. Therefore, below some personal experiences which might be useful for future visitors (ps: these are of course subjective since every climb is different, i.e. different physical condition, different route, different weather conditions, different guides, ...):
- Physical condition?: we are both mid forties with desk jobs and a normal physical condition (1h of sport/fitness per week and regular walks in the weekends). We did not specifically prepare for the climb. So it's not necessary to start running marathons, just make sure you are able to walk 10-15km without problems for consecutive days. Also make sure you walk in advance with the backpack/daypack you will use on Mount Kilimanjaro. The climb does not involve any real climbing, only on the Barranco wall you will need to use your hands (but certainly no need for special gear, ropes, ...).
- Which route?: there are six (main) routes, but most people use the Marangu or Machame route. As mentioned, we also took the Machame route although except for the Umbwe route this is the hardest route. However, it is also one of the routes with the best scenery and it has an acclimatisation day (day three) where you 'climb high and sleep low' thus increasing the chance to reach the summit. Downside is that the Machame route is more expensive than the Marangu route because it's one day longer and more porters are needed since you sleep in tents versus huts in case of the Marangu route (ps: the four other routes also use tents). The Machame route can also be done in seven instead of six days but we never felt that this would have been an advantage.
- Gear?: in our case, tents and sleeping mats were provided by the trekking agency. People who didn't have their own were also able to rent sleeping bags, down jackets, ... All of this was of good quality. Trekking poles and gaiters are recommended, especially for the descend.
In case you bring your own jacket, gloves, ... make sure they are warm enough. During the day even at 4.000-4.500m a t-shirt and light fleece are sufficient (at least end of September) but once the sun goes down it gets really cold, also at lower altitudes. It is something that is rarely mentioned but the nights are very cold since there is only a thin sleeping mat and tent to block the low temperatures so we were glad that we brought enough warm clothing. Summit night is also cold but at least you are moving – just make sure you have clothes that block the wind.
Ps: a practical issue we encountered in this respect is that since we brought a lot of our own gear, we were struggeling with the baggage allowance for the internal flights (in casu 23kg per person with Precision Air). We were able to solve this by redistributing to cabine luggage but in case you have to pay for excess baggage it might be more economical to rent e.g. a sleeping bag.
- Altitude sickness?: mr. Kbecq had a general feeling of malaise for one day (day two) while mrs. Kbecq didn't have any real issues. No headaches during the whole trek. Our group consisted of eight people and while everybody had some minor issues (headache, nausea, ...) these only lasted for a short period of time. Except for one person, everybody took Diamox pills. Downside is that it increases the number of toilet visits which is something you want to avoid in the middle of the nigth at -5C°.
- Comfort?: speaking of toilets, they are of the 'hole in the ground' type and are called five star toilets if they come with a door and lock. Except for a park rangers building, these are also the only buildings you will find in the (Machame) campsites which means no running water, showers, ... We were provided with a bowl of warm water every morning but be prepared to go on for six days without a proper wash. Three liters of clean drinking water was also provided each day (make sure to drink a lot to avoid altitude sickness).
- Food?: served in a mess tent and surprisingly good (soup, spaghetti, fruit, rice, potatoes, ...)
- Team?: for our group of eight, there were 24 porters, 2 cooks, 3 assistant guides and 1 senior guide. The guides are well trained in spotting who is having a difficult day and in general looking after everybody. Four guides also meant that in case e.g. 2 persons wanted to go at a slower pace this was no issue since they could have their own guide. There is less contact with the porters since they go at a faster to ensure that the tents are set when you arrive at the next campsite. However, these guys are amazing taking into account that they haul up 25kg every day.
Our group of eight was an international mix (UK, US, India, ...) of easy going persons which created a good atmosphere so there were never any irritations, discussions, ... On the contrary everybody was supporting each other in the (common) goal to reach the summit.
- Summit night? Is it hard?: yes it is, but we found it doable and never met 'the man with the hammer', had to talk to ourselves to keep on going, ... Just take it easy (polé polé) and you should be fine (assuming you don't run into altitude sickness and/or injuries). Our complete team of eight made it to the summit: 4 people in 8.5h, 2 in 9h and 2 in 12h.
This being said, you will also encounter people being escorted off the mountain while they are given oxygen, we saw the rescue helicopter, ... Don't let this stop you but take things serious as it's still an expidition at almost 6.000m.
Also take into account that while most people mention summit night, there are also other stretches of the route which are tough (the last km to Barafu camp comes to mind). Mr. Kbecq even found the descent on day six harder than summit night (although he's the only one in the group).
- Cost?: tips included our cost was about USD 1.500-1.750 per person but this also included a transfer from Kilimanjaro airport and two nights at a hotel in Moshi (before and after the climb). Guidelines about the amount of tips can be found and in our case it came down to about USD 250 per person.
- Conclusion: as mentioned above, comments about a Kilimanjaro climb are mostly limited to 'you can do it if you set your mind to it' but we must admit that this is true. Assuming a normal physical condition and no injuries/altitude sickness issues, reaching the summit should be possible. Just take it slow, enjoy the walk and the views!
---
My wife and I climbed Kilimanjaro in March 2011. We used a local company named Zara Tours, who I would fully recommend (it's not permitted to climb Kilimanjaro without guides).
Although you have a choice of routes, to maximise our chances of summiting we picked the longest route: Machame. This meant basically five days up, and 1.5 days back down, staying in tents the entire way. This gives you the longest amount of time to acclimatise to the altitude, as hypoxia is more likely to stop you reaching the summit than your legs are.
Along the way, you pass through rainforest, alpine forest, moorlands, and eventually the last couple of days it's just a rocky moonscape. Not much wildlife to speak of other than birds and insects.
Our porters and guides were great, and we felt in safe hands at all times. The only disappointment was that we arrived on the summit before sunrise, and the heavy clouds rolled in early that day so we couldn't see a thing!
As another reviewer said, if you want to just "see" Kilimanjaro from the base, your best bet is to stay a night or two in the nearby town of Moshi. The summit is usually shrouded in cloud during the day, but is typically clear around sunrise and sunset.
Good luck!
You can see more of my UNESCO World Heritage Journey on Youtube, via the link below.
Read more from Joel on the Road here.
---
3.50 The Netherlands - 15-Dec-08 -
Kilimanjaro is mostly known for being the highest mountain in Africa, and for being one of the most accessible high ones to climb. My visit however was a day trip only. I did a hike to the Mandara hut, the first "station" of the climb. I went with a group of 4, accompanied by 2 local Chagga guides (aged 53 and 64). These men (brothers) had been up and down the mountain all their lives, so they were knowledgeable guides and good companions.
The entrance gate to the National Park is located near the outskirts of Marangu town. There we first had to register and pay (60 US dollars, only by VISA credit card).
The trail up to the Mandara hut is 8.2 km long and goes up to 2700m. It entirely leads through a thick forest. The path is well marked and looks relatively flat. But in reality, you're climbing during the whole stretch.
This thick forest with many high trees also means that you are well hidden from the sun. Monkeys are seen occasionally along this path, but all we did hear were birds and the cracking noises the trees make. The guides pointed out some of the flowers - colourful little things amidst the dark green, light green, olive and hundreds of other kinds of green of the trees and their leaves.
We met quite a number of climbers on their way down. Our guides never failed to ask them "Did you make it to the top?" - which invoked a broad smile on many of the European, American, and Japanese faces. We also encountered lots of local porters, who seemed to transport whole kitchens on their necks. Sometimes they are also casually holding some bags of bread in their free hands.
After a little more than 3 hours, we arrived at Mandara Hut. This actually is a complex of huts. After registering again that we made it there, we had some lunch (that we brought with us) and just hang around taking in the atmosphere.
After 1 hour the guides prompted us to return. Dark clouds had appeared, so we tried to get back before the rain started. We walked down relatively easy in 2.5 hours. Now we really felt how steep the path actually is. And one has to be aware all the time not to trample on the rocks and roots that cover the path from time to time.
But we made it back safely, signed out at the entrance gate and drank a cold beer with our guides to celebrate this fine day.
P.S.: the peaks of Mount Kilimanjaro are often covered in clouds. Your best bet for a good photo is around 7 a.m. I took the large photo above from Marangu bus station around that time.
---
If you have just viewed this WHS from "ground level" in Amboseli Park or from Arusha why not try climbing it? It is possible for anyone who is reasonably fit and does a bit of mental and physical preparation.
I did it back in 1974 but no doubt it will be much busier, more commercialised and costly now. In those days there was only 1 route – from Marangu. But now there are many to choose from. I can't therefore comment on which is better. The Marangu is the "classic", and has huts (whereas the others require camping) but uses the same route up and down whereas others provide some variety! I turned up at the Marangu hotel and made up a group with 4 other tourists there. The hotel arranged the porters etc. I see from the web site that the hotel is still there offering the same services (though the English colonial ladies who ran it on those days have no doubt passed on unfortunately). It is certainly pleasantly located for a stay before and after and possibly more so than a hotel in Arusha or Moshi. We went up without hut bookings but I doubt that that is possible nowadays. Even then the middle hut (Horombo) got over-full as it alone is used on the upward and downward route.
Each day passes through different country – forest, savannah and high mountain desert. The Giant Lobelia and other unique botanical species are a highlight of the walk together with the views and the understanding you gain of the enormous bulk of this mountain. Although there are animals in the park you are not likely to see much other than birds. The final day's climb from Kibo hut is traditionally started very early so that arrival at the rim (Gilman's Point) is achieved in time for sunrise and before the views across to Mawenzi are obscured by the clouds which soon build up. This also leaves time to walk round to the summit at Uhuru Peak on a snow covered path looking down into the glaciers and ice needles in the crater – if you are up to it! (Though I understand that "global warming" across the years since my 1974 climb might have removed most of the ice and snow)
Estimates of the success rates vary - some say as low as 30% others up around 80% to Gilmans point but lower to Uhuru. It is certainly true that many will be forced to give up - particularly on the final morning climb from Kibo. Of our 5 only 3 of us made it to Gilmans and we all went on to Uhuru. Those who gave up suggested that they had not entered the task with the right degree of commitment, having decided to do the climb whilst passing through Tanzania on an Africa trip. First of all, given the cost and commitment you are going to have to face it is worth ensuring you are as fit as you can be before you go, but altitude sickness can hit anyone however fit – and there is little chance to acclimatise on this trip. You can arrange an extra night at Horombo but some might believe that only gives you more chance of getting sick! Be very careful with your diet – I took my own supplements and avoided some of the prepared meals – you climb on your stomach and you need energy not lots of bulk! Also only drink filtered water and remember that, at altitude hot tea and coffee are probably not properly boiled. We learned 2 words of Swahili which helped with success :-
"Twende" –"Lets go" - this after the frequent rest stops. It is not a race. There is more than enough time each day to get between the huts so you might as well have plenty of rest stops!
"Polepole" – "Slowly". If you are breathing heavily you are going too fast/hard!
So "Go for it!" and good luck!
---
Site Info
Site Links
Unesco Website
Official Website
Related
In the News
Visitors
128 Community Members have visited.