Kilimanjaro National Park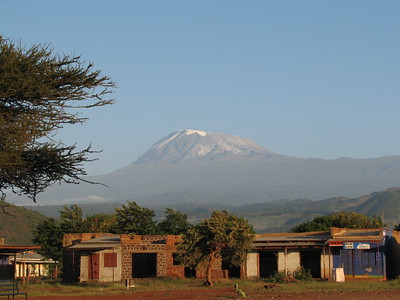 Kilimanjaro is the highest mountain in Africa (5895m), and one of the largest volcanoes in the world. It also is the largest single free-standing mountain mass in the world, rising 4877 meters above the surrounding plains. Kilimanjaro has two peaks: Kibo and Mawenzi.
It's a natural heritage site since 1987, because of its exceptional natural beauty and its rare and endangered plants and animal species. Vegetation types vary from low to high altitude: montane forest, moorland, upland moor, alpine bogs and alpine desert.
Map of Kilimanjaro National Park
Legend
Visit December 2008
Kilimanjaro is mostly known for being the highest mountain in Africa, and for being one of the most accessible high ones to climb. My visit however was a day trip only. I did a hike to the Mandara hut, the first "station" of the climb. I went with a group of 4, accompanied by 2 local Chagga guides (aged 53 and 64). These men (brothers) had been up and down the mountain all their lives, so they were knowledgeable guides and good companions.
The entrance gate to the National Park is located near the outskirts of Marangu town. There we first had to register and pay (60 US dollar, only by VISA credit card).
The trail up to the Mandara hut is 8.2 km long and goes up to 2700m. It entirely leads through thick forest. The path is well marked and looks relatively flat. But in reality you're climbing during the whole stretch.
This thick forest with many high trees also means that you are well hidden from the sun. Monkeys are seen occassionally along this path, but all we did hear were birds and the cracking noises the trees make. The guides pointed out some of the flowers - colourful little things amidst the dark green, light green, olive and hundreds of other kinds of green of the trees and their leafs.
We met quite a number of climbers on their way down. Our guides never failed to ask them "Did you make it to the top?" - which invoked a broad smile on many of the European, American and Japanese faces. We also encountered lots of local porters, who seemed to transport whole kitchens on their necks. Sometimes also casually holding some bags of bread in their free hands.
After a little more than 3 hours we arrived at Mandara Hut. This actually is a complex of huts. After registering again that we made it there, we had some lunch (that we brought with us) and just hang around taking in the atmosphere.
After 1 hour the guides prompted us to return. Dark clouds had appeared, so we tried to get back before the rain started. We walked down relatively easy in 2.5 hours. Now we really felt how steep the path actually is. And one has to be aware all the time not to trample on the rocks and roots that cover the path from time to time.
But we made it back safely, signed out at the entrance gate and drank a cold beer with our guides to celebrate this fine day.
P.S.: the peaks of Mount Kilimanjaro are often covered in clouds. Your best bet for a good photo is around 7 a.m. I took the large photo above from Marangu bus station around that time.
Community Reviews
---
---
---
---
---
Community Rating
Community Rating 4.60. Based on 5 votes.
Site Info
Full name: Kilimanjaro National Park
Unesco ID: 403
Inscribed: 1987
Type: Natural
Criteria: 7
Site Links
Unesco Website
Official Website
Related
Connections
The site has 27 connections. Show all
Visitors
66 community members have visited Kilimanjaro National Park. Show all