Jesuit Missions of the Guaranis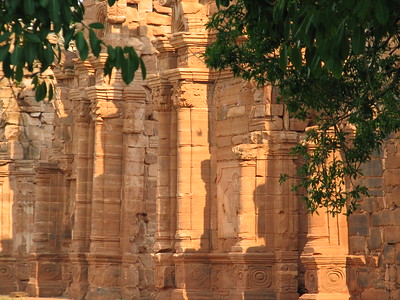 The Jesuit Missions of the Guaranis are the archeological remains of towns created by the Jesuit Order.
The towns existed between 1609 and 1818, and aimed to socially, culturally and religiously elevate the local Guarani Indians. They also provided protection and economic stability. Originally there were 30 missions, spread out over Paraguay, Argentina and Brazil. The two Jesuit missions in Paraguay are now a separate WHS.
This designated site consists of five different missions:
- São Miguel das Missões (Brazil)
- San Ignacio Mini (Argentina)
- Nuestra Señora de Santa Ana (Argentina)
- Nuestra Señora de Loreto (Argentina)
- Santa María la Mayor (Argentina)
Map of Jesuit Missions of the Guaranis
Legend
Visit October 2008
San Ignacio Mini is the most popular of these 'Missions' (the locals more aptly call them Las Ruinas). I went there by public bus from Posadas. This trip takes over an hour, passing fine scenery of endless green fields and forests. I was the only one to be dropped off at the church of San Ignacio, and was given directions by the bus boy to get to my destination. San Ignacio is a sleepy little town, where the selling of souvenirs seems to be the main trade. Before entering the San Ignacio Mini complex, you first have to brave 250 meters of souvenir stalls.
Entrance was free today (normally it's 25 pesos for foreigners). I don't know why I didn't have to pay, it could have been a holiday / a protest / a malfunctioning computer / lack of change or whatever. I've been in Argentina now for less than a week, and I've seldom paid any entry fees (I rode for free in the Buenos Aires metro for 3 days). The same observation counts for the double pricing system: they do tend to differ prices between Argentinians, Other Latin Americans and Other foreigners, but aren't strict in following this through: they just assume everybody is Argentinian. Personally I can't believe the money they're throwing away (especially at the Buenos Aires metro, which could use some new paint).
Back to San Ignacio Mini - what kind of site is this? It was a small town with a church (of course), a large central square, houses for the residents (the Guarani) and other communal buildings. Now it is almost completely in ruins. The new life that has entered the ruined buildings did fascinate me the most - pretty and big lizards lazing in the sun, lots of birds, trees and plants taking over from the stones again. The site management tries to keep all ruined buildings 'clean', but I like it when nature claims it back. It's a very pleasant place to wander around for an hour or two, but I wouldn't be sad when it would disappear and become part of the jungle again.
Community Reviews
---
---
---
---
---
---
---
---
Site Info
Full name: Jesuit Missions of the Guaranis: San Ignacio Mini, Santa Ana, Nuestra Senora de Loreto and Santa Maria Mayor (Argentina), Ruins of Sao Miguel das Missoes (Brazil)
Unesco ID: 275
Inscribed: 1983
Type: Cultural
Criteria: 4
Site History
1984 - Name change

From The ruins of Sao Miguel das Missoes

1984 - Extended

To include multiple locations

1983 - Inscribed
Site Links
Unesco Website
Official Website
Locations
The site has 5 locations.
Connections
The site has 16 connections. Show all
Visitors
59 community members have visited Jesuit Missions of the Guaranis. Show all