Jesuit Missions of Trinidad and Jesus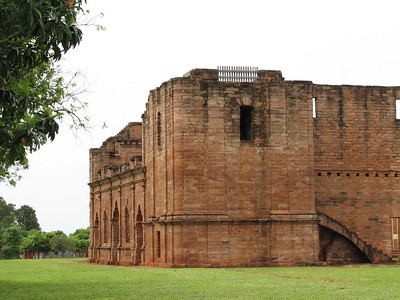 The Jesuit Missions of La Santisima Trinidad de Parana and Jesus de Tavarangue are two examples of small colonies established by Jesuit missionaries in Paraguay throughout the 17th and 18th century.
They were built as miniature city-states that integrated the indigenous Guarani populations with Christian faith.
The mission of Trinidad was originally constructed in 1706, the intended self-sufficient city came complete with a central meeting plaza, a large church meetinghouse, a school, several workshops, a museum and housing for the local Indian population. The nearby mission of Jesus de Tavarangue was created in 1685.
Map of Jesuit Missions of Trinidad and Jesus
Legend
Visit October 2008
I would probably never have gone to Paraguay if this site hadn't won a separate place on the World Heritage List. As stated above, it represents the same heritage as the missions just across the border in Argentina and Brazil. However, the Jesuit mission of Trinidad probably is the best of them all. There was one other visitor when I arrived at the complex. As a whole it looked well maintained.
The site is huge, with a cathedral-like church as the central point. There's another church on site - there were two cemeteries and two kinds of housing as well. Always one for the missionaries and one for the natives. Not really utopia after all, wasn't it?
The Trinidad church still has great sculptures. Despite its partly ruined state, one can easily imagine this to be a classical catholic church. Even the crypt and the baptismal font have survived. The site in general looks very peaceful. The grounds are covered with little white flowers, like snow flakes. Its setting reminded me a lot of another outpost WHS, the Buddhist Vihara at Paharpur (Bangladesh).
About 11 km down the road lies Jesus de Tavarangue. This site looks if it has a different layout from the others, or it might be that much of the housing has gone. The only large monument still standing upright is the colossal church.
Entrance to the sites costs 5000 guaranis each. Small denominations of Argentinian pesos are accepted too, but you will get the change in guaranis. I visited both locations on a half day trip from the Argentinian border town of Posadas. A local taxi driver who I'd hired for the day drove me there. The border crossing in and out of Paraguay earned me four more impressive stamps in my passport, but was without any hassle.
Click
here
to see more of my photos of Jesuit Missions of Trinidad and Jesus
Community Reviews
---
---
---
---
---
Share your experiences!
Have you been to Jesuit Missions of Trinidad and Jesus? Add your own review!
Community Rating
Community Rating 2.58. Based on 6 votes.
Site Info
Full name: Jesuit Missions of La Santisima Trinidad de Parana and Jesus de Tavarangue
Unesco ID: 648
Inscribed: 1993
Type: Cultural
Criteria: 4
Site History
1993 - Revision

Originally a third Paraguayan mission was proposed (Santos Cosme y Damian), but this one was withdrawn after the ICOMOS evaluation reported that it should be omitted.

1993 - Inscribed
Site Links
Unesco Website
Official Website
Related
Locations
The site has 2 locations.
Connections
The site has 10 connections.
Visitors
47 community members have visited Jesuit Missions of Trinidad and Jesus. Show all