Iwami Ginzan Silver Mine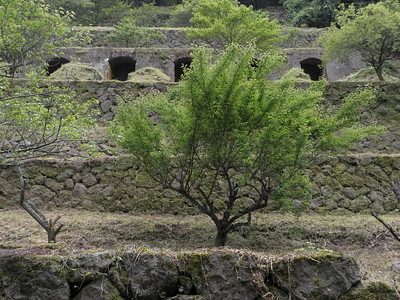 Iwami Ginzan Silver Mine and its Cultural Landscape is a relict mining landscape that flourished between the 17th and 19th centuries due to an exchange of ideas and trade with East Asia and Europe.
It gives an overall picture of mine management from silver production to shipment. The entire process was done manually.
The mine was developed in 1526 by Kamiya Jutei, a Japanese merchant. Large amounts of quality silver could be produced due to the introduction of the traditional East Asian metal refining method. It reached its peak production of 38 tons in the early 17th century of approximately 38 tons of silver a year which was then a third of world production.
Silver production from the mine fell in the nineteenth century as it had trouble competing with mines elsewhere and it was eventually closed in 1923.
The inscribed area is located around Mount Sennoyama in Shimane Prefecture, Honshu. It is a serial nomination of 14 locations, including:
- Silver mine and mining towns (plus 3 mountain fortresses to guard them)
- Transportation routes
- Ports and port towns (Tomogaura, Okidomari, Yunotsu)
Map of Iwami Ginzan Silver Mine
Legend
Visit May 2012
It's no miracle that only one of our regulars (hi John!) arrived here before me. The Iwami Ginzan ("ginzan" meaning silver mountain) is located at the northern coast of Honshu, in an area without big cities. The shinkansen takes the route along the south coast, swiftly passing this formerly remote region by. To reach it, I took a regular train from Okayama to Izumo (3 hours), and then it takes another local train (45 minutes) and a local bus (25 minutes) to get at Omori – the village at the heart of this WHS.
They are prepared though to receive visitors. The lady at the information office at Odashi station came running out to me at the bus stop to supply me with several glossy brochures in English. One of these included an offer that I had not encountered on my travels before: foreigners get a discount! If you show your passport to proof that you're not Japanese, you get 100-300 Yen off at each of the major sites to visit in the WHS area.
I started my visit at the lower end of Omori town. One of the first older buildings here (the Former Magistrate's Office) holds the Iwami Ginzan Museum. A 20-minute video in English was started for me. It explained Iwami Ginzan's history, but quite superficial and I did not get more from it than by reading the nomination file during my preparation. The OUV of the site is a bit sketchy, and ICOMOS had recommended a deferral in 2007. But the site got in anyway at the WHC meeting.
I walked on further into the valley, through the quiet streets of the town were much of the shops seemed to be closed. Besides mining relics, the site also includes a number of temples and shrines that are related to the mining period. The most impressive surely is the Rakan-ji, a temple built into a cliff where 2 caves hold 250 Buddhist arhat statues each.
The remains of the mine are located about 2 km north of the town. It's a fine walk along the Ginzan Trail, through the forest. Next to the trail lie various remains, such as graves, small mine shafts (600), refineries and workshops. Ryugenju Mabu mine shaft is one of the biggest that has been discovered, and it is open to tourists. You can walk underground for a few hundred meters, not very spectacular I have to say. It shows that this indeed is a very "relict" cultural landscape, mining was already abandoned in the 1920s.
My general feeling after visiting this WHS also was that it all was quite "dead" and that it had not come to life for me what had happened here when the silver was mined. Probably the Shimizudani Refinery Ruines were the most memorable part, though these are a very late (1893) addition.
Click
here
to see more of my photos of Iwami Ginzan Silver Mine
Community Reviews
---
---
---
---
---
---
Community Rating
Community Rating 2.83. Based on 6 votes.
Site Info
Full name: Iwami Ginzan Silver Mine and its Cultural Landscape
Unesco ID: 1246
Inscribed: 2007
Type: Cultural
Criteria: 2 3 5
Site History
2007 - Advisory Body overruled

ICOMOS had asked for Deferral, to study the mining technology used and to strengthen its claim for OUV due to cultural exchange

2007 - Inscribed
Site Links
Unesco Website
Official Website
Related
In the News
Locations
The site has 6 locations.
Connections
The site has 14 connections. Show all
Visitors
33 community members have visited Iwami Ginzan Silver Mine. Show all