Ichkeul National Park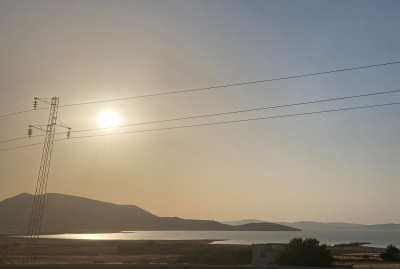 .
Ichkeul National Park is an important stopping-over point for hundreds of thousands of migrating birds each year.
It is located in northern Tunisia near the shore of the Mediterranean Sea. Among the lake's visitors are ducks, geese, storks, and pink flamingoes.
Dam construction on the lake's feeder rivers has produced major changes to the ecological balance of the lake and wetlands. Because these dams have sharply reduced the freshwater inflow to the lakes and marshes, the reedbeds, sedges, and other fresh-water plant species have been replaced with salt-loving plants. These changes have produced a sharp reduction in the migratory bird populations, which depend on the mix of plants that used to exist.
Map of Ichkeul National Park
Legend
Community Reviews
---
Well, the place was visited by me in 1999 but I guess that most of the information is actual. The easiest way to get there is by car (I haven't even checked the possibility of local transportation there), from Tunis take road P7 to Mateur and then P11 to Tinia, after a while turn left on a non-sealed but stable road you can reach the gate of the park (there is an entrance fee for the car). Just around 2 km from the place there is an eco-museum (at the time of my visit it was free of charge) with local exhibitions. From that point you can take an easy by-the-lake walk on a local road (unsealed) round the lake. All that area together with a nearby Jabal (Mointain) Ichkeul and the marchlands with bulls (on a way to the park) are inscribed as World Heritage Site. More info:
www.eoearth.org/article/Ichkeul_National_Park,_Tunisia
---
Site Info
Full name: Ichkeul National Park
Unesco ID: 8
Inscribed: 1980
Type: Natural
Criteria: 10
Site History
2006 - Removed from Danger list

1996 - In Danger

construction of two dams had limited freshwater flow and devastated the wetland values

1980 - Inscribed

1979 - Deferred

Until Tunisia has contacted other States to ensure adequate protection of summering and wintering areas of major migratory species found in Ichkeul

1978 - Deferred

Lack of documentation
Site Links
Unesco Website
Official Website
Connections
The site has 17 connections. Show all
Visitors
22 community members have visited Ichkeul National Park. Show all