Gaya Tumuli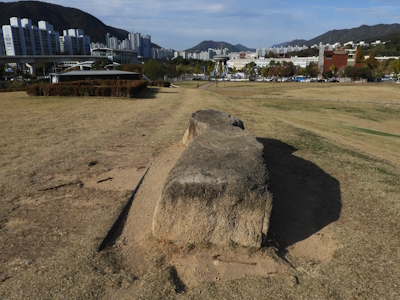 The Gaya Tumuli are the monumental burial places of the leaders of the unique Gaya Confederacy.
Gaya existed independently for about 600 years (ending in 562) by binding together component polities with similar cultural characteristics, but never developing into a true unified state. The seven tumuli sites are located on hilltops in the southern reaches of the Korean Peninsula, each at the centre of the respective polity.
Community Perspective: Korea is starting to overdo it a bit with the Tombs WHS, although this one covers yet another cultural tradition. Two components have been reviewed so far: Goryeong Daegaya (Kyle) and Gimhae Daeseong-dong (Zoë and GabLabCebu) in Gimhae, a satellite city of Busan.
Community Reviews
---
2.00 Philippines - 11-Jun-23 -
Daesong-dong Gobungun (+ surprise Jisan-dong Gobungun drive-by), June 2023
With an already packed Korea trip, I carelessly dismissed most Gaya Tumuli sites as too inaccessible to squeeze into the itinerary; reading through the (two) reviews on this website, I decided that Daesong-dong was easily my best bet to check this site and see the Gaya remains for myself. Daesong-dong is located in the center of Gimhae, a satellite city of Busan and connected by metro (a very scenic light rail line, to be specific!), the closest stop being Gimhae National Museum. This turned out to be about 1.5 hours one-way transit from Busan Train Station. Gimhae seems to be extremely proud of their Gaya heritage, as the center of the Geumgwan Gaya, among the most influential of the Gaya Confederacy. One can actually see the huge mound as the train approaches the station, probably a casual visitor's best spot for a bird's eye view of the site. Then, you can just cross the street, and voila, you've arrived! Honestly, the most interesting in situ remains were exposed excavations laden with pottery and other artifacts, which you can peer at from the balcony of the building on the side of the mound. Other than that, one can see short rectangular hedges, tombs where excavations had already taken place, scattered all throughout the site, along with a couple dolmens and one tomb with rocks. In fact, what I (and I suppose many others) had assumed to be a huge mound was actually the completely natural Aeguji Hill! With that in mind, is it even appropriate to consider this a tumuli site? Perhaps "gobungun" here can refer to any ancient tombs. The museum with its explanations and artifacts was a lot more interesting than the site itself; still, I had my doubts on whether the site's OUV really lay in the site itself instead of the artifacts found in it...
Fast-forward a few days later, and I was on a bus from Daegu to Haeinsa. I knew that there were also buses between these places and Goryeong, the town where Jisan-dong is located, but I didn't realize that Goryeong was actually a stop on every bus between Daegu and Haeinsa. Lo and behold, I spotted the tumuli crowning the hills above the city and could only watch in awe and regret as we drove past them. So, heads up to future WHS hunters in Korea, you can do Jisan-dong and Haeinsa in a single public-transport day trip from Daegu! I believe there is even a stop at the Daegaya Museum itself; if not, it is easily under two kilometers from the Goryeong bus station. Seeing these mounds in front of my very eyes, I could definitely see a unique visual of the mounds endlessly littering the hilltops here, and even from that brief drive-by, I can confidently say Jisan-dong is the more interesting and impressive site of the two with reviews here. While the mounds are not very different from the later Silla ones, their settings and the different archaeological findings definitely set them apart. Therefore, I really highly recommend a day trip to Goryeong for Jisan-dong, especially combined with Haeinsa. I do also look forward to seeing reviews of the remaining five gobungun, which also highlight separate states or subcultures of the Gaya. Based on the merit of Jisan-dong and the extensiveness of the nomination to showcase different parts of the Gaya Confederacy to showcase a diverse and distinct culture, I would have to (somewhat begrudgingly) agree to the admission of yet another ancient Korean cemetery to the List.
---
2.00 Chinese-Canadian - 12-Jul-18 -
For this location I picked the Gimhae Daeseong-dong Tumuli due to easier map location, with Gimhae also being a rather large town instead of what appears to be in the middle of nowhere to find the other Haman Malisan Tumuli. Parking is just next to the large museum and the museum is entirely free! There is an information desk but the guy didn't speak anything but Korean so I just went ahead inside. The signs are available in Korean and English and are in great detail. I found out much more than expected. They also call this site as being "temporarily" listed as UNESCO rather than tentatively...interesting!
Once you go through the museum you can freely walk on top of the actual tumuli, a large burial mound and reminiscent of the Viking ones in Scandinavia. At the start is a burial chamber you can look inside with a few signs but overall it is just a walk to stretch your legs, making that small ascend for a higher overview of the site, and then making your way down towards the parking lot if you are done here.
Whereas the site is surely important for Korean history I'm not sure what they expect to see as unique value to the rest of the world.
---
3.00 California - United States of America - 10-Jul-16 -
So far 704 tombs have been identified at Jisan-dong, dates range from 400 - 562 CE. The Gaya Confederacy was located between Baekje and Silla, and ultimately annexed by the later during the 6th century. Important elements of these tombs are its connection to human sacrifice, the largest evidence yet found in any single tomb site in Korea. In addition, there are numerous artifacts that originate from China, Japan, and the Okinawan islands. In fact, one tomb even contained Roman glass!
During my visit to the numerous tumuli (tombs literally cover the hillsides), the Daegaya museum, and the Tomb 44 exhibition hall, I learned quite a lot about this ancient culture. Both similar, yet different from Silla and Baekje, I was surprised by the tremendous artifacts being unearthed just in the last couple years.
Being in late June, the heat and humidity while climbing the steep trail to view the tombs was really a workout. The location is spectacular in both its view, but also the recognition of how many tombs there are here. Keep in mind Goryeong is not too far from Haeinsa Temple, Dodong Seowon, and Upo Wetland. So if you are driving, it might prove to be an excellent region of Korea to explore.
There is an interesting history connected to these tombs. Japan between the 1910's to 1940's spent significant resources in conducting archeological digs in Goryeong. Their purpose was to find evidence of a link between the Gaya Confederacy and the Yamato State in Japan. In their view Gaya must have been a military outpost of Yamato, but no evidence was ever discovered. In fact, archeologists today recognize that Gaya was a uniquely organized political system at the time in East Asia which interacted and exchanged goods with surrounding polities. Part of the criteria for inscription (iii) reflect this value.
I found the Goryeong Daegaya site to be interesting and worth visiting. However, there are 2 Goguryeo Tomb WHS, 1 Baekje Tomb WHS, 1 Silla Tomb WHS, and 1 Joseon Tomb WHS. That means there are already 5 world heritage sites on the Korean Peninsula where the primary (or nearly so) justification for OUV is based on burial designs and rituals. Gaya culture is a little-known but important state during this period, not only for Korea, but also Japan in regards to trade.
One unique bonus I experienced in visiting this site, upon entering the museum I received a free book about the Daegaya State and the tombs found in Goryeong. It's a real book, maybe around 200 pages, and it includes excellent photographs, information about the history, artifacts, archeological digs, and nomination.
Read more from Kyle Magnuson here.
---
Site Info
Site History
2019

Revision

Successor to TWHS Gaya Tumuli of Gimhae - Haman & The Goryeong Jisandong Daegaya Tumuli (2013)
Visitors
24 Community Members have visited.