Diamantina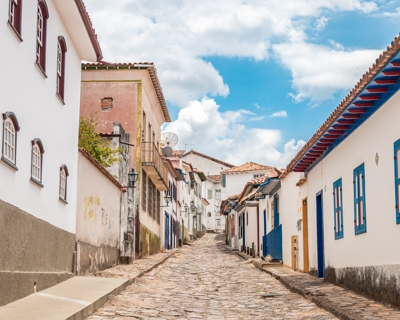 The Historic Centre of the Town of Diamantina comprises a colonial city landscape created by the commercial and political explorers of Brazil's interior.
Diamantina blossomed in the 18th and early 19th centuries because of diamond mining in the region, which was administered by the Portuguese Crown. Its centre has been well-preserved, with mostly Baroque architecture executed in wood and adobe.
Community Perspective: a relatively isolated, pleasant enough colonial town that doesn't see many foreign visitors. Highlights include the Diamond Museum, the Market Square and the Casa da Glória with its picturesque passageway.
Community Reviews
---
3.00 Philippines | New Zealand - 02-Feb-23 -
The colonial town of Diamantina is situated about 300 kilometers north of the state capital city of Belo Horizonte. It's pretty much evident that its status as a center of diamond mining pretty much shaped its history and influenced its culture and urban fabric to this day. I reckon that you can see through its history how controlling and authoritarian the Portuguese crown was at the time.
I visited Diamantina in September 2022 and stayed for 2 nights. I arrived at the town's bus station late at night after a 6-hour bus ride from Belo Horizonte. It was a quick but steep descent to the town centre from the bus station, so travelers may opt to ride a taxi. I know that having one full day may be enough to cover the main sights as the town centre itself is small and compact, but I reckoned that staying for two to three days is ideal to properly appreciate and immerse in the OUV of the town. I ticked off the following sights on my first full day, which afforded me a leisurely walk around the town the day after.
Catedral de Santo Antonio – seat of the archdiocese of Diamantina and is also known as the Sé.
Mercado Municipal – a plaza surrounded by shops and establishments housed in colourful buildings.
Casa da Chica da Silva – the former mansion of the uber-rich Joao Fernandes de Oliveira and his partner, Chica da Silva, a former slave. The Museu do Diamante was operating in the Casa at the time of the visit. I was not certain why the Museu do Diamante was closed that time, but possibly due to renovation.
Casa da Glória – comprised of two buildings that are connected by a blue 2nd-story passageway.
Several churches such as the Igreja de Nossa Senhora do Carmo, Igreja de Nossa Senhora do Rosário dos Pretos, Igreja Nosso Senhor do Bonfim, and the cute Igreja do Amparo.
What I have noticed was that church exteriors were relatively toned down and that they somehow blend with the look and feel of civic buildings. This observation aligns with that of the site's brief synthesis, although I cannot personally say that this feature is unique to the town. Overall, Diamantina is a charming colonial town that boasts beautiful and well-preserved plazas, buildings, and cobblestone streets. Its isolation provides a more authentic feel—possibly a good escape from the tourists and bustling commerce found in Belo Horizonte and Ouro Preto.
---
Diamantina, once the beginning of the Gold Trail in Minas Gerais, is now far off the beaten track. During our visit in November 2020, not only were there no foreign tourists here, but even quite a few locals - a great contrast to the crowded Ouro Preto or quite lively smaller towns like Tiradentes or Mariana.
Diamantina differs from other colonial mining towns in Minas Gerais. It is, I would say, more rugged, we also had the impression that it is situated higher in the mountains (not true, the height is almost the same as Ouro Preto). The cobblestone streets seem wider, although this may be an impression due to the lack of crowds. It is difficult for me to find the distinguishing points of this place - for sure, as Solivagant wrote earlier, the local market square stands out. We didn't manage to see the peculiarities of the city as the Diamond Museum was closed due to the pandemic. Despite the lack of characteristic memories, we liked Diamantina, but in general we like nice little towns off the beaten track. And we have to admit that the historic center is wonderfully refurbished, which is simply eye-catching and nice to explore.
You can get to the city by the good road BR-040 and 259, access from Belo Horizonte takes just over 4 hours by car. We chose the slightly longer but more interesting road MG-010, stopping on the way in the beautiful Serra do Cipo national park. For nature lovers along the way there is also Serra do Intendente park with Cachoeira do Tabuleiro waterfall, one of the highest in Brazil. Be warned - the road MG-010 behind the village of Conceicao up to Mato Dentro changes into a dirt road and although it is passable for ordinary cars, it is better to have one with a slightly higher suspension.
Diamantina is 'only' 7 hours away from one of the most wonderful national parks in Brazil - Cavernas do Peruacu, currently on the Tentative List. During our stay, the park was unfortunately closed (as the only one of the Brazilian national parks), but having seen the photos, there is no doubt it is a must see place.
---
Having recently visited, and seeing as the previous reviews are quite old, I thought it might be time for an update. But actually, it seems like nothing has really changed in 10+ years in Diamantina. Maybe that is the charm. It is far enough from anywhere that it still doesn't see many foreign visitors compared to Ouro Preto and the other colonial Minas towns. Even in colonial times it was remote, being the starting point of the "gold trail" leading to Paraty on the coast.
The horses aren't parked in front of the marketplace anymore but the well preserved centre still retains its easy-going colonial charm. Is it an essential visit to understanding the rich history of Minas Gerais? No. Go to Ouro Preto. If you are short on time it is skipable. If you have the time, the 5 hour journey from Belo Horizonte one way makes it best visited on an overnight trip which is plenty of time.
---
Diamantina is a pleasant enough colonial town, but is not in my opinion in the same class as Ouro Preto or even of a number of other non-inscribed colonial towns in Minas Gerais such as Tiradentes. It hovers between "worth a detour" and "worth a visit" if you have the time and want to clock up another WHS. The trouble is that it is somewhat isolated from the more frequented tourist areas south of Belo which can be passed through on a "natural route" and a "detour" to see it is quite long. If you decide to go there you will probably have to accept doing a return journey on public transport which could involve a couple of days. We avoided this by renting a car from Belo having bussed in overnight from Brasilia (if you do this go out to the closer and less busy Pamphula airport and "play the field" for a good deal with the range of rent-a-car companies there. While you are there visit the nearby Tentative List entry of "Ensemble architectonique de tourisme et loisir au bord du lac de Pampulha") and were able to get up to Diamantina that morning AND back to Ouro Preto for that evening. A bus from Belo will take up to 6 hours each way (there are apparently ways of avoiding a return journey on public transport by changing at Curvelo near the Belo - Brasilia highway).
Diamantina's relative isolation means that it is considerably less touristy than Ouro Preto etc. We however found it quite bustling with traffic (if anything more so than Ouro Preto). There is the usual selection of Baroque churches, colonial mansions and cobbled streets. The market square and its wooden building dating back to 1838 (photo) is perhaps its most unusual and "atmospheric" sight with the horses (belonging to the stallholders?) "parked" outside (though I had to work hard to avoid getting any cars in the picture!). It is said (though I have never seen "first hand" evidence) that this building with its archways was used by Niemeyer as inspiration for the Palacio da Alvorada in Brasilia (He was in Diamantina for the design of the Hotel da Tijuco). As you approach by road you get a feeling for the wildness of the countryside around Diamantina and, with more time, it might repay exploration – but we didn't.
---
3.50 The Netherlands - 07-Oct-04 -
Diamantina really is very different from Ouro Preto for example, and not just another mining town. It's smaller (the historical remains can only be seen in the center of the current city) and soberer. I found that it has some basic beauty.
There were quite a number of Brazilian daytrippers around, but I didn't see any foreign tourists. Maybe that's because it takes 5 hours to get here by bus from Belo Horizonte, not the center of the world itself. It's quite a lively town, with music played in the streets and a number of good restaurants. And (of course) the Diamond Museum. Here you can see some real diamonds (there's a very strong man with a gun guarding them, and selling the entrance tickets). Also, there are paintings that depict how the slaves had to do the digging, and how their masters lived.
In the town center there are a number of good sights. I liked the pure and simple Igreja do Rosario. And also the small houses along the street from there to another church, do Carmo. Not to be missed too is the very blue passageway at the Casa da Gloria.
---
Site Info
Site Links
Unesco Website
Official Website
Visitors
52 Community Members have visited.