Camagüey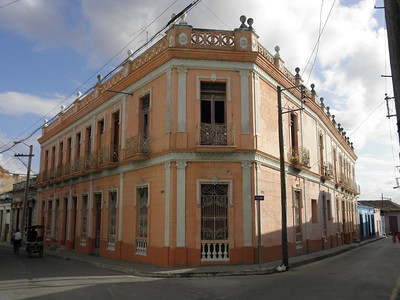 The Historic Centre of Camagüey has an unusually irregular urban layout.
This inland town was one of the first founded by the Spanish in Cuba. The nucleus is the Plaza Mayor, from where numerous churches and convents can be found in equidistant positions to the four winds. Earthen components and clay vessels for water storage were used in its domestic architecture.
Community Perspective: A "decent city with its pluses and minuses", including lots of churches and squares.
Community Reviews
---
Visited this site in May 2018.
As described, this city, founded in 1528, provides a unique irregular urban layout plan with numerous squares dominated by religious buildings. Such irregular street design was likely needed to confuse and make life difficult for possible invaders (didn't help as Henry Morgan burned the city).
There is in fact several squares dominated by a church or colonial building and connected by narrow streets. Our most favorite was Plaza del Carmen with lovely sculptures of locals doing everyday staff, like carrying famous clay pots or reading newspapers. It is also place for excellent Martha Jimenez Perez gallery. She is one of the most famous contemporaneous Cuban painter. We even purchased beautiful sketch for 80 CUCs.
In overall, decent city with its pluses and minuses, not star attraction, probably deserving WHS status.
---
Jen
I visited Camaguey in April 2011. Normally I love the cuban people, but I found them overwhelming as they hounded me in the city limits.
The preserved old town is beautiful, but surrounded by the slums characteristic of a third-world city. The streets are very narrow and seemed very difficult to navigate (I was not driving).
Am I glad I went? Yes. Am I glad I paid for a tour instead of trying to make my way through the city myself? definitely. Would I revisit the city? Probably not. That said, the province of Camaguey itself is beautiful.
---
2.50 The Netherlands - 10-Jan-12 -
The Camaguey nomination file has the length of a Fidel Castro average speech. Every ice cream parlour is named. This is not helped by an El Cheapo translation into English of the file. Why this has become a WHS is a mystery, and it remained that way after I had visited the place.
It's not an unfriendly city though. It probably has more "normal" city life than the average Cuban town: a large shopping street, terraces on the main square. Lots of churches too. It is definitely pleasant to walk around for an hour or two, exploring the many little and larger squares. But that's about it.
The nomination draws heavily on Camagüeys Andalucian touches, but you'll need a lot of imagination to see this parallel. The large clay jars I only saw deliberately placed on the town's tourist trail: in the former convent/museum and next to the main church.
---
Site Info
Site Links
Unesco Website
Related
In the News
Visitors
101 Community Members have visited.