Brasilia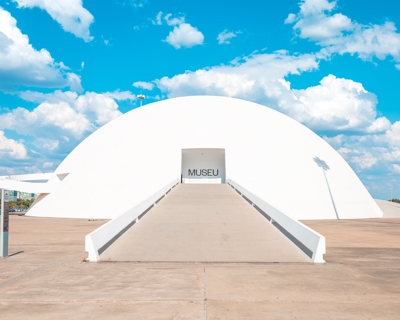 Brasilia is one of the major examples of the 20th century´s modern movement in architecture and urban planning.
The city officially became Brazil´s capital on April, 1960. Four years before, it didn´t even exist. At that time, President Juscelino Kubitschek commisioned Lucio Costa (urban planner), Oscar Niemeyer (architect) and Burle Marx (landscape architect) to build a new city from scratch.
Lucio Costa drew the Plano Piloto, in which Brasilia is shaped like an airplane (or a bird). There´s a wide north-south axis for transportation. Around this are the residential zones, divided into blocks, each with its own churches, shops, schools etc.
At the tip of the east-west axis there are formidable government buildings, like the Congress and the Itamaraty Palace.
The city was planned for 500.000 to 700.000 people. More would have to live in sattelite cities, which are abundant now because of Brasilia´s 2 million population.
Visit October 2004
This is a strange city, that cannot be compared to any other in Brazil (or the rest of the world). To be honest: the first thing that came to my mind was that they dropped an atomic bomb here. It must have happened in the early 1970´s, in a Bucharest-like city. The people are slowly starting to return now, occasionally you see one or two moving about the fields.
To see some of the architecture, I joined a 3-hour bustour. We visited 9 places of interest. The most impressive I found the Sanctuario Dom Bosco. When you step inside this church, you´re surrounded by a blue light shining through the many glass-tiled windows.
The other buildings are a lot more sober. Some beautiful in their simplicity (like the Church of Our Lady of Fatima), others quite depressing (like the highrise buildings that were built for the ministries).
Community Reviews
---
---
---
---
---
---
Community Rating
Community Rating 3.81. Based on 8 votes.
Site Info
Full name: Brasilia
Unesco ID: 445
Inscribed: 1987
Type: Cultural
Criteria: 1 4
Site Links
Unesco Website
Official Website
Related
In the News
Connections
The site has 18 connections. Show all
Visitors
74 community members have visited Brasilia. Show all