Aflaj irrigation system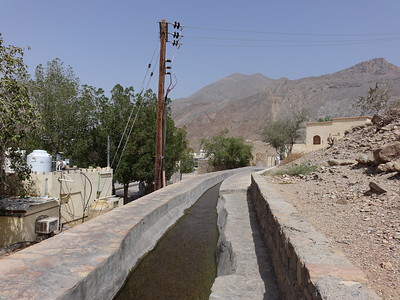 The Aflaj Irrigation System comprises 5 of the some 3,000 still functioning complete settlement irrigation systems in Oman.
The sites are an exceptionally well preserved form of land-use. They are still functioning as integral and essential aspects of the production systems of villages and towns, and are still managed by long-standing traditional systems within the communities they serve.
The five chosen systems are:
- Falaj Al-Khatmeen
- Falaj Al-Malki
- Falaj Daris
- Falaj Al-Jeela
- Falaj Al-Muyassar
Map of Aflaj irrigation system
Legend
Visit April 2018
The Aflaj are as typical of Oman as its fortresses. Nearly every village or town with roots older than Sultan Qaboos's reign has such a falaj irrigation system. A combination of 5 out of the more than 3,000 still functioning systems have been declared a World Heritage Site. Of these 5, I visited the ones in Birkat Al-Mouz (Falaj Al-Khatmeen) and Nizwa (Falaj Daris). To both there is no formal access, they just lie in public areas.
The town of Birkat Al-Mouz is conveniently located en route between Muscat and Nizwa. When I parked my rental car at the local fort, I was immediately approached by a man in a 4x4 who asked whether I wanted a tour to the nearby mountain Jebel Akhdar. The "green mountain" is rather dry at this time of year, so I let that opportunity pass me by. For most tourists however the mountain is a bigger attraction than a falaj.
The downhill stream of the Falaj Al-Khatmeen is easy to follow in Birkat Al-Mouz. It first appears above ground at the back of the Bait al Radidah fortress. Then it flows past the mosque, where there also are ablution spaces using the falaj (they look like dressing rooms or public toilets). Next to it is the WHS marker: a square column with the inscription text in 4 languages - Arabic, English, German and (I am not sure about this one) French. Later in the day I encountered the same style of marker at Falaj Daris.
The irrigation channel itself is not a spectacular sight, but coming closer to daily life in a village like Birkat is worth the visit in itself. Birkat's town center has some large trees that provide much appreciated shade. A group of older men were sitting underneath them on the sand, playing dominoes. Others used the stone edge of the falaj as a bench. The channel here splits into several branches to distribute the water around town.
I continued my walk along a field with date palms. Two men were busy trimming one of the palm trees at the top, so that the dates will have the space to grow. Following the advice from my Bradt Travel Guide, I went further into the village. Still the many branches of the irrigation canal were all around to see. After fifteen minutes I arrived at the gate of a cluster of wonderfully ramshackle mud houses. Most inhabitants have left this part of the village to settle in more modern houses elsewhere in Birkat Al-Mouz. But still some seem to be inhabited, at least I noticed laundry hanging outside to dry.
Later in the day I made my way to Falaj Daris, just north of Nizwa. It is signposted from the road to Bahla, just keep on going til you see the brown sign. Here they have designed a park around the old falaj. There were some children playing, and young guys noisily crossed the terrain with mopeds. People swim or even bathe in this falaj. It has plenty of water in it, and it is much broader than the one in Birkat Al-Mouz. Unfortunately there is only a short stretch of the falaj above the ground, so it is of limited interest. In Birkat Al-Mouz I spent almost one and a half hour, in Nizwa less than 5 minutes….
Click
here
to see more of my photos of Aflaj irrigation system
Community Reviews
---
---
---
---
---
---
---
Community Rating
Community Rating 2.31. Based on 13 votes.
Site Info
Full name: The aflaj irrigation system
Unesco ID: 1207
Inscribed: 2006
Type: Cultural
Criteria: 5
Site History
2006 - Advisory Body overruled

ICOMOS advised Referral, for better protection and management plan

2006 - Inscribed
Site Links
Unesco Website
Official Website
Related
In the News
Locations
The site has 5 locations.
Connections
The site has 10 connections.
Visitors
63 community members have visited Aflaj irrigation system. Show all