Construction de la Co-principauté d'Andorre (A)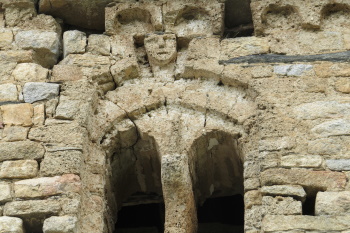 Les témoignages matériels de la construction de l'État des Pyrénées : la Co-principauté d'Andorre (A) is part of the Tentative list of Andorra in order to qualify for inclusion in the World Heritage List.
The material evidence of the construction of the Co-Principality of Andorra consists of a group of monuments dating from the medieval ages to the 16th century. They bear witness to the creation of a peaceful state in the Pyrenees. In Andorra it comprises 10 sites.
Map of Construction de la Co-principauté d'Andorre (A)
Load map
The coordinates shown for all tentative sites were produced as a community effort. They are not official and may change on inscription.
Community Reviews
---
In Sept 2018 things had moved on at Sta Coloma since Hubert's visit/review in 2014. Our hotel (The Garden – "Ok" at 60 Eur B+B for 2 with ample free parking) was situated in the Andorra la Vella suburb of Sta Coloma immediately opposite the alley leading to the church, so it was no problem at least to have a look at it from the outside. We had tried 2 of the Romanesque Churches from Andorra's other T List entry – St Joan de Casselles and Sant Miquel d'Engolasters and found both closed so I haven't bothered to do a review of them. However we were "in luck" with Sta Coloma and found it open – AND with a new "videograph" presentation.
The Church contains just one in situ mural – a partial "Agnus Dei" in a medallion surrounded by 2 angels dating from the 12C and created, it is believed, by the "Master" of St Coloma. This is located at the front of the nave just before the apse. In the apse itself there should have been a complete set of pre-Romanesque paintings by the same hand, but these had been sold in the 1930s - apparently to help pay for repairs to the church. They were confiscated by the Nazis from the original Belgian collector and finished up in Berlin. However, in 2007 they were recovered (at a cost of over 4 million Euros!) by the Andorran government.
The decision has been made not to try to return them to their original location but rather to build a museum next to the church. We didn't notice the building under construction but then we weren't looking for it - its planned 2018 completion date seems at risk, however. What has been produced to date is a 6 minute video which projects the paintings onto the whitewashed ceiling and walls of the apse in 2 forms – their (current?) faded form and a reproduction with the colours which they would once have had (Photo). The partially remaining mural on the front wall of the nave is also "completed" and enhanced. It appears that we were lucky as the current viewing arrangements only lasted until end Sept 2018 – but since the projection cost 130k Euro and required installation of special equipment in the form of 6 projectors, it will presumably be repeated. I guess that the problem is that it seems to require an "operator" to be present. This article describes more about it and indicates the sort of plans foreseen for showing the projection in future as part of the overall museum/church display.
The projection was interesting and certainly "added value". Despite this extra feature and even the upcoming museum showing the original, I wouldn't have thought that the chances of this church ever gaining inscription, however important it may be to Andorra, would have been increased - but if you are in the area it is worth checking out.
I also think back to the issue raised by the Chauvet Cave and the arguments about showing/not showing replicas - could this be another example of what the "future" for viewing some artworks might look like? It might as "easily" be done for artworks which are just receiving too many visitors - a replica building and the highest quality projection of the original.
---
During our visit in Andorra in May 2014, we visited five of the eight churches that are included in this tentative site. Their architectural style is similar to other Romanesque churches in the Pyrenees, but those in the Vall de Boi are far more beautiful and more impressive. I liked most Sant Miquel d'Engolasters and the small Sant Serni de Nagol (photo), which is very similar to the small hermitage in Durro/Vall de Boi. The other churches are located either at a busy road or in a town centre surrounded by ugly modern buildings, not to be compared with the scenery in the Vall de Boi. However, we did not visit the churches in Pal and La Cortinada, which are located in more remote side valleys. None of the churches was open to visitors.
All in all, this tentative site would not add much to the WH list, Romanesque churches in the Pyrenees are very well represented by the Vall de Boi WHS.
---
It is not clear to me why Santa Coloma is a separate T-list entry and why it is not included in the "Eglises romanes d'Andorre" site. Maybe because the round bell tower is unusual, or because original murals from the 12th century can be seen inside. However, we could not assess their quality, the church was closed. But Santa Coloma seems to have a special significance in Andorra, because since 2014, the church is depicted on the 10, 20, and 50-cent coins. The "Ensemble historique" also includes the church of Sant Vicens d'Enclar, which is located on a hill just above the village. But it can only be reached by foot and we did not visit. Santa Coloma is located only a few kilometers from Andorra la Vella, and a quick stopover might be worthwhile to check whether the church is open and the murals can be visited.
---
I visited the Church of Sant Miquel d'Engolasters by chance in May 2014 when visiting Andorra's only inscribed WHS. There are some information boards but its condition, its location close to the mountain pass and the fact that it's always pretty much closed didn't impress me much. The churches of the Vall de Boi in Spain are way better.
---
I visited the 12th century romanesque Church of Sant Miquel d'Engolasters, which lies just outside the core zone of Andorra's only WHS so far. The little church is easy to spot as it stands close to the road that leads up to the Lake of Engolasters. It is one of 8 sites that together form this TWHS.
It really is a minor site where a visit shouldn't take more then 5 minutes. The church door was locked so I didn't get in - but its original frescoes have been taken away long ago to the MNAC museum in Barcelona. Most interesting is its tall bell tower, which looks very vulnerable. One decent storm and the dry stone will crumble away. At the highest arch a sculpture representing a human face can be seen.
---
Site Info
Full Name

Les témoignages matériels de la construction de l'État des Pyrénées : la Co-principauté d'Andorre (A)

Country

Added

Type

Cultural

Categories

Link
Site History
2021

Revision

Successor to former TWHS Ensemble historique de Santa Coloma (1999) and (part of) Eglises romanes de Andorre (1999)
2021

Added to Tentative List
Site Links
Visitors
35 Community Members have visited.