Former M-13 prison/ Tuol Sleng Genocide Museum / Choeung Ek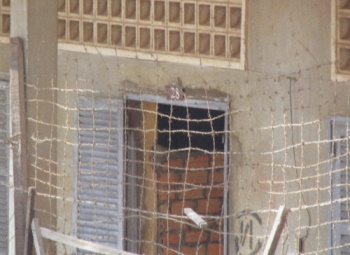 Former M-13 prison/ Tuol Sleng Genocide Museum (former S-21)/ Choeung Ek Genocidal Centre (former Execution Site of S-21) is part of the Tentative list of Cambodia in order to qualify for inclusion in the World Heritage List.
These three crime sites of the radical Khmer Rouge regime from the 1970s are places of remembrance for the victims. The preserved buildings and landscapes provide the evidence that the crimes have been committed. Tuol Sleng also played a pivotal role in the world's first trial against genocide in 1979.
Map of Former M-13 prison/ Tuol Sleng Genocide Museum / Choeung Ek
Load map
The coordinates shown for all tentative sites were produced as a community effort. They are not official and may change on inscription.
Community Reviews
---
It's not often that a major city, especially a national capital, has genocide memorials as its most famous and important tourist attraction, but for all Phnom Penh has to offer, this is exactly the case. I flew into Phnom Penh to start my tour of Cambodia in January 2023, and Choeung Ek and Tuol Sleng were definitely the top priorities of my first day there. The Cambodian capital is unfortunately deficient in public transport, so I had the hotel call us a taxi which took us around the city for the whole day. This was quite fortunate as our driver was very knowledgeable about the different sites in the city, and he informed us that the two main genocide memorials had long lunch breaks; if you want to see them consecutively, make sure to leave early in the morning, or otherwise, you would have to fill up the 3-4 hours around noon with other things as we did (we checked out Wat Phnom, Wat Ounalom, and the Royal Palace, and even had lunch in between the two sites). Els already covers Tuol Sleng well in her review, so I'll mostly focus on Choeung Ek, the Killing Fields and the very first site I visited in the wonderful nation of the Khmer.
Choeung Ek is the farthest major Phnom Penh site from the city center; with the morning rush hour traffic, it took nearly an hour to get there from downtown. Despite the sprawling image conjured up by its name, it's actually quite a small complex, doable in under an hour and with a circuit you can easily follow. My visit started with the most iconic image of this place, the memorial tower/pagoda/stupa that houses several small stories of the victims' bones. Many of the bones display evidence of the injury and abuse by the soldiers and generals, some even classified according to the weapon used on them. The lowest level houses other relics, ranging from the clothes of the Khmer Rouge soldiers and prisoners alike to the devices used to torture and murder the victims. From there, you can follow the circuit through the former orchard to see signboards depicting what each spot was at the time; there was one spot where the prisoners from Tuol Sleng were unloaded from the trucks, another was the former location of the chemical weapons storage room. Finally towards the back, you'll come across the mass graves. The landscape becomes full of huge roughly round holes in the ground. I thought they might have been the result of landmines, but it turns out each one was a mass grave, and human remains had been excavated from them. One display here was that of the little pieces of clothing from the victims that had been found in the graves, and if you look closely at the ground in and around the big holes, you can still see more rags partially buried in the soil. Another display preserves human bones in situ under glass. It's a harrowing and heavy place to walk through, but just over the walls and even just behind the trees, life thrives in the rice fields and free-roaming chickens. Back by the entrance, you'll find a monument to the Cambodian people, much like in the schoolyards in Tuol Sleng. They've gone through such tragedy, and the proof is in the ground you walk over here in the Killing Fields.
I personally don't see any reason to doubt the OUV of this site. Of course, authenticity isn't much of a question as these sites were found as they are in 1979; one need not wonder in awe of how the wooden, brick, and cement prison cells in Tuol Sleng or the mass graves of Choeung Ek have survived to this day. Is it too recent? Well, the Sydney Opera House was finished in 1973, just six years earlier. And the claim that "Cambodia has a very young population, and by 2003, three-quarters of Cambodians were too young to remember the Khmer Rouge era" is definitely one of merit considering everyone we asked during the trip seemed to tell us a different death toll for the genocide. I just think it's a part of world history that cannot and should not be forgotten. And the mass graves and great inventory of remains and evidences found in Choeung Ek definitely contribute greatly to the site's tangible fabric. As for M-13, I had never even heard about it as an accessible tourist spot, so hopefully someone here can figure out a way to visit it as it could offer fresh perspectives to this serial nomination as an earlier prison of the Khmer Rouge. All in all, I believe this would make for a very worthy and important WHS, and I fully recommend a visit to both Tuol Sleng and Choeung Ek to any visitor to Cambodia; it shows a very different side of the country from the wondrous Khmer temples that are undoubtedly the highlights of a trip here.
---
A few weeks ago, Cambodia has added 3 of its genocide memorials to the Tentative List as a serial proposal. The sites commemorate the victims of the Khmer Rouge regime, which was overthrown in 1979. The proposal still has the cumbersome working title "Former M-13 prison/ Tuol Sleng Genocide Museum (former S-21)/ Choeung Ek Genocidal Centre (former Execution Site of S-21)".
I visited the former S-21 prison, now known as the Tuol Sleng Genocide Museum, in 2007. It is located in street 113 in the heart of Phnom Penh. In 2007 it saw some 50 visitors a day, but probably this has risen over the years due to the increase in global tourism - it is one of the few obvious "things to do" in the Cambodian capital. It is also a well-known place on the Dark Tourism circuit. Unfortunately I lost most of the photos of my visit, but I do still have my diary notes and the leaflet that was handed out upon entering the site.
The prison was located in an old school building. Between 1975 and 1978, some 12,000 prisoners were detained and tortured here. When further questioning was of no use, the prisoner was taken to the out-of-town Killing Fields (such as Choeung Ek, the third location of this serial tentative site). There he or she ended up in a mass grave.
The museum still resembles a school building, with classrooms, long corridors and a playground. The classrooms were divided into cells of about 2 by 1.5 meters. Parts of these have been preserved, just like the medieval-looking torture instruments. A climbing frame on the playground was used to hang prisoners.
In a number of rooms you can see original photos of those who were detained here and later killed. Among them also many members of the Khmer Rouge, who were no longer trusted. They are recognizable by their black suits and standard hairdos.
In a cinema room upstairs, the movie "Bophana" is shown which tells the human story behind this mass murder. During the Khmer Rouge regime, 2 million Cambodians lost their lives through starvation and destruction. At least two things happened that also characterize other genocides: there was a fairly large number of collaborators / sympathizers (sometimes out of conviction, but also out of opportunism or fear) and easily influencable child soldiers were used.
To determine whether this site has any chance of inscription, we must await the WHC meeting of 2020 for the results of the evaluation of "sites associated with recent conflicts". In 2018, advisory bodies ICSC and ICOMOS each had already written their advice from which a few of criteria can be filtered out:
There should be a common importance for the international community as a whole;
Sufficient time should have elapsed;
All stakeholders should be involved. The narrative should be impartial and/or multiple narratives should be recognised;
There has to be tangible fabric left related to the events (preferably outstanding on its own).
It takes an expert to really measure the 3 Cambodian genocide monuments against these criteria, but a few things do stand out:
The Cambodian genocide certainly was a globally relevant event and it remains one of the most deadly genocides to date. Also, the aspired agrarian-autarkic society was "one of the most extreme examples of sociological experiment a regime or government ever tried to put in practice". (source)
The killings stopped in 1979, but the regime held on to its UN seat until 1983 and only in 2003 Cambodia and the UN recognized their specific crimes to humanity (leading to the jailing of two of its leaders in 2014). So it is still relatively fresh, however "Cambodia has a very young population and by 2003 three-quarters of Cambodians were too young to remember the Khmer Rouge era" (source).
Cambodia still appeared to be struggling with inclusion and the avoidance of political whitewashing as recent as 2015 (source). However, the Killing Fields site of Kraing Ta Chan is described by ICSC as a "good practice of interpretation" - surprisingly that site is not among the 3 locations included in this tentative proposal (it is mentioned in the comparative analysis and maybe dismissed too lightly).
All 3 locations have immovable tangible fabric left. Tuol Sleng is probably the best preserved, but it would be a stretch to declare this concrete school building as a monument on other grounds than its link with the prison activities.
---
Site Info
Full Name

Former M-13 prison/ Tuol Sleng Genocide Museum (former S-21)/ Choeung Ek Genocidal Centre (former Execution Site of S-21)

Country

Added

2020

Type

Cultural

Categories

Link
Site History
2020

Added to Tentative List
Site Links
Locations
The site has 3 locations
Former M-13 prison/ Tuol Sleng Genocide Museum (former S-21)/ Choeung Ek Genocidal Centre (former Execution Site of S-21):
former M-13 prison
(T)
Former M-13 prison/ Tuol Sleng Genocide Museum (former S-21)/ Choeung Ek Genocidal Centre (former Execution Site of S-21):
Tuol Sleng Genocide Museum
(T)
Visitors
46 Community Members have visited.