Lake Maggiore and Lake D'Orta lakelands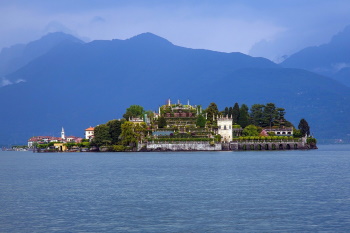 Lake Maggiore and Lake D'Orta lakelands is part of the Tentative list of Italy in order to qualify for inclusion in the World Heritage List.
The Lake Maggiore and Lake D'Orta Lakelands is located in Piemonte, on the eastern side of the Pre-Alpine lake district. Since the 16th century, the landscape has been extensively remodelled, with the construction of villa-palazzos and formal gardens. Concepts such as "landscape museum" and "landscape poetry" found inspirations in these lakelands, testifying to a particularly harmonious man-landscape relationship.
Map of Lake Maggiore and Lake D'Orta lakelands
Load map
The coordinates shown for all tentative sites were produced as a community effort. They are not official and may change on inscription.
Community Reviews
---
As a child, my family and I drove from Hamburg to Italy twice, with Lago Maggiore being our first stop after driving non-stop for 12 hours. The stunning scenery on the western side of the lake, near the Swiss border, left a lasting impression on me; not much else of those Italy trips did.
It took decades for me to return. Finally, some 40 years later, I stayed for a night in Dormelletto on the Southern shore. The next day I visited Arona, Stresa, and the Isola Bella, before heading to Basel by train. In comparison to my childhood memories, the lake felt more developed, with hotels, vacation homes, and campgrounds lining its shoreline. And heavy traffic running on the one road that runs along the western shore. It's not a pleasure to go walking as there is no trail or sidewalk running along the shoreline or the road.
The most notable structures around Lago Maggiore include the Isolas Borromeas, particularly the Isola Bella with its palace and garden (make sure to check out the basement), the city of Stresa and the Rocca di Angera castle on the Eastern shore. The boats to the islands go from Stresa and there are several providers. In Switzerland, Locarno/Ascona are also pretty. If my memory serves me well, as kid we felt the eastern shore was better as it had longer sun in the evening.
On a previous trip, I also had the chance to visit Lago d'Orta, and in my opinion, it is the more charming of the two lakes. Although it is smaller in size, it makes up for it with its stunning alpine scenery and the Isola San Giulio, which is home to the Monastero Mater Ecclesiae. It's also less touristy and crowded.
OUV
While the alpine lakes in Switzerland and Italy are undoubtedly beautiful, their natural beauty alone does not meet the criteria for Outstanding Universal Value (OUV). The southern portions of Lago Maggiore are relatively unremarkable. In fact, my travel companion questioned the value of going there if she had the Wannsee at her doorsteps in Berlin: There is little point staying further South than Stresa as you don't get many alpine views.
If Italy ever got serious, a more focused and comprehensive approach would be necessary. Specific structures or features would have to be identified to showcase their cultural or historical significance. Given the abundance of heritage sites in Italy, the lakes do not add significantly to the country's already impressive list of world heritage sites.
It's worth noting that since Lago Maggiore is partly located in Switzerland, any nomination for OUV would likely need to be a joint Swiss-Italian effort.
Getting There
The western side of Lago Maggiore lies on the train line that connects Milan and Domodossola, with the scenic route beginning at Stresa. It's not necessary to venture further south as the area is less picturesque. If you're interested in visiting Locarno, which is located in Switzerland, there's a separate train line that runs from Milan.
Buses operate around Lago Maggiore, but they have a reputation for being unreliable. For travel to Lago d'Orta, trains are available, but you'll need to transfer at Novara. Keep in mind that traveling between both lakes can be somewhat cumbersome.
While You Are There
A pile dwelling location can be found near Dormelletto on a small lake. The region boasts an abundance of Sacri Monti, including the beautiful Sacro Monte d'Orta overlooking Lago d'Orta, and the Sacro Monte di Domodossola in the town of Domodossola. The Sacro Monte d'Orta was one of those accidental visits, where a friend of my fathers was showing me his most beloved place in Italy (Lago d'Orta). We were already heading back and when we decided to briefly visit the monastery. On site, I spotted the Unesco sign.
While it's well-known that you can head south to Milan to explore the many attractions of Northern Italy, it's also worth considering a trip north to Brig to visit the Jungfrau Aletsch Gletscher from the southern side. It's important to note that if you plan on taking an expensive lift up to the ridge of the glacier, it's best to check the livecam first as visibility can be limited. On my visit, I've had visibility below 10m.
---
Interesting to visit but do not offer that universal value. Otherwise Lake Garda and all lakes could be included in the list.
---
Site Info
Full Name

Lake Maggiore and Lake D'Orta lakelands

Country

Added

2006

Type

Cultural

Categories

Link
Site History
2006

Revision

Includes former TWHS Contesti Lacustri
2006

Added to Tentative List
Visitors
91 Community Members have visited.