Ujung Kulon National Park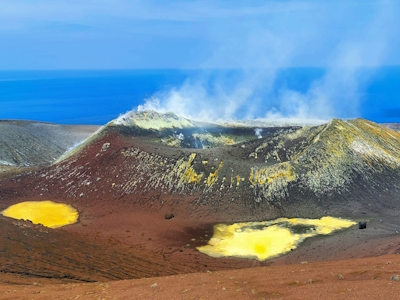 Ujung Kulon National Park contains the largest remaining lowland rainforest in Java, which is the habitat of the critically endangered Javan Rhinoceros.
The park consists of the Ujung Kulon peninsula and several offshore islands, including the volcanic island group of Krakatoa. Krakatoa's devastating eruption of 1883 has led to ongoing geological activity and is a well-known object of scientific study. The Javan Rhino count is down to about 60 individuals.
Community Perspective: a day trip to Krakatoa seems to be the most popular way to visit as it can be arranged from as far as Jakarta. You can have calm seas (Frederik), but it also can turn into "by far the most dangerous and exhilarating WHS visits so far" (Clyde). Joel visited shortly after Clyde, and now the main cone of Anak Krakatau had collapsed. Frédéric gives a different perspective on this WHS as he visited Handeuleum Island, which wasn't a walk in the park either.
Map of Ujung Kulon National Park
Load map
Community Reviews
---
I visited Anak Krakatau (a part of Ujung Kulon National Park) in January 2011 with my brother, my dad, and my uncle. We took a 2D1N tour package that includes a day-trip to Anak Krakatau, a stop at the Anak Krakatau's monitoring office near Carita, and a visit to the historic Dutch lighthouse called Cikoneng on the way back to Jakarta.
We flew to Jakarta from KL one evening and were immediately greeted by our guide (from krakatau-tour.com) and his driver who took us to a nice little hotel in Carita that same evening. Carita was a very small town and not at all touristy at that time. I'm not sure how it is today, but I remember we had to walk quite far from our hotel just to get to the nearest restaurant for dinner.
The next day, we had a simple hotel breakfast before the guide came to us and brought us to the jetty about 5 mins from the hotel. The boat ride to Anak Krakatau took about 1.5 hours one way, the ride was very bumpy as the ocean waves were very strong, definitely not a ride for those who are prone to seasickness.
We weren't allowed to land on the Anak Krakatau island itself because of the ongoing volcanic activity, so we had to land at one of the islands nearby called Sertung Island. Once arrived, we sat down by the black sandy beach while enjoying the impressive display put by Anak Krakatau. The lunch was pre-packed by the tour guide, so we sat down to have lunch while marveling the ongoing volcanic activity of Anak Krakatau on display right in front of eyes.
After about an hour on the island, the guide circled the main island as close as possibly allowed once before bringing us to a snorkeling spot nearby on the way back. However, being Malaysians who had visited beautiful islands like Redang, Kapas, and Tioman in Malaysia, the snorkeling session was pretty underwhelming to be honest.
We then went back to Carita, then to Jakarta. On the way back to Jakarta, we stopped at the seismic office called Pasauran Sesmograf to look at the live seismometer that was used to monitor Anak Krakatau's activity, then we stopped at the Anyer Cikoneng lighthouse, before reaching Jakarta.
Despite not being able to land on the island and hike the volcano because of the activity at that time, I thought that overall, it was an even greater experience to visit while the volcano was active, and just for the OUV of these volcanic islands alone, Ujong Kulon National Park definitely deserves the world heritage status.
---
Determining how to visit Ujung Kulon was the most complex part of planning my trip to Indonesia in February 2023. In the weeks leading up to my departure, I contacted several tour operators in Carita and even Jakarta to inquire about their itineraries, availability and costs. I was looking for three-day, two-night tours that included Krakatau and the Ujung Kulon peninsula. Several companies answered me, but none with a price lower than 9 million Indonesian rupiahs per person, that is to say more than 800$ CAD, which was considerably higher than the price we were ready to spend for this excursion. It is finally by contacting Sunda Jaya Homestay on WhatsApp that we found the solution. We had to put Krakatau aside, but we could explore the park for three days, including snorkeling, hiking and wildlife viewing, for Rp 8 million for two people. This included a first night at the home stay, a second night on Peucang Island and a last night camping in the park.
But before you can enjoy the park, you must get there. We took a Grab (a local Uber) from downtown Jakarta to the Kalideres bus station, then a bus to Labuhan. From Labuhan, according to Lonely Planet, there is only one bus per day to Tamanjaya. It's a bit of a mystery to me how this part worked out, but I think our guest house had everything organized and the driver was waiting for us. Indeed, in Indonesia, the bus drivers wait for the passengers, make the errands of whole villages and stop to eat or gossip as they want. It took us more than five hours to get from Labuhan to Tamanjaya in a minibus that was often crowded, without air-conditioning, filled with cigarette smoke and sometimes with cacophonous bands of musicians. The last 20 kilometers is on a completely broken road with huge holes that would have been almost faster to walk at times.
However, when we arrived, we were charmed by the place and our guide, Ihrom. The beachfront cabins with palm trees were really nice. After a moment of rest, we were treated to an excellent dinner (chicken, crabs, fish, vegetables), including a cake for my friend's birthday, whom the guide had gone to look for more than 20 kilometers away (on the broken road yes). The end of the evening was marked by strong winds and a violent storm. By the way, this bad weather remained in the predictions for the days to come. You should know that my friend works on small boats and knows how to read wind predictions at sea. And she was concerned about what she was seeing. Indeed, it might be impossible for us to return from Peucang Island for several days if the wind predictions, and therefore the waves, were right. We agreed to revise our plan the next day if necessary.
The following morning, the waves were hitting the shore and it was impossible to go out at sea. So we headed for the hot springs. The short hike goes through the village and fields before reaching the boundaries of the national park. I think we entered the core zone for the first time at this point. The trail was very muddy at times. The hot spring empties into a small square concrete basin. We saw black monkeys (more about them at the end) and a young silvery gibbon, an endangered species endemic to Java. On the way back, Ihrom showed us monitor lizards on the beach and harvested coconuts for us.
Back at the home stay, we finally decided to abandon the idea of going to Peucang Island. We will sleep on Handeuleum Island instead, and only one night instead of two. We will do a canoe trip there, including wildlife viewing in a savannah, and then come back the next day via a four-hour hike in the jungle. This plan pleases everyone (we will be accompanied by a couple of tourists and another guide, the owner of the home stay). Thus, since our destination is less far, we can leave in speed boat, that is to say a long canoe equipped with a weak engine that nobody else would have qualified as fast... The island of Handeuleum has rudimentary cottages where we spend the night. We also find there many very active and visible animals, of which Javan rusas (picture by my friend), crab-eating macaques and green peafowls. We realized in the evening that the deer were being fed. Although it was nice to see them up close, this practice should be avoided, especially in a conservation area.
The day ended with the canoe trip. We explored a river near the place marked Padang Penggembalaan Cigenter on Google Maps. We saw three pythons and another snake, as well as some birds (including oriental pied hornbill) and flying foxes, but no rhinos unfortunately. In five years, Ihrom has only seen a rhino once, and that was on this river. At the time, I was wearing rather worn-out pants that I had brought along for the dirty moments (I had an adventure caving trip in Malaysia in mind). I was sticking to my canoe bench and came out with my buttocks stained blue. Luckily, I was wearing these old clothes that I allowed to get dirty. After the canoe ride, we looked around the savannah for banteng, but there was none grazing.
The next morning, we returned to the mainland for our four-hour hike through the jungle. Although the trail was beautiful for the first five minutes, it quickly deteriorated. We were following a fence set up to mark the rhino's habitat and protect them, and the trail became very muddy. We were often ankle deep in it. While we tried at the beginning to avoid getting too dirty, we quickly understood that it was hopeless. It is also necessary to know that the palms and the other plants of the forest carry almost all enormous and sharp spines. It is therefore impossible to hold on to the branches to help you get through the mud, just as you should not walk too closely along the edge. At one point, my friend gave a shout behind me. She didn't lift her foot high enough and hit a tree trunk on the ground. This one of course had the huge thorns on it and three of them stuck deep into my friend's shoe. She could no longer remove her shoe because the thorns were holding it in place, and she could feel them in her skin. However, we realized that there was more fear than harm after she gently removed her shoe. The thorns have indeed only reached the skin very superficially. For the continuation, it would be necessary to be careful. On my side, a little further, I took a big step to avoid the mud, but my pants did not accept it. They tore on the front from the top of the thigh to the knee. Mosquitoes and plants now had a wide-open door on my flesh and it made the hike pretty uncomfortable. And we were just getting started!
Other than the muddy trail and aggressive plants, we didn't see much of anything extraordinary. Some of the trees stood out because of their gigantic size! This is probably the most impressive feature of the site. We saw some insects and crabs. But birds, reptiles and mammals were practically absent. The beaches of the south of the peninsula were nice and we walked along them for a long time. There were sea turtle tracks in the sand. The ocean was crashing violently on the rocks. The guide often had to open the path with machetes, while sharp lianas hung in our face. We also met a nest of bees in the path. After three hours of hard walking in these not very pleasant conditions, we took a break by the sea. The guide then told us that we still had an hour to go before reaching the place where we would have dinner, and that we would have to walk another four hours to get back to the village. Remember that this hike was supposed to take four hours in total? Well, it looks like it's going to be more like eight! It is thus while beginning to be rather tired that we continued. We looked at Maps.me from time to time, and we noticed that we were moving away from the village rather than approaching it. The guides turned back a few times and also seemed to be looking for a way through. I understood that they did not make this way very often. We finally stopped for dinner. At this rate, we probably won't be back before dark. Fortunately, the second part of the hike went pretty well. We saw some more black monkeys and heard some wild pigs. The trail became almost a road for the last few miles and was no longer muddy at all. And it was still light when we got back. In total, the hike took seven hours instead of four. A pick-up truck was waiting for us at the exit to take us back to the home stay where we cleaned our shoes and where I threw away my blued and torn pants.
Finally, the visit of Ujung Kulon was nevertheless pleasant. It is not the most beautiful jungle I have seen, although the trees were really huge, even more than in Gunung Mulu for example. The fauna remained rather discreet, although three species of monkeys, deer, peafowls, monitor lizards, pythons and giant bats crossed our path. Iconic species such as rhinoceros and banteng remained hidden in the forest. We also missed Krakatau and the coral reefs surrounding Peucang Island. A visit outside the rainy season may offer a better experience. Also, I can recommend Sunda Jaya Homestay. Although they have a hard time estimating the length of a hike, Ihrom and the owner are very friendly and will do anything to help you, even ride a scooter 40 km to buy a cake. Their rates are also unbeatable, and their meals were all delicious. By the way, since the itinerary was changed and we didn't go to Peucang (more expensive boat and accommodation), it only cost us 5.5 million for two people (about 250$ per person).
Since the public transport ride to the park had been rather painful, we took a private transport to leave Tamajaya. Ihrom called one of his friends who took us to Bogor. He said it would take four hours, but it took seven. At least that's consistent!
Here is a note on the black monkeys in closing. I tried to identify the species of monkey we saw in the park retrospectively. In the description of the park on the UNESCO website, it says: "It is also home to three endemic primate species; the Javan gibbon (Hylobates moloch), Javan leaf monkey (Presbytis comata) and silvered leaf monkey." The Wikipedia page about the park mentions the gibbon, the macaque and the East Javan langur (Trachypithecus auratus). Looking for a better reference, I found the book Field Guide to the Primates of Indonesia (Supriatna, Jatna. 2022. Cham, Switzerland: Springer. https://doi.org/10.1007/978-3-030-83206-3). In there, Ujung Kulon is mentioned in the description of only four species, the Javan slow loris (Nycticebus javanicus), the Javan langur (Presbytis comata), the West Javan langur (Trachypithecus mauritius), and the Javan gibbon or silvery gibbon (Hylobates moloch). Still according to the book, the East Javan langur (Trachypithecus auratus) is called Ebony leaf monkey and is restricted to East Java, Bali, and Lombok, while silvered leaf monkey seems to refer to the silvered langur (Trachypithecus cristatus), which only lives on Sumatra, Borneo, the western coast of the Malay peninsula, and smaller islands. To deepen the mystery, Ihrom also told me that the black monkeys we saw were East Javan langur (Trachypithecus auratus). I was very puzzled by all this (maybe you are too after so many scientific names). I think I solved the case when I learn that the West Javan langur (Trachypithecus mauritius) was only elevated to the status of species in 2008. Before that, it was considered a subspecies of the East Javan langur (Trachypithecus auratus). Therefore, I believe we saw West Javan langurs and that UNESCO and Wikipedia are using outdated names.
---
We visited the Anak Krakatau area in July 2018, and it seems much has changed since Clyde's review below. We accessed the site via the same method: a private 3 hour drive from Jakarta starting at 5am, followed by a bouncing 1.5 hour speedboat ride from Carita Beach. In December 2018, not long after Clyde's visit, the main cone of Anak Krakatau collapsed. A tsunami thundered into the mainland of Java, killing over 400 people and injuring thousands more.
The volcano itself lost about 250m of height, along with all of its trees. The island is now just a barren wasteland of hard-packed ash with canyons riven by rainwater. There's a small beach of ash, but Alert Level 2 means you're not allowed to approach within two kilometres. Around the far side of the island, we could see a large cauldron of steaming sulphur but little other activity, and aside from the waves the whole area was completely silent. Our guide said there are small eruptions once or twice a week, punctuated by the occasional large eruption. After the December tsunami, these have grown less frequent.
The nearby island of Rakata suffered a landslide after the tsunami hit, but was otherwise unaffected. It was still quite green, and we spotted lots of fish while snorkelling and later some large monitor lizards monitored us eating lunch. The other islands that were once Krakatoa had their trees blackened or killed, but are otherwise in the same shapes as earlier.
Despite the ultra-long day (we returned to Jakarta at 7pm after our 5am departure), we were both quite happy with the tour. I've been fascinated by volcanoes (and Krakatoa particularly) since a young age, so it was great to visit one of the most volcanically active spots on the planet in relative safety. I can also second Clyde's recommendation for the book Krakatoa: The Day the World Exploded as some pre-reading!
Read more from Joel on the Road here.
---
I visited this WHS in August 2018. Ujung Kulon National Park is located at the westernmost tip of Java as its name suggests (Ujung Kulon actually means Western Point) and it is made up of Ujung Kulon peninsula low rainforests (home of the last remaining Java rhino) and the volcanic island groups and nature reserves of Krakatoa, Panaitan, Peucang and Honje in the Sunda Strait between the islands of Java and Sumatra.
I visited Krakatoa or Krakatau Nature Reserve as a long private day trip from Jakarta and it turned out to be by far the most dangerous and exhilarating WHS visits so far for a number of reasons. First of all after having booked online well in advance, hell seemed to break loose just before visiting Indonesia with very strong and devastating earthquakes and tsunami alerts all over the country but mostly near Lombok. On top of that, Anak Krakatau or the Child of Krakatau, a volcanic island which emerged from under the sea in 1927 from the caldera formed by the terrible 1883 eruption of Krakatau (which killed more than 30,000 people), got more active than usual and from June till September, molten lava eruptions took place almost on a daily basis with incandescent gases and ash coming out intermittently with occasional 'ballistic rocks' spewing out of the volcano and landing all over the island.
For this reason, we were almost certain that the trip would be cancelled as it involved climbing Anak Krakatau for a closer look. After calling a couple of days before to reconfirm, we were told that the trip was still confirmed and that it was up to us. We decided to go for it and surely enough at around 04:30 we were picked up from our hotel in Jakarta. By 07:30, after stopping for breakfast at Carita Beach, we met our captain and crew who were supposed to take us to Anak Krakatau in roughly 1.5hrs with a twin-motor boat. The captain warned us that it would be hard to reach the volcanic island group as the winds were blowing against us and the sea was treachorous to say the least with big swells and high waves initially marked as force 3.
The worst thing about the boat trip was that the volcanic group was only visible after more than 1.5hrs of 'wave surfing' and what seemed like never-ending bumps. Even though I'm not usually afraid of rough sea trips, I seriously was considering asking the crew to take us back and call it a day. The small fishing boat trip to Skellig Michael a few years back was what I always mentioned with friends as being one hell of a ride but as the weather report marked force 6-7 seas and we sped from one high wave to the next trying to reach Krakatau, the trip to Skellig Michael felt like a piece of cake compared to this! My better half started to feed the fish, which in itself was already an indication of how bad our situation was as she never threw up in her life before, and at that moment just before I was going to tell the crew to head back, I saw a dark column of thick smoke spouting out of the horizon and going high up into the skies! We had almost reached Krakatau Nature Reserve at long last.
As we sought refuge from the strong winds by heading between Rakata and Anak Krakatau, we witnessed molten lava reaching the seashore and causing white fumaroles of water vapour, ash and gas eruptions from the two vents or craters were occuring every 15-30mins and every now and then rocks were fired in the air and landing on different areas of the upper part of the island. The other side of Anak Krakatau, away from Rakata, has vegetation (photo) and a black sandy beach. Usually here there is a ranger on duty who takes over and continues the 'tour' upwards as close (and safe) as possible to the summit. Due to the significant volcanic activity taking place when we visited, there was no ranger on duty and it seems we were the only crazy people willing to risk our lives to get here and explore. There is a board with the UNESCO inscription information just behind the beach.
The most important safety advice given by our guide was to keep on the lookout for any big rocks catapulted in the sky towards our direction and NOT to run away backwards or forwards, but keep looking at its trajectory and simply move sideways before it reaches land. Judging by some of the burnt or still burning trees and by the size of some the heavier and larger volcanic rocks lying around with circular moon-like circumferences around them, our construction hats were definitely not enough to protect us. Luckily the only rocks that fell were small and quite far from were we climbed apart from a medium-sized lightweight pumice which reached the beach and now lies on my desk as a souvenir from Krakatau Nature Reserve. Out of the many crevices covered with ash, several ferns, bushes and flowers are growing all over the island and it really felt like a privilege to visit such an extraordinary place in the making (especially when other similar places on the list like Surtsey are off-limits).
After climbing down to the beach and collecting my souvenir which thankfully was a pumice not an igneous rock, I preferred not risking it further and asked our crew to prepare lunch opposite Anak Krakatau at a reasonable safety distance on Rakata's black sandy beach. The vegetation on Rakata is much older and bird life and reptiles are thriving. We quietly ate our lunch, gazing at Anak Krakatau erupting and we could feel the beach vibrating beneath us although the vibrations weren't as strong as the ones we felt when setting foot on Anak Krakatau's beach. After that we spent some time snorkelling on the other side of Rakata where supposedly there are two underwater volcanoes. There were several colourful fish but nothing special at least for snorkelling. It's more of a unique experience to swim over two marine volcanoes and two continental tectonic plates subducting under or over each other.
Even though I'm not a fan of volcanoes becoming WHS simply because each volcano is unique in some way or another, this particular volcanic group really felt special. Reading more about Krakatau in Simon Winchester's book Krakatoa: The Day the World Exploded I could appreciate further its OUV. The fact that such a special place is just a small part of the huge Ujung Kulon National Park in itself reinforces its OUV and protection and conservation for those who want tangible proof of how insignificant man can be when compared to the power of nature.
---
4.00 Netherlands - 02-Dec-15 -
Despite many trips to Indonesia, I only have seen Jakarta and really wanted to visit this country's World Heritage Sites especially the nearest one from the chaotic capital, the Ujung Kulon National Park. The inscribed area covered two separate sites, one is the Ujung Kulon National Park which is famous for its mangrove forest and the last place to see the endangered Javanese rhinoceros in the southwest of highly populated Java Island. The other site is the group of volcanic islands of Krakatoa in the middle of Sunda Strait and belong to Bandar Lampung, a city on Sumatra Island. I really wanted to visit Krakatoa since I heard the name of this volcano since my elementary school time, its 1883 eruption story is very well known especially for the Dutch. In October I visited Jakarta again and successfully managed a one day trip to Krakatoa with the tour company. After some research I found that Krakatoa receives steady amount of visitors every day and most of the tour companies are the same. The tour driver picked me up at hotel in Jakarta at 6 AM, and drove thru congested morning traffic on the highway to Cilegon before use a small seaside road to the beach town of Carita. The journey was about 2.5 hours, the time I arrived in Carita, I was really hungry. After met tour company manager to make payment, they provided me a breakfast at a restaurant. After meal at 9.30 AM, they took me to the jetty where I met captain, his assistant and my tour guide, and the double engines boat. The sea journey took another 2 hours on surprisingly calm sea. After saw four dauphins near the boat, I started to see the Krakatoa at the horizon releasing smoke from its crater. It was much smaller than Sakurajima I saw at the beginning of the year, but the location in the middle of the sea is really awe inspiring.
In fact Krakatoa at present is a group of 4 small islands which are the remains of the 1883 old volcano and its nearby islands. In the center is the new volcano called Anak Krakatoa or Child of Krakatoa. This volcano is very active and is expanding. At first the captain took me to see the biggest island of Rakata which was the main vent of the 1883 eruption, the high cliff show evidence of explosion. The island is covered by lush tropical forest, a really amazing of how nature can transform the danger volcano to green paradise. Then I went to Anak Krakatoa. The boat moored at the only beach of the island, the beach is blackish with volcanic sand, and behind the sea is the small forest. When my feet was out of the sea, I immediately felt the unusual heat of sand. The ranger office, the camping area and the toilet are located in the same area on the beach. The toilet water is really warm that reminded me a nice hot spring in Japan. My guide took me thru the forest, the soil was indeed hot and I really surprised how those trees can survive. I entered into the main volcano area, the soil are reddish and full with gigantic sulphuric rocks. I walked pass death trees and many big rocks. The soil become a hot sand when we started to climb the volcano. It was very hot by the sun and the heat underground. Then I saw the sea of black volcanic rocks, the cold lava flow and the volcano that continuously releasing the fumes. My guide took me to the highest point that authority recommended to go. From here the view of Sunda Strait and surrounding island were just beautiful and rewarding for hot climbing. After some volcanic explanation and eruption stories, we walked back down to the beach for late lunch, the Indonesian most famous fried rice, Nasi Goreng.
Later I swam in the sea, the cold water helped me a lot after long hot hiking; however, the tiny black volcanic sand covered all my body and it was really hard to clean. I also did some snorkeling to see some fine coral reef. It is really stunning to find coral reef on the sea bed that is actually the growing volcano. Then we sailed around the Anak Krakatoa to see the island expansion by the cold lava flow. Except the small forest area where I landed before, the whole island is almost lifeless with only red and black rock, but I could see many small bushes and shrubs dotting around in the area next to the sea, the nature is doing her best to turn the red dry volcanic island to green tropical paradise again. After 4 hours of luck that no eruption during visit, the captain turn the boat backed to Carita ending the fantastic Krakatoa trip. When I landed Carita and saw all the beach resorts and hotels as well as many small villages with densely population, I could not stop thinking that all this area was once devastated by the 1883 tsunami and what will happen again in the future as the Krakatoa is coming back again. Anyway Krakatoa is indeed amazing and very easy to visit since the volcano is still not too high and there is almost no rules to restrict the volcano sightseeing, actually you can go anyway you want on the island if you are willing to climb and walk on the sharp hot volcanic rocks with good equipment. The continued progresses of thermal and gas explosion as well as volcano forming are really interesting and at least should be seen once in the life time and Krakatoa is one of the nicest to do. For trip preparation I recommended a nice walking shoe with good ventilation, don't buy fancy expensive one since the hot sand and sharp rocks will later make your shoe deform. Another suggestion will be long sleeves rash vests to protect UV and really useful for swimming and snorkeling later. If I back to Indonesia and have more time in Jakarta area, I will revisit this place but for the Ujung Kulon peninsular for sure. Anyway even visit only Krakatoa, this World Heritage Site is really amazing and one of the most unique experience in Southeast Asia.
---
Ujung Kulon National Park is one of many Indonesian Beauty. Yet, it takes quite an effort to get there, thus make the park has not been visited as often as it should be.
There are many ways of actually embracing it. Island Hopping, trekking, canoeing & snorkling in and around those small islands. Not to mention spending the night in a simple lodging and have to bring or prepare our own food while there.
Although it is said that the park is the home of the one-horned rhinoceros, but it is not easy to find and see one. Yet many other inhabitants are very easy to find and see.
Ujung Kulon experience is really a great one!
---
Nurvitria Mumpuniarti
Ujung Kulon is Fantastic! You wouldn't get enough of it in spite the fact that you had everything in it : Rainforest, Corals, Mesmerizing Seaview, vast of biological diversity. All. You name it.
Just back from Ujung Kulon yesterday and my feet's still soaring but my heart is still pounding with happiness. I may didn't go on it's best condition this late December. It's raining every now and then, I hardly get the sunset which supposed to be spectacular. Please come at mid-year, when the weather is quite pleasant.
I went all the places by boat and trekking. Get a bus or drive from Jakarta to Desa Sumur. From Desa Sumur get a 3 hours boat trip to Laban. On the way you could see TamanJaya village, the very west village on Java Island. From Laban go across the rainforest to Pos Karang Ranjang. On rainy season the track might be hellish : thick mud and water to your knees all the way. On dry season it'd be FINE I believe. From Pos Karang Ranjang go further to Cibondawoh beach through another Rainforest. Cibondawoh Beach is astounding with it's high tides,blue water, and pearly beach. That's the end of day 1.
The next day, prepare for a long journey on the seaside. 13 km walking on the seaside from Cibondawoh to Cikeusik. and go further to Pos Cibunar through rocks, rainforest and plain green grass fields. the view along the way is astounding.totally amazing.
at Cibunar, you could go snorkeling or have a bath at Cibunar river.
Go further through the great rainforest to Pos Cidaon, where you could see wild bulls on its vast grass field. Further is the primadona of Ujung Kulon : Peucang Island. Have a 1/2 boat trip from Cidaun, and go snorkel at Peucang. You could see quite great corals with its varies kinds of fishes. Though it may not as good as Lombok's or Bunaken, it offers great sites for snorkeling after long walk through Rainforest. Luckily though it was raining but at the time I landed at Peucang the sun is shining--great for snorkeling, though, temporarily.
Peucang Island can also be reached easily by boat from Carita or Labuan. But Trekking was helluva experience, I'm telling you.
Peucang is our last resort. We went back to Labuan, Desa Sumur by long boat trip--in quite a storm. We then go back to Jakarta, and me, further to Bandung, where I come from.
Must Bring Items : Camera! with wide and long zoom, Snorkeling equipment, swimsuit, raincoat, rainforest equipment, binoculars, medicines, bugs repellent and use a good mountain sandals. Mine's broken into pieces yesterday.
Have fun!
---
Site Info
Full Name

Ujung Kulon National Park

Unesco ID

Country

Inscribed

Type

Natural

Criteria

7

10

Categories

Link
Site Links
Unesco Website
Official Website
Related
In the News
Visitors
35 Community Members have visited.