The Sundarbans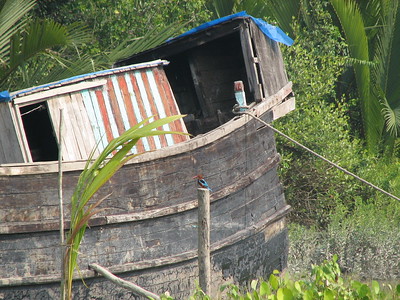 The Sundarbans are part of the world's largest delta and hold among the largest remaining areas of mangroves in the world.
Its ever-changing landscape is fed by three major rivers and shaped by tidal shifts and monsoon rains. The site also has exceptional biodiversity, with a population of about 400 Bengali tigers (the highest density in the world) and over 300 species of birds.
Community Perspective: the park can be reached by boat from Mongla, there are day tours or multi-day trips to choose from. But discount the idea of seeing a tiger! The Indian Sundarbans are inscribed as a separate WHS and no international cooperation seems to exist to merge the two.
Community Reviews
---
3.50 The Netherlands - 02-Jan-07 -
The Sundarbans are the closest thing to a tourist attraction Bangladesh has. I took a one-day boat trip to the newly established visitor center at Harbaria. You'll have to spend several days to get really deep into this large park, but to me this trip was fine.
We first sailed (on a small motorboat) along the coastline, thickly covered with forests. We saw a number of kingfishers, some dolphins, and a crocodile on our way. We would have liked to see a Bengal tiger of course, but they are rare. My guide and the boatmen had seen one here in November 2006, not far from Mongla town.
After 4 hours we arrived in Harbaria, where we did get ashore. We were assigned a man with a gun. Together we walked the trail that has been laid out here that lets one get the feeling of being in the 'real jungle'. Having a man walking in front of you with a gun really helps to get a spooky atmosphere (maybe the tiger is looking at us from behind the trees). If it's really that dangerous, it would help to have a man with a gun walking behind us too. The highlight was seeing tiger footprints, left in the mud sometime before.
---
The Sundarbans are badged as "The largest mangrove belt in the world, the habitat of the famous Bengal tiger..." In order to visit them you will need to go by boat, but how exactly you achieve this will depend on why you are going! If you just want to get a quick feel for the forest/mangroves and to tick off another WHS, a short trip to the nearest Forest Station in the park can be arranged by local boat on arrival at Mongla, a few miles north of the park boundary and reachable by bus from Khulna (the 3rd largest town in Bangladesh). There you can disembark, pay the forest fee and do a short walk with a guide and be back to Khulna inside a day.
There are however a number of "cruise boats" offering trips through the Sundarbans and out to the Bay of Bengal lasting several nights. We chose (and arranged via their Web site) a 3 night trip operated by a company called "The Guide Tours". I can't of course state that they are the best but they did everything they promised and provided a "clean" well run ship (They operate 3 and ours had 6 cabins with 12 bunks) with reasonable food and pleasant "public areas", an English speaking guide with good wild life knowledge and a couple of excursions each day either by boat (a local craft rowed from the stern – important to maintain silence) or on foot (with gun toting park staff – see photo). We found the experience of travelling through the channels of the Sundarbans, seeing the sun rise and set in the misty total silence and viewing the wild life well worthwhile and something of a pleasant break from the hassles of travelling this crowded country!
Discount the idea of seeing a tiger – our guide and the visitor's book on our ship showed that the possibility is a bit above nil – but not by much! Cetacean and bird lovers should be better served however – we saw both Ganges and Irrawaddy River dolphins. On the walks we saw monkey, deer and wild boar but the nearest we got to seeing a tiger were the claw scratches on some of the trees – at a disconcertingly high level showing the size of the creatures (by the way, if you do want to see tiger we would recommend Kanha in India)! The botany of the area is also quite interesting with its specialisms for handling the salinity and the surprising variety of niches as sandbars appear and develop into islands and forests through various stages which a good guide should be able to point out if you aren't an expert – but be ready for some pretty muddy walking inside the mangrove forest!
The other passengers are likely to be Expats working in Dhaka or middle class Bangladeshis (possibly causing some problems if your interest is wildlife and theirs is to have a holiday escape from Dhaka and to swim in the Bay of Bengal?) – there are few tourists in this country. Which is a shame – the current Government Tourist Office slogan is "Visit Bangladesh - a beautiful surprise" which is just about right.
(2 snippets of trivia.
a. When the Indian Sundarbans were inscribed in 1987 it was suggested that the site be increased to include the (larger) Bangladesh Sundarbans. When Bangladesh got its area inscribed in 1997 it was again suggested that the 2 sites be merged into 1 trans-national site. But international cooperation does not seem to exist to bring this about. As far as I am aware the Indian area is similar ecologically to that of Bangladesh apart from being significantly more saline as salinity increases from east to west in the Sundarbans.
b. Those who like to get a photo of the sign showing the UNESCO logo and title of each site will need to go to Hiron Point. I was told that this was the only place where the inscription is recognised. However, because of problems ensuing from the fact that this is a coastguard and naval site most of the boat trips miss it out nowadays!)
---
Site Info
Full Name

The Sundarbans

Unesco ID

Country

Inscribed

Type

Natural

Criteria

9

10

Categories

Link
Visitors
41 Community Members have visited.