Shark Bay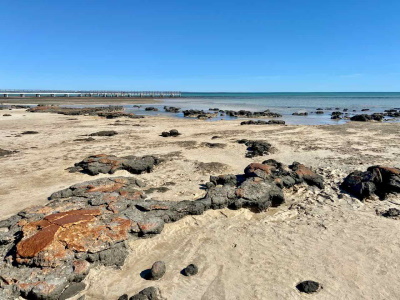 Shark Bay, Western Australia, covers a large, mostly marine area that is renowned for its presence of stromatolites and the largest seagrass bank in the world.
Its marine waters are hypersaline. Hamelin Pool has the most diverse and abundant examples of stromatolites in the world, while the Wooramel Seagrass Bank has the most seagrass species recorded from one area. The site is also of major zoological importance being home to about 11,000 dugongs and many dolphins and whales.
Community Perspective: According to Zoë, it's not an easy site to come to grips with, unless you are satisfied with seeing dolphins at Monkey Mia.

Community Reviews
---
3.50 Chinese-Canadian - 27-Dec-21 -
If you got the money you can fly directly into Shark Bay, stay at Monkey Mia and see the dolphins. Check. However, the dolphins are the worst part of Shark Bay and only keeps mainstream tourists coming. Most of Shark Bay is hard to get to though, with off-limit islands and a strictly protected marine park. So it's not easy to appreciate this area. You can go to the lovely heritage museum for tons of info on the area: why it's UNESCO, what kind of unique things there are to see, and there is also a small cinema to watch a movie but I didn't stick around for that. I was also the only person in the museum the entire so I guess this place isn't so popular around non-holiday periods.
I actually drove up from Perth and combined this with several sites on the coast, including Ningaloo Coast further up north. I remember trying to fly to Exmouth and drive form there but the mileages was so limited, not unusual for smaller town rentals around Australia including Darwin, that it wasn't going to work out. The drive up from Perth is quite long.
As I was purposely avoiding the dolphin encounter I had to do with just stopping at the coast sites and look around. No mammals or birds in sight. My rating for the site is thus a little lower than it probably is worth because on paper this place sounds great, with tons of animals in the bay. While there is scuba diving it is very expensive and I was already going to go diving at Ningaloo shortly after so I made the choice to do the latter for a lot less $$$.
---
Steve
Travelled to Shark Bay on a 4WD backpackers tour up the west coast of Western Australia from Perth to Coral Bay in April 2002.
The most publicised aspect of Shark Bay is the Dolphin feeding at Monkey Mia however I found it personally dissapointing. The half hour "show" involves three rather domesticated dolphins. Much rather see dolphins in the wild.
Some of the coastline contrasts dry red and ochre cliffs with turquoise blue waters.
A good place to stay is at the camping ground at Nanga on the freycinet Peninsula.
---
Site Info
Full Name

Shark Bay, Western Australia

Unesco ID

Country

Inscribed

Type

Natural

Criteria

7

8

9

10

Categories

Link
Site Links
Unesco Website
Official Website
In the News
Visitors
56 Community Members have visited.