Seowon, Neo-Confucian Academies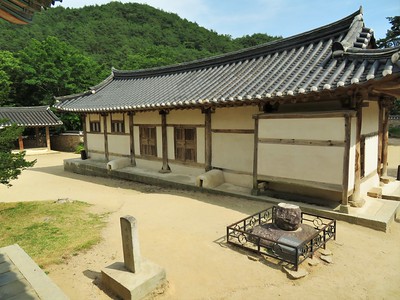 Seowon, Korean Neo-Confucian Academies, are nine Academies that are relevant for their architectural types and their role in education and society.
In these 16th and 17th century Academies, Neo-Confucianism took its local Korean form and from there, it was spread across the country. Mainly aristocrats and future civil service administrators were educated here. Each Academy was associated with a venerated scholar and was built in a natural setting of mountains and water.
Community Perspective: 8 out of 9 Academies have been covered by our reviewers so far: Dosan (Els), Sosu (Kyle, Philipp), Byeongsan (Jarek, Clyde, Philipp), Donam (Philipp), Museong (Philipp), Namgye (Philipp), Oksan (GabLabCebu, Frederik), and Dodong (Frederik). Pilam Seowon is still unreviewed.

Map of Seowon, Neo-Confucian Academies
Load map
Community Reviews
---
2.50 Netherlands - 19-Oct-23 -
Back in 2018 because of the unbelievable expressway exit payment booth problem, I missed opportunity to visit Nonsan Seowon, five years later I returned to South Korea and I intent to fulfill my previous trip by visiting two listed Seowons, Oksan Seowon and Dodong Seowon during my 4th visit to Gyeongju. After breakfast I drove my rental car to Oksan Seowon, it was an enjoyable drive and I reached Oksan without problem. From empty carpark I passed the complex of traditional house and at the end of the walkway I found a complex of shrine-liked buildings and beautiful small river gorge with cascading waterfall, the whole area was perfect for hiking. After enjoyed mother nature, I started to look for Oksan Seowon, I walked back to that shrine-liked complex to find out that Oksan Seowon was in front of me!
I opened the old wooden door and found small courtyard surrounded by old wooden buildings which turned out to be classrooms. There was nothing inside these buildings, just empty room with some calligraphies on the walls. The layout of building reminded me of Hutong, a typical Northern Chinese House; however, since the complex was built on the slope, the different leveling of main two building was quite unique. Behind the classroom complex was the complex of shrine buildings that dedicated to local scholars instead of the Confucius which made Korean Seowons unique enough from other Confucian schools in China. I saw everything in the complex within 15 minutes, it was indeed quite a small place. In the afternoon I visited the quite popular with local tourists Dodong Seowon outside Daegu City, I found that the location of Dodong Seowon was again quite lovely in the beautiful nature just next to the modern tunnel and the road that full of speedbumps! From outside Dodong Seowon was quite like noble residence complex than shrine, but inside the layout of Dodong Seowon also like Oksan Seowon but with more spacious and again I saw everything in the complex within 15 minutes.
These eastern educational heritages were not my cup of tea, and ironically that instead of appreciating historic Korean education I found problem of Korean modern education from Seowons. Nobody even the sites caretakers I met could explain the meanings of those calligraphies inside the halls or even the meaning of the place as they could not understand those classic Chinese alphabets. Later I learnt about the Korean Alphabet Exclusivity policy in the 70' that continued until 2013 which caused generations of no classic Chinese alphabets knowledge and confusing homophone problem in Korean Language. Thanked to google translate that helped me understand those beautiful and meaningful calligraphies in Seowons. I even more appreciated my visit to Oksan after I read its meaning as Jade Mountain School which resonated the beautiful surroundings very well, and the name of Dodong was even more deep but perfectly represented its role of school.
Apart from the enshrinement of local scholars instead of Confucius, beautiful natural surrounding especially at Oksan Seowon and subtlety unique of architectural elements, to be honest there was nothing much to see in these two Seowons. Maybe I should visit other bigger listed seowons to understand more about its universal outstanding value. In my opinion, those seowons are not special but the back story of Neo-Confucian of Korea is far more interesting, its development and its role on Korean society especially during the Joseon period was a social phenomenal of East Asia that so unique for World Heritage listing.
---
1.50 Philippines - 12-Jun-23 -
Going into my June 2023 trip to Korea, I definitely had in mind the prospect of checking out each of the 15 mainland World Heritage Sites (including Gaya Tumuli, which is set to be inscribed this year if all goes as expected) in the 9 days I had, but I did definitely question if it was worth filling up and rushing through the little time I had just to tick each box when, as far as I could see previously, many of the Korean WHS did not seem all that interesting from an outsider's perspective. You've got to admit there is quite a selection of tomb sites, and Joseon sites seem to cover every bit of their daily life, from palaces, shrines, and tombs to fortresses, villages, and schools. I just found the selection too full of seemingly unremarkable things that most outsiders would not find so interesting, impressive, or valuable to the world at large, and I wondered if my time would be better spent doing other things. Perhaps the epitome of this was the Seowon; these sites are not known for any sort of unique architectural/structural value but as "exceptional testimony to cultural traditions associated with Neo-Confucianism in Korea, in the form of educational and social practices" - that does not sound like a lot to see. As the trip went on, I grew more and more impressed with the Korean World Heritage; they showcase such a diverse and distinct history and culture with many unmatched skills and qualities throughout the world, and I'm glad I got to visit each of them.
But the Seowon, I found, remained the site that, to me, showcases rather dubious OUV for inscription. A group of 9 small complexes, the one thing that I can note is a good (but not exceptional) level of conservation for 500-year-old wooden buildings, probably due to their isolated locations. The layouts, highly praised by many others, strike me not as any sort of genius, but a mixture of chance, philosophy, and common sense. If people live a few kilometers from a hill with a lovely forest and scenic stream, is it so remarkable for someone to decide to build an academy there?
Oksan Seowon was the site I chose for my trip, as it was 1-1.5 hours direct bus from the Gyeongju bus station, with a stopover at Yangdong, so I could see the village on the same afternoon. Additionally, it seems to be one of the more popular seowons online, but it has not yet been reviewed on this website. I took bus #203, which comes around every hour and 10 minutes or so, just enough time to leisurely explore the seowon or, if you're fairly fit, walk the extra 750 meters to the house of the seowon's founder, Yi Eon Jeok. Nearby is a stream with a little gorge and waterfall where local families love to dive, swim, and wade. Entering the gate of the seowon, one can cross a little bridge over a drainage canal and go through the first building to come upon the main courtyard. The building close to the gate, Mubyeonnu (meaning "without end") Pavilion has a pretty balcony that opens both towards and away from the courtyard to serve as a serene resting space for students, the first of its kind in seowons and Oksan's defining feature. Across it is the Guindang Lecture Hall, and on the sides are, I believe, dormitories. Above and behind this is the shrine of the seowon, Cheinmyo, which cannot be entered but is bounded by some interesting smaller buildings with steles and whatnot on either side. Everything is brightly colored, mainly yellow and pink, but also red and green like other Joseon-era buildings. While all quite authentic, the complex simply is not impressive and could take under 20 minutes to thoroughly examine. It would be completely overshadowed by any other World Heritage Sites in the country, and I think it's safe to assume the same holds true for the other 8, except possibly Sosu. I definitely don't think it's a site worth inscribing twice! The isolated nature of the seowons also makes travel to them fairly difficult, so I can only recommend a visit here to those with a lot of time on their hands and, especially, those with serious interest or WHS ambitions.
---
2.50 Switzerland - 03-May-20 -
Visit February 2020 – I managed to visit 5 of the inscribed 9 Seowons on my road trip through Korea. In general, the visits of all Seowons were fairly similar. They mostly have the same buildings (dormitories, lecture halls, library, shrine and walls with a gate) that look the same. Entry to all but Sosu Seowon was free and you frankly don't need much more than 15 minutes to visit a location. They all have info plates in English on premise and a nice "this is a world heritage site" stone in front of each Seowon. You will find free parking close to each Seowon, but most of the might be a bit tricky to reach with public transport.

Donam Seowon
Donam is only a short detour while driving between the different Baekje locations. The Seowon is very close to the main road and the landscape is rather unspectacular and flat. Nevertheless I enjoyed the short visit as the weather was nice and I was the only visitor.
Museong Seowon
Museong is a short detour on the way between Wanggung-ri and the Gochang Dolmen Site. It is also located close to a bigger road and in an unspectacular location. Next to the Seowon is a newer Seowon, that is not part of the WHS. I skipped Pilam, because I simply ran out of time (and sunlight) for the day
Namgye Seowon
The Seowon is on route between Seonsamsa and Haeinsa Temple, very close to the express way and Hamyang, where I spent my night. So I made a quick visit before sundown. The Seowon is built on a hill, elevation some buildings over the others and giving the whole location more beauty. Dodong Seowon would have been direction Gyeongju, but is actually too far off the main road which would have resulted in a massive time loss. So I skipped it. I also skipped Oksan Seowon the next day, as again, I ran out of sunlight, but managed to visit Donggangseowon and the Yangdong village close to this Seowon.
Byeongsan Seowon
This Seowon is a short, but not as short as expected, detour from Hahoe village. It is located at the end of a far too long and small dirt road. The location is nice, as there are not many other houses and it is tucked between a river and a hill. Nevertheless I would only recommend it for two reasons: you are a completist like me and want to visit as many as possible, or you are a minimalist and this your only Seowon because it is close to Hahoe. I skipped Dosan, as it was too far off my route.
Sosu Seowon
Sosu was on my way back from Hahoe to Seoul. I combined the Seowon with Buseoksa and the Ondal mountain fortress located in the same region. The Seowon is much bigger and more interesting than the others I visited. It is only the Seowon with a (low) entrance fee. It was also the only location where buildings were accessible. The lecture hall had a display of scriptures and the Seowon is located very nicely. You need to pass a small forest between the ticket desk and the entrance. If you limit yourself to only one Seowon I would recommend this one.
---
I visited 3 seowons in Andong in April 2017, namely Hwacheon Seowon, Dosan Seowon (already reviewed) and Byeongsan Seowon. The latter is strangely included in the core zone of the Hahoe WHS even though it is strictly speaking outside of the village.
Of the three seowons I visited, my favourite one was Byeongsan Seowon which is a formal Confucian academy founded in 1575. It was built with educational facilities for scholars and also for the younger generation and it also has a shrine for memorial services. In 1863, King Cheolgong bestowed a hanging board inscribed by the king's own hand with 4 hanggul characters that gave this seowon its name and making it one of the royally chartered private academies. In 1871, Daewongun, father of King Gojong, closed all but 47 private acadamies across the country. Byeongsan seowon was one of the 47.
Bongnyemun Gate, the main entrance, leads to the Mandaeru Pavilion and Ipgyodang, a lecture hall with dormitories called dongjae to the right and seojae to the left. Behind the dongjae stands Gojiksa, a residence for the academy caretaker. Behind Ipgyodang is Jangpangak, a storage space for wooden printing blocks and relics. Stairs lead to Naesammun (photo), the gate to Jongdeoksa shrine.
Byeongsan seowon is considered a model of architecture from the heydey of Confucian academies, built to be in harmony with the beautiful natural surroundings. Together with all the other seowons, I think they have potential to become WHS and it would make sense to remove the Byeongsan seowon from the core zone of the Hahoe WHS. I visited by taxi from Hahoe passing through a winding unpaved road to have more time than the 10 minutes offered if you visit by bus from Andong. However, road works are ongoing at the moment which will most probably pave the road by the end of this year.
---
Byeongsan Seowon - easily located close to Hahoe Folk Village
Site visited in November, 2016. There are in fact 3 daily buses to Byeongsan from Andong. First morning bus (7.50 from nearby Andong Train Station is the most convenient if you want to see the village, it is the same bus that connects Andong with Hahoe, 46) it goes to Hahoe, then to Byeongsan Seowon and returns to Hahoe and heads to Andong.
Byeongsan Seowon itself looks recently restored- well maintained, covers relatively small area. All the buildings are described in Korean as well as in English (names and short explanation), easily visited, to see the building - half an hour should be enough, in fact the style of the buildings is similar to other Korean monuments. Don't miss the 400 years old restroom (having in mind the smell - it is still in use).
Between two sites (Byeongsan and Hahoe) there is a convenient hiking path - 4 km - be prepared to at least one hour walk as it is mountainous although on a map it looks straight forward. The road is well marked, although only in Korean. The hike is obvious from Byeongsan - the only option apart from returning the road that bus goes, although it is not shown on Google Maps nor described in Lonely Planet guidebook.
---
3.00 California - United States of America - 08-Jul-16 -
I visited Sosu Seowon (Yeongju) on a warm, sunny day in June. As the first Confucian Academy established in the Joseon Dynasty, it holds special significance. Before its construction in 1542, there is evidence this site was formerly a Buddhist temple. This explains the somewhat unconventional layout of this particular Seowon.
A slight misfortune, when I visited Donam Seowon (Nonsan), it was pouring rain with only slight intervals. This fact, likely contributed to its emptiness and less pictures. I found Donam Seowon to be pleasant, but far smaller. Its authenticity could also (at least partially) be put into question based on Donam Seowon being moved from its original location.
Yeongju and Andong are the best locations to reach several of the Seowon sites included in this nomination. Dosan Seowon and Sosu Seowon are the most known and celebrated.
Because of a royal order of Heungseon Daewongun, father of King Gojong of the Joseon Dynasty, most Seowon were abolished and some were subsequently damaged or destroyed. However, despite the Anti-Confucian sentiment at the end of the Joseon Dynasty, the King's father spared 47 important Confucian Academies. All 9 of the Seowon included in this nomination are important academies that were spared, in part because they had produced many great scholars.
Korea has been successful with two inscriptions of large serial nominations of Buddhist Monasteries and Seowon Confucian Academies. Long has Buddhism and Confucianism held an important role in Korean culture and society, which is apparent in each of these components. Considering influential religions and philosophy, Korea has a rich Christian heritage. The cultural heritage administration is keen to more fully represent modern heritage, so it only makes sense a Christian serial nomination will eventually materialize.
Read more from Kyle Magnuson here.
---
3.00 The Netherlands - 18-Sep-01 -
Seowons were private institutions combining education (in the form of preparation for admission to the national civic service) and Neo-Confucian worship. A serial proposal such as this is always worth checking out in detail, as there may be hidden surprises among the selected locations. Personally, I was happy to discover Dosan Seowon among the entries listed, a site that I visited on my Korea trip in 2001.
Dosan Seowon is located not far from Hahoe WHS, and I visited both on the same day (I even included a third 'national treasure', Jebiwon Buddha). My trip notes about Dosan Seowon are brief: "Idyllic location. Very quiet, only a handful of visitors. Lots of Korean film directors apparently come here for shooting traditional Korean footage.". All memory of my activities of that day have since blurred, and the fact that I had not labeled the photos in my Korea photo album does not help either (mind you, 2001 was the pre-digital age).
There's a large difference between the way I am visiting (future) WHS nowadays and how I travelled 15 years ago: I now put considerably more effort into arriving prepared. This research has only become possible because there is so much more information readily available. Dosan Seowon for example has a very detailed official website, where you can virtually walk through the complex. Each structure is shown and described. Thanks to that I was able to add captions to the photos.
Trying to relive my visit, I found a little lesson on Korean Neo-Confucianism was necessary. Apparently, the "Neo" in Neo-Confucianism dates from the 12th century, when in China superstitious and mystical elements of Daoism and Buddhism that had entered the original Confucianism were rejected. Korean scholars visiting China at the time were influenced by this new school of thinking and brought it back to Korea. During the Joseon Dynasty, which started in the late 14th century, Neo-Confucianism became the Korean state ideology and Buddhism was restricted.
Neo-Confucianism had a strong focus on education, and this aspect still remains a vital part of South Korean culture. Dosan Seowon in Andong was established by Yi Hwang, one of the most prominent scholars of the Joseon Dynasty. After passing his civil service exams, he worked for the government but left office after becoming disillusioned by the power struggles. In 1560 he built an academy called Dosan Seodang, where he - the author of many books on Confucianism in the Korean language - taught his students. The complex was enlarged and turned into Dosan Seowon by his disciples after his death. Yi Hwang's spirit tablets are preserved here too.
So are the Korean Seowons an asset to the WH List? The Joseon Dynasty is already well-represented among Korea's WHS, with the Jongmyo Shrine, Joseon Tombs, Namhansanseong, Hwaseong Fortress and Hahoe&Yangdong all dating back to the same period. And so are Korean Neo-Confucian sites, with again Jongmyo Shrine and Hahoe&Yangdong. The latter WHS even already contains two out of the nine proposed seowons! I believe these 'Exact locations inscribed twice' should not be encouraged. The Koreans could have gone for one outstanding Seowon (for which Dosan Seowon might qualify), instead of a series of locations that are mostly covering intangible heritage anyway.
---
Site Info
Full Name

Seowon, Neo-Confucian Academies of the Joseon Dynasty

Unesco ID

Country

Inscribed

Type

Cultural

Criteria

3

Categories

Link
Site History
2019

Criteria

Crit iv not recognized
2016

Requested by State Party to not be examined

After Deferral advice by ICOMOS, aimed at selection of this particular 9 seowon out of over 400
Site Links
Unesco Website
Official Website
Visitors
61 Community Members have visited.