Okinoshima Island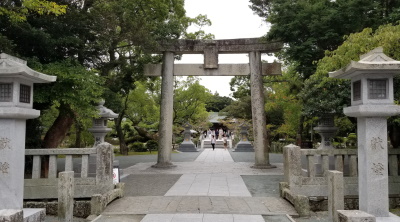 The Sacred Island of Okinoshima and Associated Sites in the Munakata Region is an early ritual site associated with maritime safety.
From the 4th century on, votive offerings were made here to pray for safety for boats heading to Korea and China to trade. There are a number of taboos and restrictions on visiting Okinoshima, including a ban on women and the prohibition "to speak of anything they have seen or heard on the Island". The site includes three nearby islets, Koyajima, Mikadobashira and Tenguiwa, and four living places of worship on Kyushu.
Community Perspective: as the entrance to Okinoshima Island is almost fully barred, the reviewers focused on the associated mainland temples. Hetsu-miya Shrine near Fukuoka is the easiest to visit, and Thomas provides public transport info. AC covered two additional locations and managed to get a glimpse of Okinoshima Island from a distance.
Community Reviews
---
2.00 Netherlands - 23-Jul-19 -
After I visited the World Heritage Site of Okinoshima, to be exact I only visited the mainland part of Munakata Grand Shrine, the Hetsumiya, I really confused what should I be focused on this Japanese site. The original ICOMOS's recommendation only suggested that only Okinoshima Island should be on the UNESCO list for its outstanding value of archaeology, but when the inscription expanded to include two more shrines, one on the mainland and one on Oshima Island, the raison d'etre of this site for me became obscuring.
When I parked my car on the large carpark area next to the grand modern shrine building of Hetsumiya, I saw a Shinto priest together with few shrine maidens walked around the two front rows of the carpark did a blessing ceremony to provide a divine protection on requested modern cars. I was impressed with this belief since the Goddesses of Munakata originally are the protector of sea travel, signify its role of ancient trade route, then developed to be the protector of every means of transportation especially for cars. Then I walked to the grand shrine, again I impressed with its classic early Shinto shrine layout with straight pathway, Torii gates, small creek, a bridge and ponds of front garden, a rectangular wall forming the inner shrine cloister complex, an early type of shrine layout which has many similarities with ancient temples in China and Korea, a result of cultural exchange via maritime trade route. The inner shine of Hetsumiya was again very classic located in the center of sacred cloister similar to other ancient Japanese grand shrine in Izumo and Ise, too bad apart of classic design and its old age I could not find any uniqueness in term of architectural element.
I walked into the sacred forest next to the main shrine complex and saw the identical Teinigu and Teisangu, two smaller shrines representing Okitsumiya and Nakatsumiya shrines on Oshima and Okinoshima Islands. These two shrines were recently reconstructed following Shinto tradition of every 20 years rebuilding using the recycling old sacred wood from Ise Grand Shrine. Since visiting the shrine on Okinoshima is impossible, visiting the Teisangu is the only option for worshippers. Then I visited the museum, the artifacts slightly illustrated the role of Munakata shrine in ancient sea trade route. For me, Teinigu and Teisangu were the highlight of my visit for its spiritual value, these two shrines are the key to connect people with those faraway shrines. After witnessed constant visitors, I started to understand why Japanese disagreed the possibility to separate other two shrines with the one on Okinoshima as suggested by ICOMOS.
However, I still not truly comprehended its outstanding universal value on this shrine complex. Despite some interesting early Shinto architecture, it is still too similar with other grand Shinto shrines. Surprisingly this is the second World Heritage Site for this the three goddesses of Munakata, since the listed Itsukushima Shrine is also dedicated for these cults. The practice of separate shrines is also common around Japan, so for Shinto belief, it is also hard to find the real outstanding value. I assumed that the evaluation report of ICOMOS maybe probably correct that only Okinoshima is deserved to be recognized even though I never set foot on such island, but again in the same time I could not cut the other sites for its strong cultural link.
While Okinoshima's archaeological value is visibly unknown and the value of mainland site is truly hard to find, the single outstanding value I can term with, both islands and inland, is its value on maritime trade route, in my opinion if Japanese wants to pursue the extension of already inscribed Silk Routes sites, it may not get full collaboration from China or Korea which both claimed the name of terminus point of the Silk Route, proposing Munakata alone is a better solution. Together with already UNESCO listed Nara's Shosoin of Todaiji Temple, Munakata sites are perfectly representing such existence of Silk Route in Japan, unfortunately this means some lessor sites in Fukuoka and Dazaifu may not have a chance to be fully recognized by UNESCO.
---
3.00 Switzerland - 07-Mar-18 -
This just deals with the technical side of visiting Hetsu-myia (Munakata Taisha) by public transport from Fukuoka, and combining this visit with the other Unesco site in the region, the Yawata Imperial Steel works in Kitakyushu which is one of the sites of Japan's Meiji Industrial Revolution.
Go to Fukuoka Tenjin station that is very centrally located. Look for bus stop 19, close to the big post office building. If you have difficulties to locate the bus stop ask the people at the Tourist Information office, inside Tenjin station, very helpful staff indeed. Their opening time however is 9.30h. The first bus for the Munakata Taisha temple leaves at 9.00h, followed by two buses at 10.00h and 11.00h, the ride takes 57 minutes, and the bus stop is right in front of the temple. I was lucky to witness the ritual of a traditional wedding where I attach the photo.
At 11.01 there is a return bus to Togo station to connect you with a train of the Kagoshima Line that brings you in 36 minutes to the Space World Station where the Yawata Imperial Steel Factory is located. The train leaves from Togo at 11.18, so not much time left to buy the ticket, but if that connection is missed, there is another one at 11.34h. In fact once you are on the main Kagoshima Line, there is plenty of trains going in both directions. Buses from Munakata to Togo Station however are very limited, for instance between 10.00 and 11.00h there is none. After visiting the Steel Factory (in fact you can just make photos from a viewing platform, you get also some brochures, as always in Japan) and there are English speaking guides to answer any questions. The train back to Fukuoka from Space World Station takes about one hour.
I left Fukuoka at 9.00h, and was back at 14.30h, ready for the Fukuoka Tower and the City Museum.
---
I visited 3 out of the 8 inscribed components of this site on a day trip in early December, namely Hetsu-miya on Kyushu, and Nakatsu-miya and Okitsu-miya Yohaisho both on Oshima. I of course could not visit the main attraction of this site and its attendant islands. As for the tombs I found them to be a hassle to reach and so skipped those.
There are a few direct buses to Hetsu-miya from Fukuoka, and the first one of these on Saturdays (maybe on Sundays too but I did not check on that since I made the visit on a Saturday) goes all the way to the Konominato Port from where the ferry to Oshima can be taken.
Nakatsu-miya has an associated shrine all the way up on the summit of Mt Mitake. Although this is merely a hill a little over 200 m tall, it was still quite a lung-imploding and leg-vein-exploding climb for unfit me. The reward at the top is a little shrine and a lovely view of Kyushu and much of the very green island itself. If the weather is clear, the island of Okinoshima can also be spotted if one knows where to look.
The best place on the island to try to spot Okinoshima however is probably at the back of Okitsu-miya Yohaisho. After all, this shrine was built precisely for people to worship the sacred island without actually having to be there. The shrine therefore appeared to be empty (it was closed but I could peek inside) except for a window which opened out to the sea and in the direction of the sacred island.
Okinoshima was of course not immediately visible, but after straining my eyes a little I finally spotted it.
I have to say that the shrines are nothing visually spectacular, especially since I had been in Kyoto and Nara not long before this visit. Nevertheless, the whole trip was somewhat of an adventure for me, particularly on Oshima. I really did enjoy walking through the forests and being very much alone there. Surprisingly there were not too many visitors to the island even though it was a Saturday.
---
2.00 Chinese-Canadian - 12-Oct-17 -
Okinoshima AND RELATED SITES was just recently added to her UNESCO stable. As many already know, going to Okinoshima is not possible for but a few males and even now they are dicussing about making this sacred island visitor-free forever. One needs to understand that these sites were inscribed for cultural reasons and the untouched nature on Okinoshima is impossible to observe.
The other destinations are, however, not difficult to see. Question is if they are worth it though. For the regular Joe tourist there is absolutely nothing special to see. They are Shinto shrines like you see in many places. Have you been to Kyoto? You most likely saw better ones. Unless you are a religious person they don't offer you much value. There are no English signs and all tourist groups are Japanese.
The easiest one to see if just off Fukuoka by taking a half hour train to Togo and then a bus to the Hetsu-miya Shrine (Munakata Taisha actually). The bus will announce this in English. Ensure you know the bus schedule because the couple of buses that go here are very infrequent. If you want to see a bit more then take the bus all the way to the ferry port and take said ferry to Oshima Island. There is another similar Shrine but you also get to see some green island when hiking up the few minutes from the ferry stop.
All in all I don't recommend this trip unless you have a car or want to spend more than half a day just seeing shrines. Taking the car to Oshima is expensive and gains nothing by the way.
So here we have a new inscribed UNESCO with much cultural value but not much for tourists.
---
Site Info
Full Name

Sacred Island of Okinoshima and Associated Sites in the Munakata Region

Unesco ID

Country

Inscribed

Type

Cultural

Criteria

2

3

Categories

Link
Site Links
Unesco Website
Official Website
In the News
Visitors
31 Community Members have visited.