Kaiping Diaolou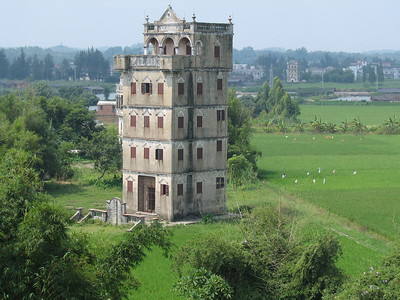 The diaolou of Kaiping are fortified multi-storey towers, built by returning Chinese immigrants from America, Canada, Hong Kong and Malaysia.
They display a fusion of Chinese and Western decorative forms. The towers were constructed in the 1920s and 1930s, when there were more than 3,000 of these structures.
The diaolou served as housing and as protection against forays by bandits (and later the Japanese). Three separate forms can be distinguished: communal towers, residential towers and watch towers.
Of the approximately 1,800 diaolou still standing today, 20 of them in the following areas make up the designated site:
- Sanmenli Village
- Zili Village & the Fang Clan Watch Tower
- Majianlong Village Cluster
- Jinjiangli Village
Map of Kaiping Diaolou
Legend
Visit October 2007
Kaiping is a city about 2 hours south of Guangzhou by bus. From there, I took a taxi to the first cluster of diaolou: those at Zili Village. I can testify that tourism definitely has arrived in Zili. An entry fee to the village of 50Y is charged. There's a car park large enough for a couple of buses. There might have been at least 200 other (Chinese) tourists around when I visited. The villagers seem to almost have given up farming. However, the diaolou here are plentiful and pretty. They somewhat resemble medieval castles.
My next stop was Li Yuan (Li's Garden). This is not part of the WHS, but a park with some diaolou created in the 1930s. I started to walk there from Zili, it's only a couple of kilometers and you pass the Fang Clan Watch Tower on your way. After a few minutes I was caught up by a rickshaw, which driver's call I could not resist. Li Yuan itself is good for lunch, but bring your own food. It's very touristy, they even have a jade store!
Finally, I wanted to go to Jinjiangli where supposedly the most elaborate diaolou can be found. My rickshaw driver tried to persuade me to go to Majianlong (because that's much closer), but we headed off for the 15 kilometer to Jinjiangli. What a different experience from Zili! Getting there is half the fun. You can see the tower of Ruishi Lou from afar, but how to get up close? The driver asked directions from some mahjong playing women, but that landed us on a deserted country road. There we met the passengers of three more cars with wannabe visitors who were conferring. They had found or arranged another car that would lead the way. The rickshaw only had to follow them, which isn't as easy as it sounds because a car is much faster than a rickshaw. But they waited fo us at corners. At last we arrived at a pretty village, built like a fortress itself with narrow streets. Although there were maybe 50 houses, all was very quiet. Only the loud cuckling of chicken could be heard.
The three dialou here are at the back of the village. A woman at the door of Ruishi Lou asked an entrance fee of 20Y, but there might be no fee or a closed door another time. The house belonged to her family, if I understood her well. This one has nine stories (the most of all), and is more furnished. The family pictures are still there. It's a pleasure to climb to its highest floor and the roof balcony because of the lesser number of visitors. From there, there's another good view of the village (and its chicken).
Community Reviews
---
---
---
---
---
---
Community Rating
Community Rating 3.10. Based on 10 votes.
Site Info
Full name: Kaiping Diaolou and Villages
Unesco ID: 1112
Inscribed: 2007
Type: Cultural
Criteria: 2 3 4
Site Links
Unesco Website
Official Website
In the News
Locations
The site has 4 locations.
Connections
The site has 7 connections.
Visitors
73 community members have visited Kaiping Diaolou. Show all