Huanglong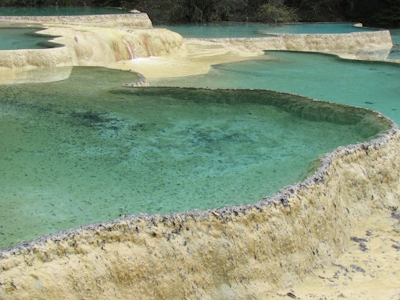 Huanglong has been acknowledged for its karst features such as travertine pools and limestone shoals.
Calcite deposition has lead to the pools being rich in algae and minerals, which results in orange, yellow, blue and green coloured waters. The site is located in the North-West of China's Sichuan Province.
At its inscription in 1992, it was recommended that Huanglong and nearby Jiuzhaigou (also in the Min Shan mountain range) would be inscribed as one site.
Community Reviews
---
4.50 Netherlands - 20-Nov-22 -
Huanglong is a real fairy tale landscape with autumn leaves, frozen waterfalls and ponds colored blue through yellow make Huanglong a surreal place. I visited in 2018 after a business trip in Beijing. I always flew in to Chengdu (great KLM fares). Huanglong is just 150 kilometers from Chengdu but through the mountains by road I would not recommend. Take a short flight to Jiuzhaigou airport and stay in a hotel there. From Jiuzhaigou it's a 1.5h drive to Huanglong. A day trip suffices. The entrance fee is huge. Avoid visiting during Chinese holidays as you will regret that. Keep in mind that during November at some point the cable car stops for the winter and opens again in spring.
Huanglong is located at an altitude between 1700 meters in the lowest valley up to 5588 meters at the highest peak. Huanglong is made up of various cascades of natural pools behind travertine dams. Travertine is a kind of limestone and forms at hot springs when calcite from the water precipitates. That means that solved calcite dissolves rapidly due to a change in pressure. This calcite forms the limestone dams but can also form stalactites, stalagmites and tufa
I arrived to the upper part of the Huanglong valley by cable car. There are a total of 14 main scenic spots within the valley. Multicolored lake, the upper and lower temple, flamboyant pont and other points with lovely names. Not to forget the golden sand, washing cave waterfall (frozen in November) and also hotsprings.
This natural site for me deserves for sure a 4.5 star rating if not 5. The half point due to the high entrance fee.
Read more from Christravelblog here.
---
This beautiful site is a must if you visit Jiuzhaigou, a more famous site nearby in the Himalaya foothills in Sichuan Province, China. It is quite a climb, from about 3,000 meters at the entrance to 4,000 meters at the top, the length is about 3-4km, so it is quite steep. You would go up along the river "Yellow Dragon" or Huang Long, to view the waterfalls and mineral deposit pools (all in yellow). All paths are set in stone steps, as the management has taken all the natural hazards out, and porters can be hired to carry you up in a sedan chair. Although this is frowned upon. Oxygen canisters are available at the entrance, I didn't need it, but used it anyway when I reached the top.
---
3.50 The Netherlands - 10-Oct-07 -
Huanglong is way up in the mountains, at an altitude of over 3000 meters. I didn't feel too well this day, so I allowed myself to cut some corners visiting this WHS. I took the cable car up (another WHS with a cable car!), and walked straight down from there. This takes about two hours and on the way, you pass most of the pools and waterfalls. Every 500 meters there's a toilet (comforting in my condition of the day) and about every kilometer or so there is a hut where oxygen is supplied for free. Many of the Chinese visitors were carrying their own oxygen cans also, but the altitude didn't bother me (after already having visited Tibet).
This site feels more crowded than Jiuzhaigou because everybody has to walk the same trail and there are no buses to skip parts. The total area also is much smaller. Although less similar sites have been put together into one WHS, I can see these two having been put forward as different sites. Jiuzhaigou is a large park with many features like the US national parks, while Huanglong is specialized in the geological phenomenon of travertine pools. I did enjoy its particular scenery (indeed much better than Pamukkale, as the IUCN report says) and feel that it is certainly worth a day trip for anybody.
Like Jiuzhaigou, the entrance area of Huanglong has a visitor center, some restaurants and shops. Bring warm clothes as it gets cold up here. Getting there and away as an individual visitor is tricky. One bus a day is reportedly driving between Jiuzhaigou and Huanglong, but at neither site, I did see any sign of this. So I went by taxi, a very scenic drive of 2 hours. I asked around at Huanglong for "the bus to Jiuzhaigou" - which seems quite a stupid question as about 200 buses were parked there and most of them going to Jiuzhaigou. But they all belonged to tour groups. At parking lot #4 I found some taxis waiting, and one of them wanted to drive me back. You'll have to change taxis about halfway through as the various taxi firms seem to stick to their own area. The drivers organize this among themselves.
---
The companion site to Jiuzhaigou in western China is less crowded, smaller and has only one trail, going from about 3,000 meters to 4,000 meters in elevation and covering about 7km each way. So for those less fit, oxygen cannisters are recommended to relieve headaches from oxygen deprivation, or one can be heartless and hire a sedan and be carried up.
It is better to get acclimated by visiting JZG the day before at 3,000 meters then do HL instead of the other way around because the altitude is really uncomfortable for those not used to it.
Huanglong, or yellow dragon in Chinese, consists of a section of highly mineralized stream that flows through the length of the park. The minerals leave a yellow deposit and accumulate into pools (see photo), and forming dozens of waterfalls. The water is inhospitable to microlife, therefore the water is blue and crystal clear.
I went in the summer. I heard that in winter when the dozens of waterfalls freeze, the view is spectacular and different.
---
Site Info
Site Links
Unesco Website
Official Website
In the News
Visitors
76 Community Members have visited.