Cold winter deserts of Turan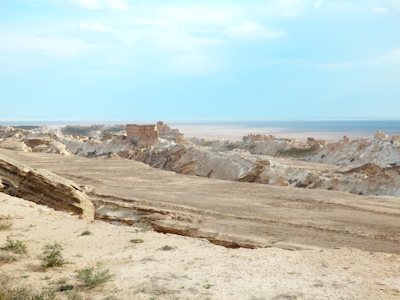 The Cold Winter Deserts of Turan testify to the survival of flora and fauna in an arid cold winter climate.
The 14 components across three countries span diverse desert ecosystems across more than 1,500 kilometres. They are important for both breeding and migrating bird species, and provide habitat for globally threatened mammals, such as Goitered Gazelle, Saiga and Urial.
Community Perspective: This site has received two reviews of drive-thru visits so far: Zoë covered Altyn Emel and its singing dunes in Kazakhstan, while Els 'did' Repetek in Turkmenistan.

Map of Cold winter deserts of Turan
Load map
Community Reviews
---
2.00 The Netherlands - 20-Sep-23 -
The serial transnational site 'Cold Deserts of Turan' was added to the World Heritage List last week. It consists of a number of fairly remote and obscure nature reserves in Uzbekistan, Kazakhstan and Turkmenistan. Only four community members claimed to have visited one of them, based on the respective Tentative Site entries.
However, there is a loophole (and I must give tribute to Clyde for pointing it out to me). Everybody who has made the road transfer between Bukhara (Uzbekistan) and Merv (Turkmenistan) via the land border at Turkmenabat will have crossed Repetek Nature Reserve. The main road goes right through component #8 of the nomination, as confirmed by the official maps, and the road is not excluded from the core zone. It even gained a bit of notoriety in the IUCN evaluation, as an example of "recent linear infrastructure development" that poses a threat to large mammal migrations – not only is Repetek crossed by the M37 highway, but also by the Turkmenabad-Ashgabat-Bereket-Turkmenbashya railway. But both are well-established nowadays, so there's nothing to do about it.
I still remember the desert landscape on this drive and have written about it in my travel diary, although my observations and photos could easily have come from 10km before or after we crossed the Nature Reserve – I guess the buffer zone looks fairly similar. My photos show sand dunes covered in tough large plants (possibly the characteristic Black Saxaul), unidentified funny shrubs and a dung beetle at work. I also still have Turkmenistan's 'Entry Travel Pass', which indicates the route taken.
It's a meagre 'tick' of course, I know. I promise I will make up for it with a better visit. I am eyeing Kazakhstan for next year to complete that, as its Altyn Emel National Park near Almaty seems to most accessible of all Cold Deserts of Turan.
---
1.50 Chinese-Canadian - 22-Sep-23 -
Visited Altyn Emel NP in 2022 while driving through Kazakhstan. It's most likely the easiest choice and on paper it also looks like a breeze from Almaty. Two problems with the location are: rental cars in Almaty all have a mileage limit because they DON'T want you to drive around the country with their cars so you'll need to look hard for a good deal that will give you unlimited mileage. In the end you are better off flying to the north for those sights and explore locally but even then the mileage limit of 100 km a day will be tight to do anything but just cruise around Almaty which is easily done by taxi anyway. Second problem is that if you don't have a car then you need to find some kind of driver but the tours (at least in 2022 which was still technically COVID time) there was zero infrastructure for this. You can try to find a guy who wants $100+ per day, and he probably won't speak English, but I got the feeling that nobody in Almaty really wants to do this as a job?! Before I start ranting, I eventually hired a car and did it on my own.
The park is only a couple of hours outside of town and once you are out of the city limits there aren't many cars on the road because it leads to...nowhere. I visited some weird rock carvings on the way which aren't inside the park but maybe it will give you something to do on the way. If you want a "fast" entry into the park you want to get off the A3 at Shengeldy and east will take you to the petroglyphs which at the time this site was tentative I figured was part of the inscription attempt because after all they have 3-4 sites around the country aiming for that but no, it's only natural now. Visiting these will take you a few hours mainly because driving on the small road is slow (you don't need a 4WD but definitely don't go with a low clearance Smart!) and I suggest you make it to the singing dunes before missing sunset. This was the best natural part I saw in the park because you won't spot mammals here and there. It also gets chilly cold at night so once you see the sunset you wanna move your butt out of the desert. I suppose this fits to the new inscription name although I don't find much special about them being just...natural deserts. The only nice flora I found were these plans popping out of the desert sand. I spent the night at Kalilino (Ardak guesthouse) and started early the next morning, left the park at the northern side but once you are back on the A3 it's pretty much just driving for the rest of the trip (3h until you hit town traffic). In the end was a nice trip but wouldn't say one can find outstanding natural value here.
---
Site Info
Full Name

Cold Winter Deserts of Turan

Unesco ID

Country

Inscribed

Type

Natural

Criteria

9

10

Categories

Link
Visitors
16 Community Members have visited.