Asmara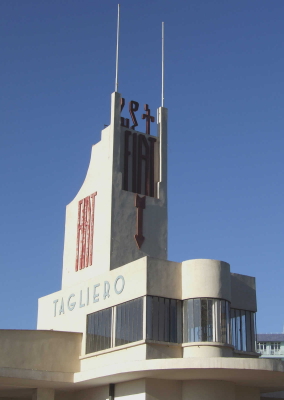 Asmara: A Modernist African City is an Italian planned colonial city based on early modernist architecture.
The urban ensemble was designed during several stages of development on an orthogonal grid plan with diagonal axes. The city was divided into quarters following the principles of racial segregation. During the short fascist period of 1935-1941 the city received its distinct modernist and rationalist public buildings, which mostly have survived intact since then.
Community Reviews
---
Well - could you guess that this is Africa (photo)? Just 1 of the amazing Art Deco buildings in Asmara. There is a fine book which catalogues all (most?) of the relevant buildings in the city - but I only found it at the airport when leaving. And there are a lot of these buildings. There are at least 4 "time warp" cinemas ranging in condition from "lovingly restored" to "in grave danger of falling down" The best are still in use and still have the original ticket offices etc and very pleasant cafes. This iconic Fiat garage/petrol station is unfortunately in sad need of repair. There are also a number of governmental buildings, public squares etc and innumerable private dwellings - anyone interested in architecture will be able to spend a good number of hours exploring the Art Deco heritage of this pleasant capital with its pleasant climate. Mussolini foresaw great things for this colony and spared no expense in demonstrating the greatness to which his empire aspired! Look out for the "Fasces" still decorating the pillars outside the Italian club
Unfortunately when we visited in Nov 2006 the Eritrean government was paranoid about foreigners (and from what I hear things haven't changed!) and I was marched off with an, I fear, loaded rifle sticking in my back by an angry conscript for photographing 1 of the cinemas - luckily I was "rescued" by an educated local who sorted things out. But Eritrea is like that - a mixture of totalitarian xenophobia with pockets of educated internationalism (The Eritrean Diaspora living worldwide but particularly in N America numbers some 850,000 or a fifth of the current homeland population). Its long struggle for independence and its revolutionary leaders' Marxist background has created a country with a somewhat psychotic personality! As a foreigner you need specific permission to visit anywhere outside Asmara and places we had planned to visit were withdrawn without reason and without notice from the list of available destinations. Asmara is far and away the "star" of what you are likely to be able to see in the country. Napier (NZ) and South Beach Miami are other possible Art Deco inscriptions but Asmara has that added dimension of "surprise" for its location and of "history" for its colonial background. Whether Eritrea will ever be able to bring it to a suitable state for ICOMOS's satisfaction is another matter
---
Site Info
Site History
2018

Name change

From Asmara: a Modernist City of Africa to Asmara: A Modernist African City
2017

Name change

From TWHS "The Historic Perimeter of Asmara and its Modernist Architecture" to WHS nomination "Asmara, Africa's Modernist City", and then again by ICOMOS to "Asmara: a Modernist City of Africa".
Visitors
16 Community Members have visited.