Antigua Naval Dockyard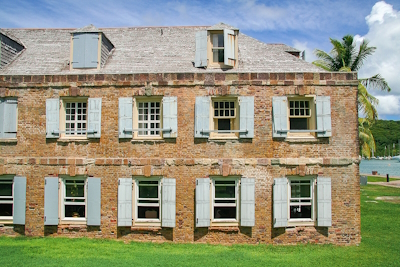 The Antigua Naval Dockyard and Related Archaeological Sites are late 18th, early 19th century defensive structures made by the British Navy.
They were built in an ideal natural setting, around a series of bays known as the English Harbour. Enslaved laborers from plantations in the vicinity were sent to work on the dockyard. A wide range of buildings has survived. They were built in the Georgian style, with some modifications for the tropical climate.
Community Perspective: the site gets mixed reviews, but it is probably the only place of historic interest in Antigua. The dockyard area now unfortunately mostly is used for modern shops and restaurants which scream "tourist trap". Dow's Hill Interpretation Centre and Shirley's Heights both have good views of the harbour and the short hike out to Fort Berkeley is recommended as well.
Community Reviews
---
1.50 Chinese-Canadian - 03-Aug-19 -
History of the Caribbean is not in our curriculum, and I wonder if it is on any even in the Caribbean. The main thing people know is probably pirates, and maaaaybe that Columbus landed here instead of the main Americas continent. The importance of the Nelson dockyard is thus way beyond what I know and I need a lot of research for this site. In truth I didn't so maybe that's a big negative thing but also should I really need to spend so much extra time? In fact the site is proudly saying the dockyard is a great example of a British naval yard from the 18th century but the site is much more than that. 255 hectares of archeological sites. Only visiting the Nelson dockyard is thus not enough. Without transportation it is not ideal to get around though, not even the interpretation center. The bus (#17) goes from the West bus station in St John's directly to the entrance of the dockyard, called English Harbor. It is also super cheap, barely $1.50 (3.75 EC I believe). The buses are frequent and go back to town all day.
The dockyard area (21 EC entrance ticket) is unfortunately a big waste of time. It has some old houses, most used for modern shops and restaurants, which is almost shocking for being declared a world heritage site, but maybe I am just under the impression that having paid an entrance fee I am supposed to get "ruins" and "museum" out of it. This is more like visiting a bazaar that was inscribed by UNESCO though. After the "market", the trinket shop and the restaurant I finally come across an old building: the sawpit. No way to look inside, nothing but a sign to point out it is there. Then there is a museum that has the disgrace to say "it is free but we want donations" after having just paid entrance to the site! There is also little to see inside. Some historical info, some info about the UNESCO areas, something totally unrelated like figureheads, and of course a museum shop. One can then wander around the front of the docks which is still in use by private sailboats, so one feels completely out of place. Ever went the wrong way at the marina and ended up at a private dock where people stare at you? Well … if not then at least imagine it is like that.
My visit was on a Saturday and there was nobody visiting. A few tourists arrived by bus as I was leaving, it was a rainy day, so maybe it is sometimes busier but let's face it: tourist trap. If it were free I may see how I would come down to enjoy a visit to the restaurant at the famous dockyard, but not after each family member just had to pay $10 (you better have EC) to even enter the restaurant.
All right so like I said there is more to see than the dockyard but I can't say for sure if it will be improving the site. Doubtful.
---
The hurricane season in the fall of 2017 was awful in the eastern Caribbean, and unfortunately devastated the island of Barbuda; in better news, however, the neighboring island of Antigua was not heavily damaged by the storms. I visited the Antigua Naval Dockyard (also known as Nelson's Dockyard)during a Caribbean cruise in the fall of 2016, and was pleased to hear in 2017 the dockyard made it through the storms. The first stop I made was to the Dow's Hill Interpretation Centre, located above the harbor. The center did not yet have a World Heritage Site plaque erected, but they did provide a film showing the history of the English Navy in the Caribbean. The views of the harbor from both the center and nearby Shirley Heights were incredible. After descending to the dockyard, I took in the serviceable dockyard museum and then walked around the restored buildings, of which the ruins of the old boat house were the most interesting. I also enjoyed the short hike out to Fort Berkeley, one of two forts guarding the entrance to the harbor. When on Antigua, this World Heritage Site is definitely worth visiting.
Logistics: Antigua Naval Dockyard is located in English Harbour, on the south side of Antigua, and can be reached via private transportation or by tour.
---
Visited May 2017. Definitely worth the trip across the island for anyone interested in the British Navy during the 18th and 19th centuries. Many of the buildings from that era are still in existence and they have an nice museum detailing the history of the dockyard. Make sure to take a ride up to Shirley's Heights for the best view on the entire island.
---
Nelson's Dockyard is Antigua's main historic "attraction" (excluding its now sadly decaying old cricket ground!) so inevitably we visited it during a stopover there in Jan 2012 even though it didn't then appear on either UNESCO's Inscribed or T List. Somehow we had the feeling that it could be "fattened up" to become Antigua's first WHS nomination – so it was a pleasant surprise just a few days later to discover that it had indeed been made Antigua's sole T List entry!
Looked at objectively, it is an amazing relic from the days of sail dating back to the later 18th Century. A superb natural and easily defendable double harbour ("English Harbour") was turned, under the management of Nelson in his pre Napoleonic War days, into the most significant "state of the art" forward shipping base in the Caribbean. It gave the British Navy an enormous advantage over the other colonial powers who, lacking such a facility for ship servicing, careening, revictualling etc were even less able to compete. It continued in this role through the 19th century and even acquired a minor "palace", Clarence House, for one of Queen Victoria's sons who mad a career in the navy and was in charge in Antigua – and through to late colonial days this house was used as a "hideaway" by UK royalty. Later however the complex was gradually decommissioned as wooden sailing ships gave way to iron hulled steam and coal bunkering etc became far more important. Thus many of the military structures spread around the harbour and up into the nearby hills decayed. However, the stone walled harbour facilities at its heart remained, together with some of the associated buildings.
More recently, English Harbour has taken on a new role as an ocean yachting centre and a tourist centre with hotels, restaurants etc. As we walked round past all the multi-multi million pound/euro/dollar boats tied up on modern pontoons extended from Nelson's stone walls and the shopping/restaurant/hotel opportunities incorporated into the 18th/19th century wooden buildings (or even extended into reasonably sympathetic new structures) it was perhaps too easy to dismiss the place as a millionaire's playground, a hang out for yachting groupies and a tourist trap and forget/ignore its genuine historic value.
UNESCO has been making a push recently to increase the inscribed base of Caribbean island nations with Bridgetown Barbados added and Jim Crow/Blue Mountains in Jamaica narrowly deferred in 2011. I am sure that Nelson's Dockyard can be expected to follow soon once Antigua has done the necessary re "Management Plans" etc. Its touristy aspects and added unauthentic buildings seem unlikely to prevent inscription given the fair wind which UNESCO gives to nations it is courting on the grounds of "inclusivity". As stated above, there is genuine historic value here and indeed the modern use of the facility for "rich man's yachting" could be regarded as a plus point compared with an alternative scenario of "Maritime Museum" with only historic ships on show. It would seem likely however, that any inscribed area would cover more than just the dockyard area. Up on the hill above the harbour with superb views among the ruined military buildings (photo) there is a newly built tourist information centre running a newly conceived "audio visual" presentation but here too are the foundations and walls of a wide range of other 19th century military structures. Most are surrounded by undergrowth and barbed wire and it is here perhaps that Antigua will need to do more to demonstrate that it is preserving the historic remains beyond the main historic dockyard centre.
---
Site Info
Full Name

Antigua Naval Dockyard and Related Archaeological Sites

Unesco ID

Country

Inscribed

Type

Cultural

Criteria

2

4

Categories

Link
Site History
2016

Revision

On Tentative List as 'Nelson's Dockyard'
Site Links
Unesco Website
Official Website
Related
Visitors
77 Community Members have visited.