Ahmadabad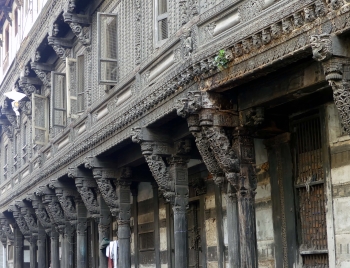 The Historic City of Ahmadabad is a 15th-century city especially known for its multicultural character.
Islamic elements are mixed with Hindu and Jain heritage. The specific style can be seen in the city's religious buildings and domestic wooden architecture. Further notable are its clusters of gated streets (pol), which belong to families of a particular group, linked by caste, profession, or religion. The city is surrounded by a wall.
Community Perspective: at first impression, Ahmedabad can be a very dusty and very dirty city. Several reviewers used the Heritage Walk Ahmedabad to get a grip on the historic elements. Solivagant highlights a few structures of interest to explore on your own, while Joel recommends the Gandhi Ashram across the river from the Old City.
Community Reviews
---
A few points which arose from our visit in Mar 2019 in addition to those made by earlier reviewers
a. The "Heritage Walk". Ahmadabad is rather proud of this initiative which goes back to 1997 and is being copied in other Indian cities. It receives many mentions in the Nomination File. Annex 17 is devoted entirely to it and contains a map - but here is the brochure version. These seemed to be as rare as hen's teeth when we visited, so it might be worth printing it down in advance just in case you can't get one "on location"! All (most?) of the 20 "pause points" have a large metal sign with a copy of this map, a description and an arrow to show where you are in the maze of alleyways (Photo). The link in Joel's previous review, as well as having its own map, will lead to more detailed descriptions of each of the "pause points" than are included with the above map and would be a useful complement to it (click through to "Heritage Walk packages"). There is fun of course in finding one's own way along such a route, talking to the locals etc, but there are also advantages in having the significance of what you are seeing (or potentially "missing") explained by a guide. Much of the "value" (such as it is) of the walk lies in understanding aspects which might otherwise go unnoticed. We met no other tourists (Indian or otherwise) during our walk and there would not seem to be enough to have generated any tourist-related businesses such as souvenir/craft sellers. The number of non SAARC visitors registered in Annex 17 for the year ending Mar 14 was a mere 1215 (presumably only those taking "official" tours).
b. Other "brands" of "heritage walk" are available! The success of the original "classic" walk has spawned numerous others. It, after all, only traverses a rather small part of the entire inscribed "Walled City" and misses out a number of significant locations. The "House of MG" hotel is the starting point for several. See this brochure for its offerings which include an "audio synchronized" walk covering a different area. There is also a "Craft Walk", a "Freedom Walk" and a "Jain Walk"!!! "The House of MG", by the way, is a rather fine restored mansion built by a wealthy Indian textile industrialist (Mangaldas Girdhardas) in the early 20th C, situated within the inscribed area directly in front of the Sidi Saiyyed Mosque - its daily rates were a bit above what we normally pay for hotels in India and we stayed at a perfectly acceptable businessman's hotel a bit further out. But I somewhat regret not having paid the extra!! If you don't stay, a visit to the public areas is worthwhile.
c. The Swaminarayan Temple. This is where the classic "Mandir to Masjid" ("Temple" to "Mosque") Heritage Walk through the "pols" starts. It would be easy to dismiss it as just another Hindu temple with lots of multi-coloured statues like many across India. In fact it was the very first temple (built 1822) of the Swaminarayan Sampraday Hindu "revivalist" sect. Swaminarayan was a Hindu ascetic who died in 1830 and founded a phenomenon in India which is worth knowing about. The enormous Akshardham Complex (opened 2005) in Delhi demonstrates the contemporary wealth and influence of the sect through its charitable wing - BAPS. It has worldwide coverage and is also the largest Hindu group in USA. Sawaminarayan is believed to have been a reincarnation of Narayana, one of the "twin brother" avatars of Vishnu - Nara-Narayana. Thus the central objects of worship in the Ahmadabad Temple are the "twin brother" statues draped in the finest cloth - "Dresses for the central Narnarayan…..images are changed seven times a day and are never repeated". I don't know the exact timing of the rituals but it is worth being there at that time if you can - otherwise the statues are hidden by curtains and religious activity is limited. I found this article useful in describing what is involved in being a follower.
d. The "Chabutra" or "Bird feeders" are worth a particular mention. These are something of an Ahmadabad/Gujarati speciality. The departure lounge at AMD has one, as do some of the modern roundabouts. There is a particularly fine historic one at Ahmadabad's Le Corbusier-designed museum - Sanskar Kendra (Worth visiting for the building and for seeing its "poor" condition – but not for its "collection"!). Many of the pols have them – often not of any great architectural note but worth seeing and understanding as part of the social structure.which the design of the pols reflects. As you go into the "chowk" or closed square where they are situated, look for the gate which some pols still have but which is no longer closed at night. Note the seats for meetings and the cupboards – those going away for a few days store their "share" of the food for the birds in them for neighbours to dish out - thus not avoiding their communal responsibilities! See this article about one of them.
e. Jain temple. You will have started with a 19thC Hindu Temple and will finish with the fine 15th C Jami Majid – but Jain influences and culture are also of importance to the site and you can enter a 17th C Jain temple at "pause point" no 8 ("Sambhavnathji Derasar" a.k.a "Ajitnath" after the Jain spiritual teacher to whom it is dedicated and whose statue it contains) – but not with bags, camera, shoes, water … or if you are menstruating (not checked!). It has some nice painted wooden carvings (obviously you can't take any photos, but there are some on Page 23 of the Nomination file!). Don't expect too much - this is only a neighbourhood place of worship not a world class piece of architecture but it resonated for us as "Jainism" had been a continuing theme during our Indian trip. The temple dome of this "Derasar" reminded us of a similar one from Gujarat which had been assembled in the National Museum of India in Delhi and it connected directly to the marble decoration of the domes at Ranakpur, Dilwara (Mt Abu) and Palitana which we had seen earlier. For some reason, active Jain temples are not well represented on India's inscribed or T List - Khajuraho has some but is still primarily an "archaeological site" and Dilwara was inexplicably removed from the T List in 1998 after only 4 years.
f. Vernacular Architecture - We usually enjoy this type of WHS but European and Latin American examples seem to possess a higher percentage of "worthwhile" buildings than does Ahmadabad - or at least their "dross" is less visible/striking! As mentioned by other reviewers, many of the buildings you will pass are simply cheap modern concrete/brick houses thrown up at minimum cost to fill the available space, with no concern for build quality or visual impact and possessing no "architectural" value whatsoever. Perhaps our expectations of "lived-in heritage" are just too "Eurocentric", requiring a large number of "pretty-pretty" buildings in tip-top condition set within a clean and tidy "chocolate box" environment? Many of those which do remain in Ahmadabad are rather neglected, with only a few examples of "gentrification" and investment. Perhaps it will come and the pols will turn into another Panama Casco Viejo where the original inhabitants just get kicked out? It is a shame that, despite the "Heritage Walk" initiative none of the traditional buildings are open for viewing from the inside but one aspect which it is worth looking out for from the outside, is the wood carving (see the site photo). This article contains some good background about the Gujarati craft known as "Naqsh" and some nice photos of buildings from the Ahmadabad pols.
g. "Mulitcultural Coexistence"? The Nomination file states that "The presence of institutions belonging to many religions (Hinduism, Islam, Jainism, Christianity, etc.) makes the historic urban structure of the city an exceptional and even unique example of multicultural co-existence". Fine words, and one hopes that the inscription is indeed pointing that way, but, as recently as 2002, Ahmadabad was a location for major inter-community conflict often characterised as an anti-Muslim Pogrom and c69 people died 3kms NE of the WHS boundary in the Gulbarg Society Massacre . This Indian article "Contentious Heritage: The Case of Ahmedabad" criticises the use of WHS inscription to hide what it believes to be the reality of Muslim exclusion both nationally and specifically in Ahmadabad, where it claims Muslim areas/sites are excluded and not preserved and that the "inclusive" WHS designation is something of a smokescreen.
h. WHC Inscription. Ahmadabad didn't gain its inscription easily and it took a strong rearguard action led by Turkey to persuade the WHC to inscribe (Our Web site records "ICOMOS suggested Deferral, overturned by WHC by amendment of Turkey"). This took place on July 8 2017. Was it entirely coincidental that President Erdogan paid a 2 day visit to India just a couple of months beforehand (Apr 30), and that signing of a Cultural Exchange Program was high on the agenda at the time?? Too small a matter for national leaders to worry about, or a simple action to please Prime Minister Modi whose political home ground is Ahmadabad (Chief Minister of Gujarat 2001-14 i.e during the 2002 riots) and demonstrate practical support for Indian Culture?

---
As other reviewers have noted, Ahmedabad is very much not a tourist city. It's hot, dusty and chaotic - even by Indian standards. We spent three days here in February 2019 as a base for visiting the three Gujarat WH sites (here, Rani-ki-Vav and Champaner-Pavagadh), and honestly it's difficult to really appreciate the World Heritage aspects of the city. 
To try and fully understand the place, we opted for the Heritage Walk Ahmedabad, a semi-official endeavour supported by the local government and a bargain at only 125rs. The tour went for a couple of hours from the Swaminarayan Mandir, through various pol districts and ended at the Jama Masjid. It was a nice way to see the various aspects of what makes the city: Hindu culture, Muslim culture, along with the unique pol houses, and our young local guide was quite enthusiastic. That said, most of the pol houses are crumbling and poorly maintained - maybe that makes them more authentic? But at quite a few points it was hard to distinguish which were the historic houses and which were far more modern. 
Overall neither of us were particularly impressed with the site. We've definitely seen worse, but have definitely seen better. Of the three sites in Gujarat, this was definitely the least impressive.
While in Ahmedabad I'd strongly recommend visiting the Gandhi Ashram across the river from the Old City. Gandhi lived here for about 12 years on and off, and large parts of it are a museum dedicated to his life and works - fascinating for someone like me who only knows the broad strokes.
Read more from Joel on the Road here.
---
Ahmadabad is not exactly a beautiful city, with the historical buildings intertwined with all kind of modern ramshackle buildings and the typical indian street chaos. It's dirty and dusty and very lively. I visited the old core with the heritage walk, which definitely leads you to places you would not have seen by your own, but was also a bit overcrowded (mostly indian students). The WHS description concentrates on the old building clusters (called pols) in the innercity. Other Ahmadabad sites like the stepwells, the sidi-saiyyed mosque and the jain temple are not mentioned. The old havelis have a very dusty charme - there are intricate carvings, beautiful decorations, but everything has a worn-out feeling. On the plus side, it definitely does not feel touristy. The proposal also seems to be the only indian WHS that concentrates not on palaces, ruins and temples, but on normal residential areas - I would therefore welcome its inscription (also as an incentive to preserve the buildings).
Visited: Nov 2015
Importance 3/5 Beauty 3/5 Uniqueness 4/5 Environment 1/5 Experience 3/5
---
Visited January 2011 and May 2015
The first impression: Ahmedabad is a very dusty and very dirty city. But if you have a chance to spend there more than 2 days you will discover lots of gems - not only the mosques (Sidi Sayid, and Friday mosque) and museums (Calico Textile and city museum are the must!), but also beautiful old houses, temples, Badra fort (possible to visit now) and at least two step wells in the eastern part of old city.
Hint: as Ahmedabad is not a tourist trap at all you should know that there's only ONE place where you can buy postcards and souvenirs: boutique heritage hotel House of MG, opposite Sisi Sayid Mosque.
---
Site Info
Site History
2017

Advisory Body overruled

ICOMOS suggested Deferral, overturned by WHC by amendment of Turkey
Site Links
Unesco Website
Official Website
Visitors
71 Community Members have visited.