Ahmadabad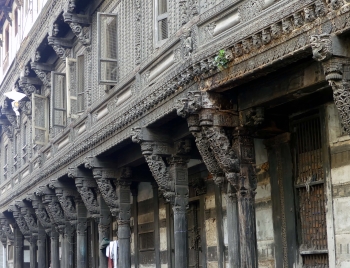 The Historic City of Ahmadabad is a walled city dating from the 15th century, especially known for its fusion of Hindu, Jain and Islamic elements.
Further notable are its wooden houses (pol). The city wall dates from 1759.
Community Reviews
---
As other reviewers have noted, Ahmedabad is very much not a tourist city. It's hot, dusty and chaotic - even by Indian standards. We spent three days here in February 2019 as a base for visiting the three Gujarat WH sites (here, Rani-ki-Vav and Champaner-Pavagadh), and honestly it's difficult to really appreciate the World Heritage aspects of the city. 
To try and fully understand the place, we opted for the Heritage Walk Ahmedabad, a semi-official endeavour supported by the local government and a bargain at only 125rs. The tour went for a couple of hours from the Swaminarayan Mandir, through various pol districts and ended at the Jama Masjid. It was a nice way to see the various aspects of what makes the city: Hindu culture, Muslim culture, along with the unique pol houses, and our young local guide was quite enthusiastic. That said, most of the pol houses are crumbling and poorly maintained - maybe that makes them more authentic? But at quite a few points it was hard to distinguish which were the historic houses and which were far more modern. 
Overall neither of us were particularly impressed with the site. We've definitely seen worse, but have definitely seen better. Of the three sites in Gujarat, this was definitely the least impressive.
While in Ahmedabad I'd strongly recommend visiting the Gandhi Ashram across the river from the Old City. Gandhi lived here for about 12 years on and off, and large parts of it are a museum dedicated to his life and works - fascinating for someone like me who only knows the broad strokes.
Read more from Joel Baldwin here.
---
Ahmadabad is not exactly a beautiful city, with the historical buildings intertwined with all kind of modern ramshackle buildings and the typical indian street chaos. It's dirty and dusty and very lively. I visited the old core with the heritage walk, which definitely leads you to places you would not have seen by your own, but was also a bit overcrowded (mostly indian students). The WHS description concentrates on the old building clusters (called pols) in the innercity. Other Ahmadabad sites like the stepwells, the sidi-saiyyed mosque and the jain temple are not mentioned. The old havelis have a very dusty charme - there are intricate carvings, beautiful decorations, but everything has a worn-out feeling. On the plus side, it definitely does not feel touristy. The proposal also seems to be the only indian WHS that concentrates not on palaces, ruins and temples, but on normal residential areas - I would therefore welcome its inscription (also as an incentive to preserve the buildings).
Visited: Nov 2015
Importance 3/5 Beauty 3/5 Uniqueness 4/5 Environment 1/5 Experience 3/5
---
Visited January 2011 and May 2015
The first impression: Ahmedabad is a very dusty and very dirty city. But if you have a chance to spend there more than 2 days you will discover lots of gems - not only the mosques (Sidi Sayid, and Friday mosque) and museums (Calico Textile and city museum are the must!), but also beautiful old houses, temples, Badra fort (possible to visit now) and at least two step wells in the eastern part of old city.
Hint: as Ahmedabad is not a tourist trap at all you should know that there's only ONE place where you can buy postcards and souvenirs: boutique heritage hotel House of MG, opposite Sisi Sayid Mosque.
---
Site Info
Site History
2017

Advisory Body overruled

ICOMOS suggested Deferral, overturned by WHC by amendment of Turkey
Site Links
Unesco Website
Official Website
Visitors
41 Community Members have visited.