Modernist Centre of Gdynia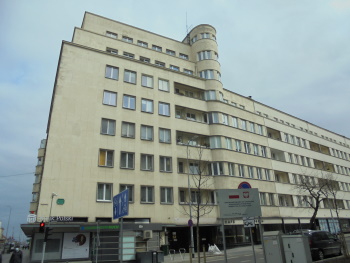 Modernist Centre of Gdynia — the example of building an integrated community is part of the Tentative list of Poland in order to qualify for inclusion in the World Heritage List.
Since Poland regained its sovereignty after World War I and the city of Gdańsk received the status of a Free City, the Polish state required its own port. The nearby village of Gdynia was conceived as the new primary economy hub. The newly designed city was consequently built in the 1920s and 30s. In that time, the population grew from 1200 to 120,000 and the city became a symbol of modernism and the maritime ambitions of the young Polish state. It combines a traditional urban composition with progressive housing solutions offering light, space and infrastructure for its inhabitants.
Map of Modernist Centre of Gdynia
Load map
The coordinates shown for all tentative sites were produced as a community effort. They are not official and may change on inscription.
Community Reviews
---
Just visited (April, 2021) or to be specific revisited after several other visits in the past. This time I solely focused my stay on the modernistic aspect of central part of Gdynia. As briefly described in the introduction Gdynia as town has relatively short history that implies its current layout. For many years it was not more than a small fishing village on the shores of Gdańsk Bay (Zatoka Gdańska) but when Poland finally retook its independence in 1918 and after granted limited access to the sea (Baltic) in 1920, Gdynia become a central point of construction process (harbor, infrastructure, the city itself). Hence the results of these building works you can still admire today.
Gdynia center is today protected by establishing so called Monument of History (Pomnik Historii) covering the majority of historical areas. Also many individual buildings are protected in the register of historical monuments. I assume that limits of the tentative site are the same as borders of the Monument of History. It covers the area of 91 ha to the south of Gdynia Harbour. Contains around 450 different buildings. It has regular layout based on 3 different axis: north-south – Świętojańska St (mostly commercial and residential houses) and 2 west-east: series of streets: 10 Lutego St., Kościuszki Sq and Jana Pawła II Ave. and second Starowiejska (the oldest street in Gdynia). See the details on the map.
To find out the best of Gdynia modernistic achievements you can use several routes from https://en.modernizmgdyni.pl/ (page in English entirely devoted to modernistic Gdynia).
I started exploration from the southern part of Swiętojańska St (at the crossroads with Piłsudskiego St) – google coordinates 54.50947421115934, 18.53828656779559. Main building there is a Gdynia City Hall (designed by Jerzy Muller, 1930, rebuilt in 1937). In pre-war period it was a seat of Government Commission (Komisariat Rządu), now it houses Gdynia City Council and Mayor of Gdynia. On the wall of this building from the side of Świętojańska street there is an official plaque commemorating inscription of Gdynia Center on the list of Polish Monuments of History with detailed map of the site.
From there, on both sides of Świętojańska there are historical tenants houses built in modernistic style, many are equipped with tables (Polish and English) with short description of history, owners and architects. It is the most coherent part and contains modernistic architecture in its pure form. The most important buildings along the street are (all described by address, name of the owner and year of construction):
Świętojańska 122 – house of lawyer Antoni Ogończyk-Bloch and architect Leon Mazalon (opposite to City Hall, 1937),
Świętojańska 89 – Franciszek Wegner tenant house (1937),
Świętojańska 81-83-85, Grażyna tenant house (1928),
Świętojańska 78a - Józefa Wieczorkowska tenant house (1931),
Świętojańska 68 - Albin and Marianna Orłowscy tenant house (1936),
Świętojańska 55 - Krenski Company tenant house (1939),
Świętojańska 53 - Leon Stankiewicz tenant house (1931),
Świętojańska 44 - Paged Company tenant house (1934),
Świętojańska 42 - Franciszka Glasenappowa tenant house (1938),
Świętojańska 41 – Kazimierz Koliński tenant house (1938),
Armii Krajowej 26 (same street but different address) – church of St Mary, the Queen of Poland (the oldest church in Gdynia, 1924),
Świętojańska 23 – Józef Skwiercz tenant house (1937).
At this point Świętojańska meets the first west- east axis, crossing Kościuszko Square. To the right there are several tenants houses (name of the owners, year of construction, address: Jurkowski – 1938, Skwer Kościuszki 16, Peszkowski – 1928, Skwer Kościuszki 14, Pręczkowski - 1937, Skwer Kościuszki 10-12) as well as public buildings located in the Southern Pier (Sailor's House – Dom Żeglarza and Gdynia Aquarium). Here you can also find 2 other symbols of Gdynia – two ships: ORP Błyskawica (destroyer – the oldest survived in the world), currently (April, 2021) taken for conservation and Dar Pomorza (frigate).
To the left of the axis there are other merchant houses, post office and 2 the most characteristic and important buildings – typical of Gdynia "houses-transatlantic liners": BGK Housing Estate, 3 Maja 27-31, 1939 and ZUS building – 10 Lutego 24, 1936. Further on there are District Court Building (Konstytucji Sq 5, 1936) and Railway Station (Konstytucji Sq 5, finally built in 1959).
Other important buildings (spread in the northern part of Central Gdynia) are:
Covered Market Complex, Wójta Radtkego 5, 1938,
State Institute of Meteorology (Państwowy Instytut Meteorologiczny), Waszyngtona 42, 1927,
YMCA Building, Żeromskiego 26, 1951
Cotton House (Dom Bawełny), Derdowskiego 26, 1938,
Swedish Sailor's House (Dom Marynarza Szwedzkiego), Jana z Kolna 25, 1936,
Polish Sailor's House (Dom Marynarza Polskiego, currently Fisherman's House), Jana z Kolna 27, 1932,
House of Fire Brigade, Władysława IV 12-14, 1956.
For better understanding of Gdynia history you should visit Gdynia Museum (currently closed for pandemic, Google coordinates 54.51621150999606, 18.54704773565713).
Chances for future inscription – I think quite high. The are is coherent in style, many of the building were innovative during construction. In terms of architecture it is mostly similar to White Town in Tel-Aviv or Berlin Modernism Housing Estates. There are also similarities to certain works of Le Corbusier (at least some buildings in Gdynia are designed using the guidelines of that architect).
Practicalities: currently due to pandemic restrictions it is not a good time for visiting. All the museums are closed, restaurants mostly operate on take-away mode, hotels are working in business trip regime (at least officially). But while situation changes Gdynia can be a perfect, full day destination. Places to stay, eat, and entertain are abundant, communication is very good and efficient (local trains connect all Tri City area, there are buses, trams). Local airport is very close in Gdańsk. For good visit of Gdynia modernistic heritage one day should be sufficient (two if you also include the ships and museums). Do not forget that the city is located on the seaside, so during high season there might be quite substantial number of people.
Places on the photo, bottom left, than clockwise: Gdynia City Hall, Leon Stankiewicz tenant house, BGK Housing Estate, ZUS building
---
I visited this tentative WHS in August 2020 as a slight detour from the Gdansk tentative WHS and Malbork Castle WHS. If the former two manage to get inscribed Gdansk would become a WHS hotspot.
The Modernist Centre of Gdynia is apparently trying to seek inscription on similar grounds as the Chaux-de-Fonds/Le Locle WHS in Switzerland or the Le Havre WHS in France, i.e. a uniform urban complex developed in the 1920s till present days as a result of a unique and dynamic process of city construction. Gdynia combines features of traditional urban composition (an orthogonal street grid inscribed into the fanned landscape) with buildings that incorporate progressive housing solutions (ensuring access of light and air). The port city's design was based on the idea of opening the city to the Baltic Sea with the Southern Pier serving as a promenade and with general access to open port spaces (a marina, a passenger and short sea shipping harbour). The heart of Gdynia's urban layout can be 'appreciated' mostly by modern architecture/planning enthusiasts by walking along Ludego Street from the railway station to Kosciuszko Square and the Southern Pier.
As a non-enthusiast of modern architecture in general, but judging from other similar WHS or non-WHS I've visited, after visiting Gdynia I can say that no one building stood out and even as a modern urban layout I felt there was nothing unique or any value added gained should Gdynia ever make it on the WH list. Perhaps, Poland would benefit or stand a better chance by drafting a new nomination dossier trying to put forward Gdynia, Sopot and Gdansk together as an ensemble. Then again, I feel they wouldn't contribute much to the WH list and it would devalue the Gdansk memory tentative WHS.
---
Community Likes
Site Info
Full Name

Modernist Centre of Gdynia — the example of building an integrated community

Country

Added

Type

Cultural

Categories

Link
Site History
2019

Added to Tentative List
Visitors
25 Community Members have visited.