Thomas Jefferson Buildings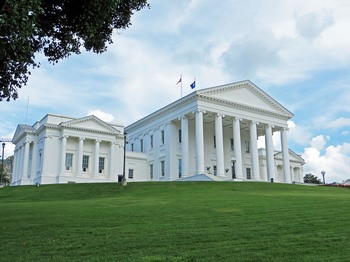 Thomas Jefferson Buildings is part of the Tentative list of United States of America in order to qualify for inclusion in the World Heritage List.
The Thomas Jefferson Buildings – Extension (United States) is a proposed extension of the United States' Monticello and the University of Virginia in Charlottesville WHS. The Virginia State Capitol and Poplar Forest reflect United States President Thomas Jefferson's influential use of Classical design in 18th and early 19th century American architecture. The Virginia State Capitol adapted the form of a Roman temple to a public building, which became a model for later structures in the United States, while Poplar Forest, a rural retreat for Thomas Jefferson, was one of the first octagonal houses in the United States, and drew upon Palladian and Roman Classical designs.
Map of Thomas Jefferson Buildings
Load map
The coordinates shown for all tentative sites were produced as a community effort. They are not official and may change on inscription.
Community Reviews
---
California - United States of America - 07-Aug-21 -
While visiting Poplar Forest, I was struck by the absurdity of an extension called "Thomas Jefferson Buildings", this is not to hold judgement on the components themselves. I would be deeply disappointed to see Monticello and the University of Virginia in Charlottesville be renamed to "Thomas Jefferson Buildings". Its true that Jefferson is the master architect, creating detailed and meticulous blueprints of virtually everything at the Academic Village, Monticello, and Poplar Forest. It is equally true that the Master Building and Woodworking was done by James Dismore and John Hemings with most communication/instructions from the architect done via letter. Mr. Hemings was a slave with 75% European ancestry and the half-brother of Sally Hemings, the mother of at least 6 of Jefferson's mixed-race children.
"He (John Hemings) was principal assistant to James Dinsmore, the Irish joiner responsible for most of the elegant woodwork in the Monticello house. Hemings succeeded Dinsmore as head joiner in 1809, making fine furniture for Jefferson, including cabinets, chairs, and tables. He alone crafted much of the interior woodwork of Jefferson's house at Poplar Forest in Bedford County, Virginia." - Thomas Jefferson Encyclopedia
"Poplar Forest is a rural retreat designed by Jefferson, the finishing details of which were largely executed for him by his slave John Hemings beginning before Jefferson retired from the U.S. presidency in 1809." - UNESCO Description
Simply calling these components "Thomas Jefferson Buildings" in commonality with "The 20th-Century Architecture of Frank Lloyd Wright" or "The Architectural Work of Le Corbusier" is pretentious. To examine the primary claim of OUV:
"Jefferson's use of an architectural vocabulary based upon classical antiquity symbolizes both the aspirations of the new American republic as the inheritor of European tradition and the cultural experimentation that could be expected as the country matured."
In other words, Jefferson introduced Classical Architecture to the new United States following his time as Minister to France (1784-1789), while adapting these architectural elements to contemporary life and function in the United States. During the tour of Poplar Forest (which was done well), I politely asked what form, style, or architectural element was developed or invented by Jefferson (the architect). Nothing was noted.
The work to bring back Poplar Forest to its "Jefferson design" is ongoing and admirable. The restoration is very near to completion. There is excellent interpretation panels in the basement. Visitors should understand that Poplar Forest's main interior rooms are reproductions of the woodwork done by John Hemings and every installation of thus reproductions must be verified as true to the original design.
An interesting design feature is the sunken South Lawn mentioned in the UNESCO description, "Also surviving from Jefferson's era are designed landscape features, including mounds flanking the house ("pavilions") and a sunken lawn." Jefferson wrote to Hugh Chisholm (bricklayer) and the man partially responsible for building Poplar Forest, "engage the negroes to dig and remove the earth South of the house". As a visitor, when you enter the "ornamental grounds", notice both mounds of earth (inspired by English and French garden landscapes) to the East and West, this is the amount of earth moved by Jefferson's slaves.
In his lifetime, Jefferson owned more than 600 slaves and only 5 were freed. These five individuals were all part of the Hemings family (including John) and were identified to be freed in Jefferson's will. It can be difficult to visit Poplar Forest and seperate the man who was a writer, statesman, slaver, president, and architect. Generally speaking I am opposed to this extension, unless the current WHS name remains unchanged and the buildings in Richmond are not included. As ICOMOS noted in the Mount Vernon evaluation, it would be wise to de-emphasize national figures and instead focus on OUV. When this tentative nomination was put forward in 2008 it was before Mount Vernon's rejection.
Read more from Kyle Magnuson here.
---
Poplar Forest (in Bedford County) and the Virginia State Capitol (in Richmond) are proposed as an extension to the Monticello & University of Virgina site which is already on the WH List. After having visited Monticello in the early morning, I drove 1.5 hours to the South to Poplar Forest. This was Jefferson's retreat and included a large plantation. He designed it after Monticello (starting in 1806).
The property is located in the woods somewhat outside Lynchburg. I noticed that the modern day occupants of this area have very nice houses too!
There were a couple of other (elderly American) visitors around when I arrived. The guided tour here (10 US dollar) is slower and more in-depth than the one at Monticello. Poplar Forest is still undergoing restruction to re-create the time when Jefferson lived here. The house was in private hands until 1984 and at that time had been altered significantly. The walls are still barren now and there's almost no furniture in it. This however shows in detail the way this house (and Monticello) was built. A lot of the features of Monticello are here too: the skylights, the long windows and the servants quarters underground. Looking back, I am glad I have visited both Monticello and Poplar Forest: seeing both deepens the experience.
---
Community Likes
Site Info
Full Name

Thomas Jefferson Buildings

Country

Added

2008

Type

Cultural

Categories

Link
Site History
2008

Added to Tentative List
Visitors
65 Community Members have visited.