Kosice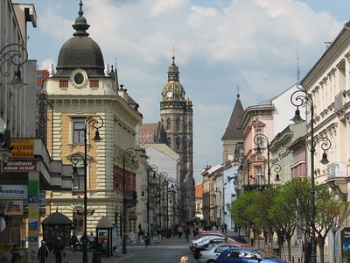 The concept of the lenticular historical town core of Kosice City is part of the Tentative list of Slovakia in order to qualify for inclusion in the World Heritage List.
The historical town core of Košice is characterized by 3 parallel streets. It has had town privileges from the 13th century. Buildings from the Middle Ages and later centuries have been preserved, such as the Gothic St. Elisabeth Cathedral.
Map of Kosice
Load map
The coordinates shown for all tentative sites were produced as a community effort. They are not official and may change on inscription.
Community Reviews
---
Chinese-Canadian - 17-Dec-20 -
A shoutout to Martina to say "Hey, I visited your hometown", and I think you should be proud to able to call it home. In fact, Košice is a lovely town center. And for tourists: easy access from hotels, parking, shops, lovely gardens planted around the centre, fountain, a big Gothic cathedrals, many good bars and restaurants - my picture shows it just shows an ideal town. That's probably what the people who want to nominate this as world heritage had in mind too. Sorry, a little overeager. The whole core thing also doesn't seem unique enough and if it would be a front-runner for this concept in any way that would make it very, very niche. I'm guessing though, that it was not started in in Košice and either a similar style or taken from other countries (by crusaders?) that it was built this way.
Do visit Košice for it's a wonderful town but don't expect a world heritage site, ever.
---
This is very poor TWHS on the Slovak list. It is quite clear that the trick with the lenticular shape of the historical Košice is just a substitute to the fromer unsuccessful proposal of St. Elizabeth Cathedral as the eastermost gothic cathedral in Europe. Well, similar tricks worked somehow in the case of Augsburg, and also Bologna is promising candidate for that. But I cannot imagine that it would work for Košice...
The city of Košice is very nice as already described by others, but the claim that it is outstanding and unique because of its lenticular shape is not very convincing. Even in the eastern part of Slovakia, I visited many histrorical towns of diverse sizes with very similar shape to Košice such as Prešov, Sabinov, Hniezdne, Podolínec, Kežmarok (merge of two perpendicular lentils), Spišská Sobota, Poprad, Spišská Nová Ves, etc... From this list, I liked the most historical core of Prešov, which is more relaxed than busy Košice. To name at least some historical towns with this shape that are already on the list: Speyer has very prolonged shape, and also Litomyšl and Telč, where we can see interesting bifurcation on one end, are examples of this concept. Besides that, there is a plethora of ancient towns and villages with just one street in their center in Italy, France, and western countries, shape of which was not certainly derived from Košice probably the opposite is true.
Thus, it is not true that towns of the lenticular shape are speciality only of eastern Slovakia.
Furthermore, the lenticular and prolonged shapes are typical for smaller towns and villages founded in older romanesque period. In contrast, the chessboard-like shape of towns is typical feature of progress in the town-planning that emerged in 12-13t centuries in the central Europe, that eventually beaten the old concept of a lentil. Thus, I cannot see any OUV in using the old seized concept of lenticular shape for the gothic foundation of the city of Košice.
---
I was born and bred in Kosice, so I believe I'm quite qualified to talk about this nomination. And let me tell you straight away, both Ivan and I think it's a bit of a joke. I believe it's just a gimmick someone thought about because they couldn't say: well, it's got this one street and it's very pretty. So even though I am a local patriot, I have to be frank and admit I don't see a reason for inscribing Kosice.
Having said that, the city centre is lovely: it's one long street, the Hlavna Street with reconstructed brook symbolically flowing in its middle, except for a small "island" with the theatre, Singing fountain and the St. Elizabeth Cathedral. That's what makes the lens part of the town core. The Hlavna Street is flanked by another two parallell streets with lovely old architecture, one on each side: Masiarska and Kovacska.
You can walk along the streets and enjoy drinks in one of the many cafés. There used to be much more shopping opportunities, but most of the shops have moved to one of too many shopping centres. What I like about the Hlavna Street is the fact that most of the buildings from neo-baroque era are still standing, only three ugly cubes mar the uniformity of the look: Tesco's, The House of Footwear and the most ugly of them all, Doubletree by Hilton.
You can enjoy it in half a day, same as Bratislava and if you like sports, Kosice holds annual International Peace Marathon, the oldest marathon in Europe with prestigious participation and it makes for a lively day of walking around city centre, cheering the runners.
---
Kosice is a beautiful Central European town and despite being the second largest agglomeration in Slovakia with approximately half a million inhabitants it gives the visitor an impression of being quaint and easy going. The only attraction is the elongated town square with its delicate mansions and singing fountain. This said, I spent an entire morning there and would have been happy to stay there longer. Whether the special layout of the central square merits a WHS inscription is a different matter altogether.
---
Site Info
Full Name

The concept of the lenticular historical town core of Kosice City

Country

Added

2002

Type

Cultural

Categories

Link
Site History
2002

Revision

Includes former TWHS Kosice Cathedral
2002

Added to Tentative List
1994

Rejected

Kosice Cathedral
Site Links
Visitors
56 Community Members have visited.