Writing-on-Stone / Áísínai'pi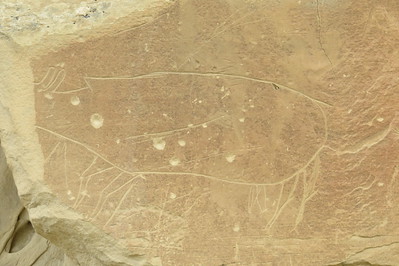 Writing-on-Stone / Áísínai'pi is a living sacred landscape for Blackfoot people.
The area holds thousands of examples of indigenous rock art, carved into the sandstone. For the Blackfoot society of the past and the present there is also a spiritual connection to its impressive landforms such as hoodoos and canyons. The inscription comprises the sites of Áísínai'pi, Haffner Coulee and Poverty Rock.
Map of Writing-on-Stone / Áísínai'pi
Load map
Visit September 2014
3.5
A visit to this park fitted in nicely with my Alberta itinerary, between Dinosaur Provincial Park and Head-Smashed-in Buffalo Jump. It is actually a bit of a mix of these two sites too: a stunning badlands landscape combined with Native American history. From the moment I arrived I liked its vibe, somehow just a notch more exciting than the two other Alberta WHS.
First there's the hoodoo extravaganza just below the visitor center. You can walk small trails and climb over the hundreds of hoodoos freely. There a so many of them, it looks somewhat like Cappadocia. Great for taking pictures or just a lazy picknick sitting on a flat stone.
And secondly, I really enjoyed my 'Rock Art' tour into the preserved area. My 2 p.m. tour had only 4 other participants. Our guide Abby, who is from one of the local Blackfoot tribes, lead us along a cliff wall where numerous rock drawings and carvings have been preserved. The oldest are reportedly over 5,000 years old, but most are much more recent. Even going up to 1924, when a returning Blackfoot native carved two T-Model Fords into the rock. Other scenes show battles and hunting. The cliff face also is covered with a lot of 'historical grafitti', going back to the late 19th century.
This area was and still is considered a sacred place where the spirits live. Labelled as a cultural landscape and displaying its peculiar type of rock art, I believe this site is a worthy WHS.
Community Reviews
---
1.5 Italia - Canada - 19-Sep-13 -
This is an easy TL site to reach from Calgary, it is a 4-hours each way driving and it could be managed in a one-day road trip. I don't think there is any public transportation leading to this site, therefore a car rental is the only feasible option. The park is easy to reach even without GPS, there are plenty of road sign, once left the small town of Milk River on the hwy 501 driving east. The park is a "small replica" of the Dinosaur Provincial Park, same badlands aspect; with the landscape made of hoodoos, cliffs and the Milk river flowing in between, it would be a nice site itself, even without the "writing on stone". The visitor center is small but interesting; because of the description of the native people living in the area, it reminded me of the much bigger visitor center in Head-Smashed-In Buffalo Jump (2 hours north of this site). There are two main trails showing the rock carvings; unfortunately one of the two trails (the longest one) is open only every second weekend, and it's possible to visit only with a pre-booked guided tour (because it goes in the restricted area of the park, for archaeological researches). The trail open to the public heads to the Battle Field scene, which is indeed interesting, but since it is dated in the late 1800's, it could not be compared to the marvelous rock carvings of Alta or Valcamonica. The site is also damaged by "contemporary rock carvings" left by people visiting the site; therefore the battle field scene carving is actually protected behind a gate. The site is home to the Praire Rattlesnake, which made me a little bit scared while walking around, especially after I had a close encounter with one of these snakes (it was funny how both of us, me and the snake, run away in opposite directions, scared of each other!!!) The best accommodation option, for who is willing to spend more than just few hours in the park, is the camping on the beach right down the visitor center. A swim in the Milk river and canoeing would be a nice add-on to the road trip.
---
Site Info
Full Name

Writing-on-Stone / Áísínai'pi

Unesco ID

Country

Inscribed

Type

Cultural

Criteria

3

Categories

Link
Site History
2014

Revision

Successor to Áísínai'pi (2004)
Visitors
8 Community Members have visited.