Wooden Hypostyle Mosques of Medieval Anatolia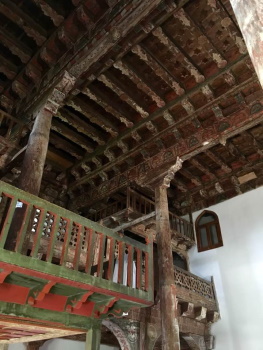 The Wooden Hypostyle Mosques of Medieval Anatolia show the development of a specific type of wooden architecture.
The use of wood in mosques was brought from Central Asia to Anatolia in the 11th century. The interiors of the mosques are characterized by wooden posts, a timber ceiling and wooden carvings. They also have colorful geometrical and floral paintings.
Community Perspective: the site consists of five mosques in different towns, even different provinces. Mahmut Bey Mosque, Eşrefoğlu Mosque, and Sivrihisar Mosque so far have been reviewed and are seen as worthy only of a slight detour.
Map of Wooden Hypostyle Mosques of Medieval Anatolia
Load map
Community Reviews
---
2.50 The Netherlands - 29-Apr-23 -
The Great Mosque of Sivrihisar is both a stand-alone entry on Turkey's Tentative List and one of the locations of the five Wooden columned and wooden roofed mosques in Anatolia. It can be easily visited along the way from Iznik to Gordion, as the road passes the town. The mosque stands proudly at the main square, surrounded by a 14th-century mausoleum, an Ottoman clock tower, and some statues of a turbaned man which I think represent the local folklore character Nasreddin Hodja (who has his own spot at the UNESCO Intangible Heritage List).
The mosque dates back to the 13th century, as attested to by stone inscriptions above the gates. It is still in use as a mosque, so you have to take off your shoes and female travellers should keep their headscarves ready. An explanation in English about its history can be found next to the main gate. Not much natural light enters the building, you can switch on the electric lights yourself after entering to better be able to admire the decoration.
The use of wooden poles as a bearing system for the roof of a mosque was a Seljuk innovation. The number used in Sivrihisar (67) was exceptionally large. Wood is also used in the ceiling and as a dividing mechanism for the women's section. Superficially they just look like bare poles, but some of them are finely decorated with flowers and motifs at the top. A few column heads even have spolia: these stone ornaments are said to have originated from the nearby ancient Hellenistic & Roman city of Pessinus.
The pulpit was made out of walnut wood and also is of the 13th century. It is considered a masterpiece of Seljuk woodworking. However, it did not originally belong to this mosque – it was moved here from a smaller mosque in another town in 1924.
The mosque looked different from what I had seen beforehand in photos and gathered from the Tentative Site description – the colour has gone since the last restoration, maybe some work still needs to be done, or will they keep this more natural look? The outer wall used to be painted green – according to this article from 2016 the 'poor plaster' was a later addition and the mosque is known to originally have had naked walls. The upper parts of the wooden columns used to be painted green, red and black, but I didn't notice any colouring.
Overall a visit to Sivrihisar is a nice break from driving long distances in Anatolia, but expect nothing mindblowing. The only chance for inscription I see is as a part of a serial nomination, and even then only if the selection contains a varied inventory of old wooden mosques.
Read more from Els Slots here.
---
Chinese-Canadian - 07-Feb-22 -
Although the most obvious visit may seem the mosque in Ankara I wanted to do as little as necessary in the capital. While road tripping I visited the Hittite spring nearby Eşrefoğlu Mosque but even with two sites to visit it hardly makes it worth a side trip, especially 2h from Konya and back doesn't seem worth it at all.
The laid-back town has almost no traffic and plenty of parking around the mosque. There is a sign for prayer but it was open and not a soul inside. Like most bigger mosques in Turkey there is a woman's section leading around the back and and up to the balcony, which I'll refer to as the VIP seats to make myself feel better about it.
As there was nobody in the mosque I took some pics from the entrance before ascending. In this case the roof can be seen better from up there anyway.
While I think the craftsmanship is solid and well done, I don't think they quite have the same class of wooden churches in Eastern Europe, and I'm not entirely sure how re-roofed these are now. It's been over 700 years since they were built and I can't see these wooden beams being original.
---
We visited Mahmut Bey mosque on the way from Safranbolu to Kizilirmak delta (a 2019 nomination that was withdrawn by Turkey after negative ICOMOS evaluation). It needed a short detour to the rural area of Kasaba where the mosque is located. It was around 6pm and the mosque was already closed but the guardian spotted us on the way and returned to open it just for us. It was very fortunate as from the outside the mosque is not special. It is its iterior that is particularly beautiful and interesting.
The mosque was built in XIVth century. No cement was used (except for mihrab) and the roof was built without any metal. So the inside is entirely wooden, with beautiful paintings. I am not aware how many original elements survived but overall it looked very old. Turkey has not publicly revealed any plans to inscribe the mosque* but… UNESCO plaque is already there! Not WHS plaque and they admit it is on tentative list only, but still I find it misleading.
*written in 2019. In 2023 the mosque was inscribed as a component of serial nomination 'Wooden Hypostyle Mosques of Medieval Anatolia'.
---
Site Info
Site History
2023

Advisory Body overruled

ICOMOS advised Referral for mgt issues
2023

Name change

Upon inscription, at the suggestion of ICOMOS: from "Medieval Mosques of Anatolia with Wooden Posts and Upper Structure" to "Wooden Hypostyle Mosques of Medieval Anatolia"
Visitors
31 Community Members have visited.