Tubbataha Reefs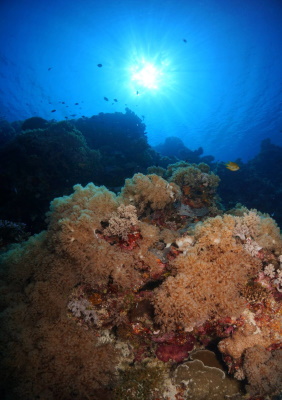 Tubbataha Reefs Natural Park covers a pristine atoll reef ecosystem with a very high diversity of marine life.
The park, comprising the Tubbataha and Jessie Beazley Reefs, lies in the remote and undisturbed Sulu Sea. It protects over 360 species of coral. Animal species that inhabit the reefs include whales, manta rays, lionfish, turtle, clownfish, spotted dolphin and sharks. It also holds important nesting sites for seabirds.
Community Perspective: this is the territory of the liveaboard dive ships; Zoë describes such an experience.
Community Reviews
---
3.50 Chinese-Canadian - 26-Dec-22 -
I had previously (for some reason) rated this as a five star visit but I have no clue idea why. Getting back to this now only because it's been a long time since the last review I corrected it. I didn't take a photo of the ranger station and my friend once sent me a video but it wasn't his either so the "copyright" (=bragrights?) aren't clear and in the end it's no big deal. Random underwater shot from the diving it is.
The only way to see this place is by taking a liveaboard into the reef area. It's going to take a a week to explore it and there isn't really much you can do about it. Even if there would be a shorter trip available then it's not worth it. You will need to soak up the full experience.
So I don't rate this as highly as expected for a natural and dive site. "Tubbataha is life" says their slogan and I got a t-shirt (hardly worn because it's too pretty) with the same, some environmental staff comes on board the first night and give you speech on how important the reefs are but in the end you hardly get to see any of the "special life" status. Yes, reefs are important but should I really feel this site is special because they protect it and the rest of the world is raping the underwater reefs and overfishing? Hmm, debatable. The underwater is thrive and according to the season this could change for other visitors but there were no schools of large fish, mantas were never spotted, and the whaleshark promise of the site has a very low chance. We did see whalesharks 3 times actually, but just like the mantas they would swoop by like a submarine and far enough away that you don't really get to see it. Does that beat going to the Okinawa aquarium to see one? For me, yes, but for someone paying a lot of money to think they will get to see a whaleshark in the wild then don't bother. You get to see a lot of nudibranches, not even good ones at that, and crustaceans, but nothing ever got my heart pumping.
Anyhow, I'm too negative. The diving isn't bad in any way. Each time has something to show and if you are just there to see things whatever comes your way then you'll be happy with the scuba activity. However, even other divers on the boat were disappointed because I believe the site is boosting itself as a marvel of nature. Similar to the underwater cave system were it's presented as an amazing trip but in the end you just sit in a boat and look at rocks for 10 minutes, maybe this is a Filipino exaggeration and disappointment can kick in when you previously saw better sites before, especially sites that don't claim they are "THE spot for whalesharks", "nature as it's best" etc. This place is nothing compared to Palau, PNG, Solomons, Papua, Raja Ampat, even Northern Palawan has better diving and I think Malapascua had better reefs (with dynamite fishing unfortunately).
In the end I suppose I should be happy that there is a large water system on Earth that is protected and conversed, no matter if it's a WH or not. I didn't check but I guess it's mainly inscribed for certain biodiversity ratings and those nerdy stats aren't important to me. I enjoy diving and I enjoy diving at a good spot, but it will never be on the same level as Galapagos, Cocos or Palau.
FYI if you aren't aware of this there is only scuba diving for this site. You can potentially snorkel but everything is so deep that you will not see much - or anything - and the shallower areas around the ranger station are just sand and maybe some turtles but I mean - that's why you came here for, right? :p
Lastly, many people combine Puerto Princesa Subterranean River with this trip because you leave the boat early.
---
Juan Antonio G. Menchaca
We arrived aboard the Liveaboard Diveboat Nautica.Great diversity of marine life. Turtles, we saw Pilot whales,lemon sharks and thresher sharks, Manta rays huge shoals of unicorn surgeon fish. Great quantity of sea birds with blue spotted eggs. There is the remains of a ship that had ran aground. Great sunsets. We stayed for a week. Spectacular diving.
---
Capt. Ingvar T. Swenson
The only experience I have had with Tubbataha Reef is when
I grounded there with a 6000.tons cargo ship in 1973.
The reef was very hard and tore a large hole in my ship.
We had to unload some of the cargo out there and then
proceeded to Iloilo for repairs,
---
Site Info
Full Name

Tubbataha Reefs Natural Park

Unesco ID

Country

Inscribed

Type

Natural

Criteria

7

9

10

Categories

Link
Site History
2009

Extended

To include Jessie Beazley Reef.
2009

Name change

From "Tubbataha Reef Marine Park, Philippines", to "Tubbataha Reefs Natural Park"
Site Links
Unesco Website
Official Website
In the News
Visitors
5 Community Members have visited.