Rohtas Fort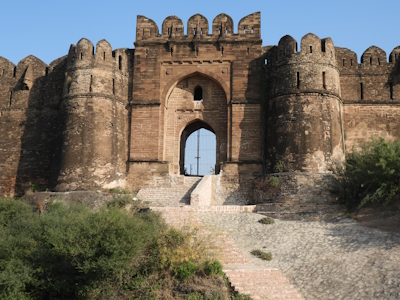 Rohtas Fort is an example of early Muslim military architecture in central and south Asia which influenced later Mughal architecture.
The garrison with massive walls was built in 1541 and blended architectural traditions from Turkey (to withstand gunpowder and cannon) and the Indian sub-continent. It includes walls, bastions, gates, a small mosque and a haveli (private mansion). Some of the buildings are decorated with relief carvings, calligraphic inscriptions and glazed tiles.
Community Perspective: A site much-loved by the locals. Solivagant's visit in 2013 was limited due to security concerns, but based on research he answers the question "How special is it?". Michael was assigned his own security detail in 2017. A.M.K. had a more full on-site experience in 2015: "Impressive. Big. Old. Scary".
Site Info
Site History
1992

Deferred

Await comparative study into Military Architecture of region
1991

Referred

Bureau - pending better protection and comparative examination of properties of this type in the geo-cultural area concerned.
Site Links
Unesco Website
Official Website
Related
In the News
Visitors
28 Community Members have visited.