Pitons of Reunion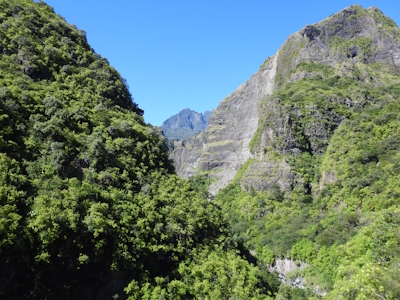 The 'Pitons, cirques and remparts' of Reunion Island are renowned for their visually striking landscape and remaining high numbers of endemic plant species.
The site consists of two adjoining volcanic massifs, with remparts (steep rock walls) and cirques (imposing natural amphitheaters) that evolved due to erosion and volcanism.
The site corresponds with the core zone of La Réunion national park, which protects the middle and upper slopes of the two peaks. The park covers more than 40% of Reunion Island. The vulcanos are the dormant Piton de Neiges (3,071m) and the highly active Piton de la Fournaise (2,632m). Many volcanic features can be found in the area, such as lava flows and basaltic cliffs.
The Pitons are covered with subtropical rainforests and cloud forests. It is a global centre of plant diversity with a high degree of endemism within the Mascarene archipelago, which consists of Madagascar, Mauritius and smaller islands in the Indian Ocean.
Community Reviews
---
Contrary to its neighbour Mauritius, Réunion island does not have a lot of beaches so most people (including ourselves) come for hiking.
Over the course of four days we did four hikes: (i) Trou de Fer, (ii) Col du Taïbit/Marla, (iii) Piton des Neiges, and (iv) Piton de la Fournaise. These and more hikes can be found on the website  https://en.reunion.fr/organize/hiking-trails where also GPX tracks can be downloaded and practical information is provided (where to park, distances, …). However, we didn't need GPX tracks since all hikes are well marked.
Whatever hike you do, it is recommended to do it before noon since later in the day the clouds come in limiting visibility and consequently blocking the nice view you hoped to have after climbing for a couple of hours.
Below some comments per hike we did (end of September):
Trou de Fer: large car park at the Gîte de Bélouve / start of the hike. In principle, this is a easy walk but the day(s) before we arrived it rained and during our walk it started raining again making the trail very very (ankle deep) muddy. We even considered turning back but in the end made it to the viewpoint which was worth the hassle.
Col du Taïbit: only a couple of parking spaces at the start of the route so start early (but alternatively there is a bus stop). The route goes up to the Col du Taïbit and back down to the village of Marla in the cirque (caldera) de Mafate which can only be reached by foot. The hike is classified as hard but we only went up to the Col du Taïbit where you have a nice view over the cirque and Marla.
Piton des Neiges: this hike is also classified as hard and we can confirm that it is! Most people do this walk in two days, spending a night in the Dufour Cave refuge but we decided to do it in one day. This meant starting at 2AM and about 6 hours (and 1.700 meters difference in altitude) later we arrived at the top where you have magnificent views over the cirque de Cilaos. Getting back down took us 5 hours.
It's not a technical climb but hours and hours of large steps, small boulders as from the refuge and sand/gravel/scree at the end. Without question the hardest hike of the four.
Piton de la Fournaise: large car park which is necessary because this is probably the walk that attracts most people. The last couple of kilometers of road to the parking are in bad shape (full of potholes), but nothing a standard car can't handle.
Although this hike is also classified as hard, it's much easier than the Piton des Neiges. There are some steeper sections but it's perfectly doable for a normal physically fit person. The hardest section is actually at the very end when returning to the car park where you have to go up again.
In terms of variety this is probably the nicest walk of the four (lava fields, view of the crater, …).
This selection of hikes and driving around the island gave us a good impression of the 'pitons, cirques and remparts' of Réunion and its beautiful landscape!
---
Non argueably one of world's wonders. Tropical forests, cirques, volcano, steep mountains, canyoons, watarfalls, everything can be found there.
Reunion National Park covers relatively big area almost entire interior (except those around villages), easy accesible by foot (marked trails) or bus. For those with limited time the best starting point to see the cirques is either Cilaos or Salazie (both accessible by bus).
For visiting the volcano (Piton de la Fournaise) it is better to have your own / rent car good road from Bourg-Murat up to Pas de Bellecombe (free parking). Otherwise it is a half day walk up to Gite de volcano. Piton de la Fournaise resembles Teide of Tenerife but at least the crater area is much, much bigger.
---
Site Info
Full Name

Pitons, cirques and remparts of Reunion Island

Unesco ID

Country

Inscribed

Type

Natural

Criteria

7

10

Categories

Link
Site Links
Unesco Website
Official Website
In the News
Visitors
57 Community Members have visited.