Ogasawara Islands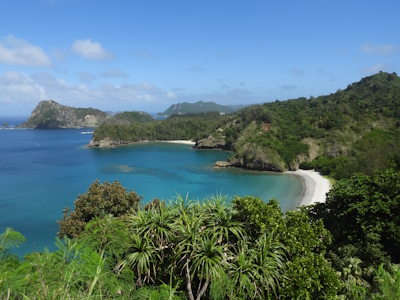 The Ogasawara Islands are a group of oceanic islands that display the evolution process since the birth of the islands.
The forested landscape holds plant species of both Southeast Asian and Northeast Asian origin. It is a habitat for endemic and endangered species, including the Bonin Flying Fox, a critically endangered bat. Also remarkable are its 134 species of land snails and its variety of vascular plants.
Community Perspective: Zoë has been the only reviewer so far, and she reports back on an expensive group of islands with ample opportunities for hiking and sea-based activities such as diving and snorkeling.

Community Reviews
---
4.00 Chinese-Canadian - 06-Jul-23 -
Also called the Bonin Islands but that won't get you far with the locals, has 30 islands but you will only visit two of them tops. You will always arrive at Chichi-jima (Father Island) by ferry and it continues to Haha-jima (Mother Island) before returning the same way. This ferry goes twice a week most of the year and takes 24h from Tokyo. There is no faster way to get here and returning will only be after at least 3 days on the island. You will not want to leave as the islands are lovely but you MAY want to leave because it's quite off the beaten path and expensive too. I've been wanting to do this your EVERY time I had something planned for Japan and buying the ferry tickets is actually really easy, but not so much for hotels!! They are sold out for months ahead especially for the golden weeks (=peak holiday season) and to make things worse you can ONLY book by contacting the hotels/hostels/"guest houses" which don't speak English. So...err.. good luck? Well there is one place on booking.com but it far way from the port area and getting to there and then getting around seemed very annoying. You can rent a scooter or car if you really want but that just seems silly for a place like this. Scooter...maybe. and there is a bus service but it would just be a burden to stay far away and having to come back to port for your boat activities etc. Anyhow, you will need some help to book accommodation.
As for the area there is lots to do. Hiking is the easiest as it doesn't involve any tour organizer, there are many dive and snorkel operators, surfing (all kinds but the waves weren't so great so maybe rather windsurfing if that's your thing) and what else you expect on the islands: kayaking, boating, fishing, etc. You can also enjoy many of the beaches and each one is idyllic, gorgeous and worth your time. So overall the place is a great holiday. I also saw sperm whales for the first time.
As for it's UNESCO status I have to say I can't really chime in on this too much. It mainly consists of endangered species which are on the uninhabited islands, off-limits to tourists or even the locals don't go there knowing it's protected for a reason. The island is sure different being so isolated but it's hard to say how in detail. You will see the palm tree, ferns, it's not so different to what you might expect, and yes you do see many snails all over the place when it gets less dry and hot. Unfortunately no-one can take an explorer tour to find these a la Amazon or other rain forests. It's mainly hiking on the main islands or explore underwater which definitely isn't too different to other parts of the Pacific ocean. I suppose the healthy life both above and below the surface ensure this place will stay a unique site for a long time. Let's keep this place mostly unexplored to protect nature. Please leave the dolphins alone, Japan. [<- required rant ;)]
---
Site Info
Site Links
Unesco Website
Official Website
Related
In the News
Visitors
8 Community Members have visited.