Lake Malawi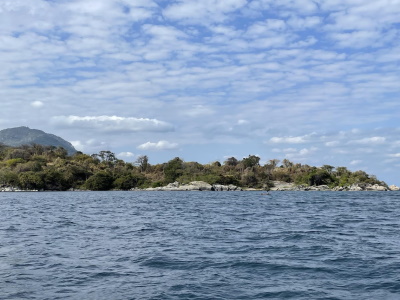 Lake Malawi National Park holds over 500 fish species (over 90% endemic), that make it a key example of specialized evolution.
Its scientific evolution merits are on par with the Galapagos Islands. With its Rift Valley escarpment backdrop this freshwater lake also has exceptional beauty.
This lake is the third largest in Africa and the eighth largest lake in the world. It is also the second deepest lake in Africa.
The designated area covers the southern part of Lake Malawi, including Cape Maclear Peninsula, 3 other mainland areas, 12 islands and about 7 square km of lake waters.
Map of Lake Malawi
Community Reviews
---
Joseph Colletti
Supposedly, one of the first Europeans to see Lake Malawi, a Portuguese trader, said it was more like the sea and you can't argue with him when you view the lake from Cape McClear.
Getting to the UNESCO designated area of the lake is a little inconvenient. The crowded "scheduled" (i.e. when they are much more than full) buses or matolas, from various towns and villages only go to Monkey Bay, which is a spread out, bustling stretch of small wood shacks housing a variety of businesses and brick huts. Like most of Malawi, people are constantly on the move, mostly on foot or on bike. I didn't fine it very inviting.
Then you have to take some other form of transportation (taxi, pick up truck, motorbike taxi)for the additional 18 km to the Cape along a partially paved, mostly bumpy, dusty, dirt road that passes through some stunning African hillsides before you catch a glimpse of the lake. That takes about 45 minutes. Or, if time and comfort are important, (not knocking them) you can hire a car and driver from your jumping off place and cut down the travel time by more than half in some cases. (Four hours from Blantyre vs. ten or so by the matolas.)
There are several lodges at various prices at the Cape and they work together in a sort of cooperative so all the local merchants share the wealth. A person can actually sit on the lake shore and not be endlessly approached by "beach boys" offering to sell beads, rope necklaces and bracelets, wood carvings and similar items. However, the lodges are in the middle of a village, many of whose inhabitants are fishermen, so those who disdain sterile resorts, cut off from the real world of Africa, need not worry. It was a pleasure to hear groups of children laughing and singing throughout the day.(Schools were closed for vacation.)
The waters of the lake itself are crystal clear and I was told much work has gone into keeping it that way, though I only saw children from the village swimming off the beach. A staff member at the lodge assured me, however, it was safe to do so and the parasites are no longer a problem.
It is quite easy to arrange snorkeling trips out on the lake (with a minimum of hard sell tactics) for $40 dollars and upwards depending on where you want to go. A boat will take you out to see the beautiful variety of fish that gather in the rocks just off the nearby islands as well as Otter Point at the far end of the park. (That was my favorite spot.) Most of the trips include a lunch prepared by the boatmen, featuring fresh lake fish and local vegetables. It's a great way to spend a couple of hours. Or you can rest in the shade with a beer.
I'm not a biologist so I will have to take it on faith that the biological richness of the lake, and the unique nature of the species than inhabit it, merit world heritage designation.
Other than that, how much time you want to spend at the lake depends on your tolerance for laid back inactivity vs. nothing to do. I spend two days at the lake and that was enough for me; others may want to hang out longer as the sunsets and starry nights are quite lovely.
There is some talk that the government wants to allow developers to build a five star luxury resort just outside the national park boundary and the villagers are afraid they will be displaced and the still mostly unspoiled balance between village and tourist lodges destroyed.
There are several other points on the lake (it takes up most of Malawi) outside the UNESCO designated area that are easier to get to from the capital Lilongwe and other nearby towns. These may be more "exciting" to some, with more in the way of entertainment, as the "in spots" along the huge lake tend to change every couple of years (most of the lodge staff agreed that Senga Bay is currently the destination spot on the lake, but I only had time to visit Cape McClear.
---
Deborah
Beautiful. Definitely recommend going with some guidance from a local. Have to be careful where you swim due to parasites. Went out in a boat to an island where we could see lots of small colourful fish and jump off a rock into the lake. An amazing day!
---
Site Info
Full Name

Lake Malawi National Park

Unesco ID

Country

Inscribed

Type

Natural

Criteria

7

9

10

Categories

Link
Site Links
Unesco Website
Official Website
Related
In the News
Visitors
41 Community Members have visited.