Khajuraho Group of Monuments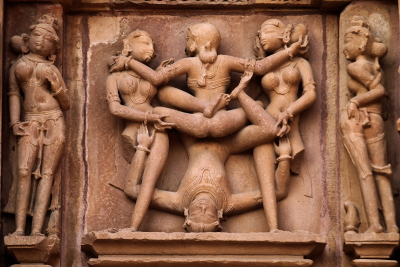 The Khajuraho Group of Monuments comprises Brahman and Jain temples with highly original architecture and decoration.
They date from around 1000 A.D. when the Chandella Dynasty ruled this area. Originally there were 85 temples, of which only 22 still exist. The surfaces of these sandstone temples are beautifully decorated with motifs and sculptures. These depict religious and social life in the time of the Chandellas. Some of the sculptures are remarkable because of their erotic displays.
Community Perspective: The temples are exquisite and very well-kept.
Map of Khajuraho Group of Monuments
Load map
Community Reviews
---
I visited this WHS in January 2012. The Western Group of Temples includes several temples with erotic carvings but also carvings depicting hunting, battles, warriors, gods, etc. They are very well kept although some of the restoration works were quite dubious and not totally loyal to the original. The Eastern Group of Temples is less visited by tourists and there are more locals worshipping the gods there since there is no entrance fee. I was surprised that these temples were still being used as a place of worship till nowadays. This WHS really deserves to be inscribed in the list and shouldn't be merely described as a group of erotic temples because it is much more than that.
---
I have to admit that this is one site I have wanted to visit since first reading about it in a copy of Punch that I found on a train! - And it did not disapoint. The temples themselves are exquisite, this would be enough in itself to justify their inclusuion. But they are set in what can only be described as heavenly gardens.
Sitting there in the late afternoon sun was a sublime experience, which I would recomend to anyone and everyone.
---
4.00 The Netherlands - 12-Jul-93 -
Khajuraho is a little town somewhere in Northern India. The little town aspect has stuck in my memory more than the monuments. It is an ideal getaway from overcrowded Indian cities. Rent a bike, visit the surrounding countryside, relax ...
---
It is useful to know that the small Indian country side village of Khajuraho actually is - believe it or not - equipped with a full fledged international airport and plenty of good hotels. Flying here from either Delhi or Varanasi is only a short 1-hour city hop and well worth getting out of the bustling cities and find yourself in a far more relaxed part of India. And with the proximity to Panna National Park (tiger reserve) and Raneh Falls I can recommend you to schedule even a few days in Khajuraho, a true favorite place on my Indian travel.
The Khajuraho temples were re-discovered in 1838 by British officer T.S Burt. He must have been quite surprised when he was faced with all these brilliant graphic, erotic and sensuous sculptures covering the interior and exterior walls of the temples. Built by the Chandela dynasty from 950 AD through to 1050 AD there are literally hundreds of exquisite images on the temples making them one of India's major historic tourist attractions.
But why all the sex? Scholars are uncertain but one theory says that it was a kind of Kama Sutra in stone, a manual for young Brahmin boys growing up in all-male temple schools.
Another theory says that the Khajuraho sculptures only represent life as it was in the Chandela society with unhampered sexual expression alongside many other day-to-day scenes. But whatever is the truth, these works of architectural and sculptural genius have a poetic resonance that immediately captures your imagination. Khajuraho is an absolute must on any Indian traveler's itinerary.
---
Site Info
Site History
1984

Deferred

Bigger area
1983

Deferred

Deferred as conditions under which recommendation made not yet fulfilled
Site Links
Unesco Website
Official Website
Related
In the News
Visitors
118 Community Members have visited.