Goias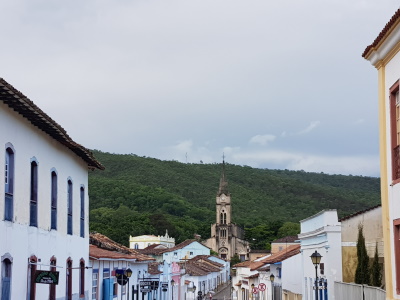 The Historic Centre of the Town of Goías covers an isolated town that has preserved much of its colonial heritage.
The settlement of Goías is closely linked to the discovery of gold. The modest houses, chapels and churches of this mining town are testimony to the height of the gold rush era. Goías was founded in the 18th century when the so-called Bandeirantes started exploring the interior of Brazil from Sao Paulo.
Community Perspective: Not comparable to the superb colonial cities in Brazil like Ouro Preto or Olinda, but the well-preserved town centre with its cobblestone streets provides an enjoyable couple of hours.
Community Reviews
---
For those traveling in Brazil by car, Goias is very remote, even more so than Diamantina. Having started our trip in Rio, it was here that we got to know the real enormity of the country - we drove from Diamantina over 12 hours and 1000 kilometers, with an overnight stop on the way. Long road, bad weather (the last three hours we were driving in heavy rain that did not let go during the first hour of our stay in Goias) and the accumulation of colonial towns in the previous days probably caused our fatigue - Goias Velho did not appeal to us very much. This does not mean, of course, that Goias stands out negatively among the old colonial towns - nothing like that, it is quite nice, picturesquely situated and beautifully renovated. But it did not delight us and did not capture anything special that would justify such a long journey. During our visit (November 2020) it was also completely free of tourists. It gained a bit in our eyes in the evening when it stopped raining and we could enjoy the sunset over the river flowing through the historic center.
We traveled to Goias through Anapolis, but on my way back to Brasilia, I chose a different route, leading through another colonial gem - Pirenopolis. It was a bull's eye, I give you my word that Pirenopolis is probably the most beautiful colonial town in Brazil we have seen and we were a bit sweetened by a slight disappointment after Goias itself. The road through Pirenopolis (unfortunately, the dirt road on the Itaberai - Jaragua section) is also worth recommending because of its natural values ​​- you drive, among others, right next to the magnificent Salto de Corumba waterfall.
---
Cidade de Goias is a tiny mining town and the former capital of the state of Goias. The town really doesn't warrant more than a one day visit. You can do a nice walk through the old colonial part of town walking up cobblestone streets to the Governor's palace (Palacio Conde dos Arcos). And if you like sweets - this town in your happy place!
I visited from the nearby town Goiania which is a quick 30 minute flight from Brasilia. I rented a car for the easy 2 hour drive to Goias then retraced my steps to Brasilia that night. It is nice to have a car because the surrounding area is very scenic, especially along the Rio Vermelho. There is no obvious remaining evidence of the gold mining for which the town was founded in the early 18th century.
The only reason that I can think that Goias was graced with the World Heritage designation over some others is that the colonial area remains in good shape - primarily because the town has really been left behind by Goiania.
---
We stopped for a day and 2 nights on our way between the Pantanal and Brasilia. It is a pretty and well preserved former state capital on a very modest scale but on the day we visited the town felt deserted. We couldn't enter the churches or museums and had to content ourselves with a quick wander up and down the historic core (~1-2 hrs max) before settling down in the little plaza to eat ice cream and watch a few families play. An enjoyable enough day but a site only recommended for those with a lot of time to use going out of their way to get there or for the very serious WHS enthusiast.
---
4.00 Switzerland - 25-Feb-15 -
Cidade de Goias is yet another world heritage town in Brazil that became rich with gold. Up to the middle of the 20th century it was the capital city of Goias which was at that time the second biggest Brazilian state (after Amazonas), that was of course before Tocantins and Brasilia split away. It's also known as Goias Velho, and lies magically in the Serra Dourrado hills. We chose to spend the night close to the river and the historical bridge, and were not dissappointed with the view from the balcony to the old city. The best thing to do is a stroll on these cobbled streets lined with beautiful townhouses, maybe in direction to the Museu das Bandeiras where a local guide will explain you the rich history of this building.
---
Goiás (formerly called Goiás Velho or Old Goiás) was founded during the Gold Rush that took place in 18th century in Brazil. Goiás thrived as long as the gold mines were active, but stagnated afterwads, which helped to preserve almost intact its historical centre. It cannot be compared with other superb colonial cities in Brazil like Ouro Preto or Olinda, but still, it is a nice place to be for a day or two, visiting its museums (the religious museum is particularly interesting) and enjoying its peaceful atmosphere. Goiás is about 200 km from Brasília (another WHS).
---
Site Info
Site Links
Unesco Website
Official Website
Visitors
40 Community Members have visited.