Getbol, Korean Tidal Flat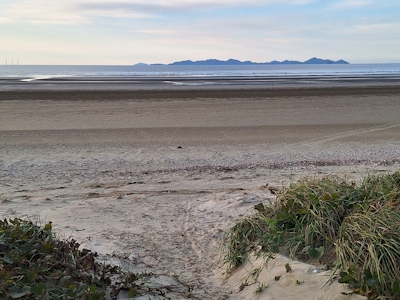 The Tidal Flats (Getbol) on the southwest coast of Korea, distributed in Gomso Bay, Yeoja Bay, and Hamhae Bay (seashores) and the Sinan archipelagos, are unique macrotidal flats where typical embayed tidal flats turn into open-coast tidal flats during the monsoons.
The tidal flats also serve as a stopover for migratory birds flying to Siberia on the East Asia Flyway. In addition, a variety of life forms are found in the southwest tidal flats; it is home to some 150 species of macrobenthos, and the once damaged colonies of halophytes are thriving on the land today.
Map of Getbol, Korean Tidal Flat
Load map
Community Reviews
---
3.50 Switzerland - 05-May-20 -
I visited two locations of the Tidal Flats, up for inscription in 2020 (or maybe 2021, due to coronavirus): Suncheon Bay and the Gochang Tidal Flats.
Suncheon Bay
This location is ideal and probably the best choice, when the tidal flats become a WHS. Suncheon Bay is close to Naganeupseong TWHS (worth a visit) and Seonamsa monastery WHS.
You need to visit the Suncheon Bay Ecological Park to be able to see the iconic view shown in Clyde's and Kyle's pictures. The ticket fee is high and you even pay for parking (very rare in Korea). The park itself is like an Ecological Disneyland. You walk on well-maintained wooden paths, there are restaurants, boat tours and a big museum. Walk to the observatory for the tidal flats where you can admire them from three different levels.

Gochang Tidal Flats
The tidal flats are rather a very long beach with remarkable high and low tide. I visited in February, but it was clear that this is where the Koreans hit the beach in summer. I started at Dongho Beach and drove down the coast along a small road. The closest WHS is Gochang Dolmen Site. Other than that it's off the route. I specifically chose to visit this component, because I wanted to see more of this nomination than just the obligatory Suncheon Bay.
There are some restaurants, but it's nowhere near how we exploit beaches in Europe. As it was high tide, the beach was normal sized. I saw some football goals and volleyball nets partially under water. An info sign might have explained the tidal flats, but I don't speak Korean.

When visiting Suncheon Bay I was convinced that this deserves to be a WHS, but having in mind that the locations also include rather ordinary beaches like Gochang, I take the whole nomination with a grain of salt. My impression however might have been different, had I seen the tidal flights on low tide.
---
I visited this tentative WHS in April 2017 after a 2.5hr drive from Busan. I visited the Suncheon Bay Wetland Reserve which is also recognised as a Ramsar Wetland of International Importance.
The elevated wooden walkways without railings over the muddy tidal flats reminded me of Plitvice in Croatia. The sheer amount and variety of different species of crabs was impressive since their food supply is abundant. I also managed to spot a number of waders (also a pair of Spoon-billed Sandpipers) and warblers. The highlight species though were the mudskippers, amphibuous fish with limbs!
The reed walks and hides are pleasant but good digiscopes, binoculars and patience are required to be able to get a glimpse of the more interesting birdlife. The famous viewpoint at sunset from the Mt Yongsan Observation Platform is well worth the 1.3km uphill hike.
The mudflat area of Korea's western coast is one of the world's top five mudflats, ranked alongside the eastern coast of Canada, the eastern coast of the United States, Germany's North Sea coast, and the mudflats of the Amazon River basin. The mudflat results from the prolonged accumulation of sand or clay carried by tidal currents from the ocean seabed. It is hidden underwater during high tides and revealed during low tides.
An interesting feature of these mudflats is the purification of contaminants that flow into the ocean. After contaminants produced by factories and homes seep into the ocean, the mudflat's sedimentary layer filters them out like filter paper. The filtered substances are then broken down and cleaned by the plant and animal life of the mudflat. It is said that the purification ability of Korean mudflats is 1.5 times stronger than that of all sewage treatment plants in the country combined.
Over 70% of the oxygen on Earth is produced not by forests but in the ocean by phytoplankton through photosynthesis. Because each gram of mudflat mud contains hundreds of thousands of phytoplankton, the mudflat is able to produce more oxygen than a forest of the same area. For this reason, Korea regards these mudflats as a true natural wonder.
---
3.50 California - United States of America - 11-Jun-11 -
Upon visiting Suncheon Bay in 2011, I quickly came to the conclusion that these highly diverse tidal flats have potential for world heritage status. As one of the most beautiful natural places in Korea (in my opinion), I am now interested in visiting more "Getbol" in Korea. Besides Suncheon, there are 5-6 other major tidal flat locations in southwestern Korea (even more have been protected recently leaving potential for a future expansion). Suncheon Bay is pristine, picturesque and the most well-known. Inevitably, this results in higher developments in tourism infrastructure to manage larger numbers of visitors. The tidal flats are home to a diverse range of species, from various types of crabs, mudskippers, to a multitude of common and rare birds. Suncheon Bay was registered on the Ramsar wetland list in 2006, Muan Getbol in 2008, Seochon Getbol in 2010, Gochang - Buan were registered jointly in 2010, and lastly Jeongdo (Sinan) Getbol in 2011. Species like the Spoon-billed Sandpiper and Oriental stork are amongst the numerous endangered waterbirds that inhabit this ecosystem. The Seochon Tidal Flats do not seem original to the identified components in the 2010 TWHS, but does seem to be included now. I visited this tidal flat region on a trip to Gunsan, but was largely unaware of its importance in comparison to sites like Suncheon Bay.
In 2019 the Migratory Bird Sanctuaries Along the Coast of the Yellow Sea was inscribed (though the recommendation by IUCN was Deferral). Yancheng is located about 520 kilometers from the Sinan Tidal Flat in Jeollanam-do, Korea. According to the respective nomination documentation and Korean Getbol description there are multiple significant differences in the adjacent ecosystems. One being, "Although broad intertidal flat zones are distributed on both shores of the Yellow Sea, the tidal range is different between the two coasts." Based on our community score for China's "Migratory Bird Sanctuaries" WHS and the IUCN evaluation, inscription may have been premature, but the overall project (phase I and phase II) are ambitious and admirable if the end result is permanent protection for these important natural ecosystems. I for one will be pleased to see more of this region registered and protected, specifically from further land reclamation, but also appreciated for its natural beauty and ecological importance.
There have been several improvements over the last decade or so specifically in visitor accommodations/experiences and access. For example the Muan Ecological Tidal Flat Center opened in 2011. The Sinan Tidal Flat & Cittaslow Center which has evolved over the years, will likely be an ideal place to visit to check off both the Jeungdo Tidal Flat (Sinan component) and the Taepyeong Saltern. Keep in mind, many of these local museums are geared toward children and the elementary age education field trips that are so frequent in Korea.
Read more from Kyle Magnuson here.
---
Site Info
Full Name

Getbol, Korean Tidal Flat

Unesco ID

Country

Inscribed

Type

Natural

Criteria

10

Categories

Link
Site History
2021

Advisory Body overruled

IUCN advised Deferral
2019

Incomplete - not examined

As Getbol, Korean Tidal Flat
Visitors
19 Community Members have visited.