First Coffee Plantations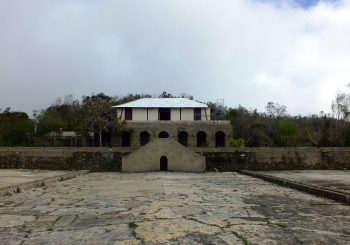 The Archaeological Landscape of the First Coffee Plantations in the Southeast of Cuba forms a unique testimony of agricultural exploitation for coffee production.
The plantations are located in the mountain valleys of the Sierra Maestra.
The designated zone contains the remains of 171 historic coffee plantations. They were established in the 19th and early 20th century, by French colonial plantation owners who had fled Haiti after independence.
Map of First Coffee Plantations
Legend
Community Reviews
---
This site lies within a taxi ride of Santiago, Cuba's second city. When I visited, on a pleasant, sunny day in February 2001, the site had only been inscribed for a few months, and perhaps that was the reason I found it almost impossible to get information about it.
UNESCO tells us that the site is in 7 parts. I don't know if any (or all) are contiguous nor how many of these parts I have actually set foot in.
On my visit, because of the condition of the road the taxi driver would go no further than La Gran Piedra, a huge perched rock at an altitude of about 1200m. After that I continued walking uphill for maybe 3kms until I came to La Isabelica. Here the house and plantation of a former coffee grower have been turned into a museum.
The house, once owned by a French planter who, along with a number of his compatriots, moved to Cuba when life in Haiti became difficult, is not lavish but is attractive and has been well restored and furnished. Access to the first floor living areas is only by way of a narrow bridge over the deep trench dug to surround the house.
It was not clear to me where the plantation labourers (were they still slaves at that time?) lived. Perhaps their (presumably less substantial) dwellings have since been reclaimed by the forest.
The ground floor of the building seemed to be occupied solely by utility rooms and a lot of tool storage space. Adjoining the house was the secadero, the large hard- surfaced flat area on which the beans were laid out to dry.
I understand that, to provide shade, the coffee was inter-planted, often with citrus and other fruit trees and although the steep hill slopes down from the house have been largely reclaimed by the forests it is still possible to see remains of this practice.Is this the Cultural Landscape to which UNESCO refers?
I would like to have learned more of this aspect of Cuba's history (perhaps, in the last few years better, fuller site interpretation has been provided) but at least I left with a souvenir,which I still have, a now dried out twig from a coffee bush complete with beans and leaves.
---
Community Rating
Community Rating 2.50. Based on 5 votes.
Your Rating
Site Info
Full name: Archaeological Landscape of the First Coffee Plantations in the Southeast of Cuba
Unesco ID: 1008
Inscribed: 2000
Type: Cultural
Criteria: 3 4
Site Links
Unesco Website
Official Website
Locations
The site has 7 locations.
Connections
The site has 10 connections.
Visitors
32 community members have visited First Coffee Plantations. Show all