Dazu Rock Carvings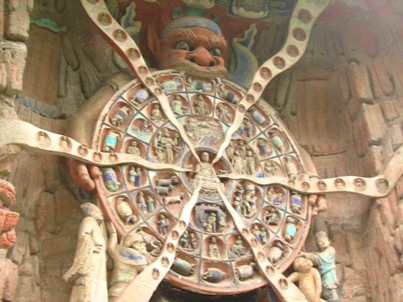 The Rock Carvings in Dazu are highly authentic, have high aesthetic qualities and show the coming together of Buddhism, Taoism, and Confucianism.
They date from the 9th to 13th centuries, and are considered to be the best representatives of the latest phase of rock art in China. They clearly demonstrate the ingenuity and craftsmanship of their artists with respect to carving techniques and subject matter. In that way, they differ from the other, earlier, Chinese rock art world heritage sites Yungang, Longmen and Mogao.
The designated area consists of five separate sites of cliffside carvings: Beishan, Baodingshan, Nanshan, Shizhuanshan and Shimenshan. Baodingshan is the most prominent site of these.
Map of Dazu Rock Carvings
Legend
Visit September 2007
This is one of those sites that fully deserve their World Heritage status. And it all starts out so inconspicuously: the main site (Baoding) is located 12 km outside of Dazu town. A local bus gets you there for 3 Yuan. It really is a trip into the heart of the Chinese countryside: grandparents showing of their grandchildren, people walking by with huge loads of agricultural produce on their backs and a pleasant green hilly landscape.
The abundance of souvenir stalls near the entrance shows that the site itself sees a fair number of visitors in the high season. During my visit on a Thursday in September it was relatively quiet though. The Baoding grotto is made up of 13 groups of stone carving figures, totaling nearly 10,000 cliffside figures. That really is a lot. You don't know where to look first, it felt like one big chocolate cake. Most of the figures are painted brightly. The sculptures are protected from the elements by protruding rock. Fortunately they have made benches in front of the carvings so you can just sit and gaze.
The sculptures did remind me a lot of European medieval paintings or tapestries. It's really a different side of Buddhism than that I've seen before. Many of the carvings depict scenes of daily life and show religious rules for behavior. They feature religious figures but also include monarchs, officials and ordinary people. Hell is represented rather harshly, showing numbers of ways of torture in detail.
Community Reviews
---
---
---
---
---
---
---
---
---
Site Info
Full name: Dazu Rock Carvings
Unesco ID: 912
Inscribed: 1999
Type: Cultural
Criteria: 1 2 3
Site Links
Unesco Website
Official Website
Related
In the News
Locations
The site has 5 locations.
Connections
The site has 9 connections.
Visitors
69 community members have visited Dazu Rock Carvings. Show all