Cathédrale de Saint-Denis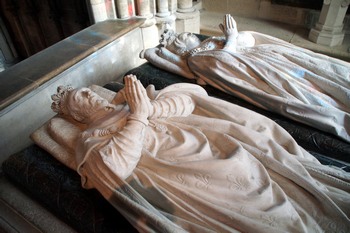 Cathédrale de Saint-Denis is part of the Tentative list of France in order to qualify for inclusion in the World Heritage List.
Saint-Denis Cathedral is considered a major work in the development of Gothic style. In the choir of Saint-Denis, the typical elements - ribbed vaults, pointed arches and high pillars - were combined for the first time. The cathedral was also the burial place of almost all French kings and queens from the 10th century until the French Revolution. Saint-Denis is one of the largest collections of funerary sculpture in the world.
Map of Cathédrale de Saint-Denis
Load map
The coordinates shown for all tentative sites were produced as a community effort. They are not official and may change on inscription.
Community Reviews
---
I lived around 8 years in St Denis and I can say a lot of things about it.
I think this site is very important and should be inscribed to the list. I know people are tight with this idea, because of too many christian sites already inscribed or whatever. But in fact this cathedral is largely more important than all the gothic cathedrals. I would be agree deleting Amiens, Bourges or Speir cathedrals to let the place to this cathedral.
I'm French and I know well our History and the standing of this place.
St Denis is not the most impressive cathedral in France, but it is the origin of the gothic architecture as you can read it for example in the "Pillars of the Earth" of Ken Follett. It's a really good novel to understand the importance of St Denis for France and UK in particular.
The royal city was a very rich place during the Middle Age. Now, it's the most important necropolis in Europe, nothing less.
The Saint who gave his name to the cathedral is one of the most famous Saint in our western culture, due to his particular biography. Decapitated, he took his head in his hands and walked several kilometers before finally falling at the current location of the cathedral. That's how his statue is very recognizable in the catholic churches: a man carrying his head in his hands.
Culturally, St Denis stayed also in the french popular memories. A popular song named "Auprès de ma blonde" places St Denis with other rich and important places you know well : Notre Dame and Versailles. Chorus: "Je donnerais Versailles Paris et Saint-Denis Les tours de Notre Dame...".
In any case, if you are not conviced, be reassured, the inscription is not for tomorrow. There are politic points today not compatible with a such registration. The municipality is communist and doesn't pay attention to the Heritage. They prefer creation of social housings, already too numerous in the city, rather than supporting an application to the Unesco list. It could give attractiveness to st denis and it's not an option for the municipality, due to electoral reasons. Social mix is missing.
I conctacted the Municipality, and I can ensure you that today the project is totally abandoned.
---
The basilica of Saint Denis, in the immediate suburbs of Paris, is a masterpiece of religious architecture and has been an artistic achievement and model throughout the centuries. The place has been the resting place of numerous French monarchs, as exemplified by its numerous sculpted tombs.
---
Larry Perkins
I agree with the other reviewer. St Denis should be given world heritage status because of its influence on the architecture of western Europe. While not as imposing as Chartres or Notre Dame de Paris, it is elegant and well worth the effort to get there.
---
Kevin Verboven
what can I say about this site? Well to start that in my eyes it totally deserves world heritage status. It is another cathedral but a very beautifull one. It's also one of the earliest (perhaps the first?) gothic church in the world. I walked in on a very sunny day and the stained windows light up beautifully.
What makes this cathedral truelly special however are the funerary monuments of the french kings. I've never seen such a big collection of royal funerary monuments put together. What I understand from Saint Denis history is that all the french kings from the 6th century were buried here (also Jeanne D'arc achieved sainthood here). During the revolution the graves got destroyed (except some saved for la gloire de la france) and all the royal skeletons were thrown in one big pit. They never managed to sort them out so all the bones remain as a mish mash in the pit. Which is supposed to be highlighted by name plates. I think I saw these plates in the crypt but I'm not certain.
Amongst the funerary monuments are those from Marie-Antoinette and Clovis I (king of the franks). Also an interesting sight is the preserved heart of the boy who would have become King Louis XVII if it weren't for the revolution. Apparently they wanted to throw his body in a mass grave, but a doctor cut out his heart and preserved it, it was found in 1978 and positively identified with DNA and placed in saint denis in 2004.
All in all I can highly recommend a visit to this place. It's quite easily to reach from Paris with the metro (you need to have a 3-zones card). Though it does take about a half hour cause the cathedral is a bit out of the city center.
---
Site Info
Full Name

Cathédrale de Saint-Denis

Country

Added

1996

Type

Cultural

Categories

Link
Site History
1996

Added to Tentative List
Visitors
75 Community Members have visited.