Centre ancien de Sarlat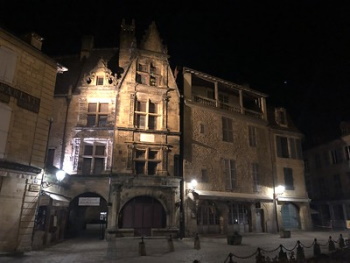 Centre ancien de Sarlat is part of the Tentative list of France in order to qualify for inclusion in the World Heritage List.
Sarlat is a small town in the Dordogne department whose well-preserved medieval townscape dates back to the 13th to 16th centuries. The historic old town, built around the Cathedral Saint-Sacerdos, includes buildings from the Middle Ages, the Renaissance and the Baroque. The old town of Sarlat was extensively restored in the 1960s and is considered a prime example of the 'resurrection' of a historic town centre and its transformation into a tourist hotspot.
Map of Centre ancien de Sarlat
Load map
The coordinates shown for all tentative sites were produced as a community effort. They are not official and may change on inscription.
Community Reviews
---
I visited this tentative WHS in July 2020. Actually, most probably I had already visited Sarlat-la-Canéda in March 2014 when I visited the Vezere Valley but I didn't know it was a tentative WHS back then so I had no recollection or any photos.
Sarlat is a VERY popular tourist spot in Summer - French and international tourists flock here non-stop, even during the COVID-19 pandemic! There are several free parking lots but if you want to avoid waiting for your turn and don't mind paying a few euros, you're likely to find a shaded parking space just in the middle of town at the outdoor Parking Rigaudie. As an aside, in response to Els' review, we witnessed first-hand quite a lot of "civil disobedience and nonviolent resistance" probably originating from La Boétie's "ideals" - almost nobody respected and COVID-19 restrictions here: no social distancing, no face masks or visors, not even sanitising gel in some of the open shops, restaurants and churches.
The Lantern of the Dead (photo) is an odd stone tower to look out for but it isn't unique not even in France. A light was exhibited at night at such stone towers pierced with small openings at the top to indicate the position of a cemetery. Other apparently better examples in France can be seen at Cellefrouin (Charente), Ciron (Indre) and Antigny (Vienne), while in England, in a churchyard at Bisley, Gloucestershire, there's another one referred to as the Poor Souls' Light. The controversy about this stone lantern being a Lantern of the Moors, at least in the case of Sarlat, is more likely to be due to the near-homophones in French: les Maures (the Moors) and les morts (the dead)!
The medieval historic centre is remarkably intact with interesting town houses, facades, churches, monuments, fountains, etc. to explore in every other alley or street. Sarlat is also a very important gastronomic trove for gourmet food, not only for Foie Gras, but also for artisanal liquers, black Perigord truffles and walnut delicacies. If truth be told, the medieval historic centre of Sarlat is much more intact than the inscribed Provins but it lacks the iconic Cesar Tower and does not add anything to the WH list which isn't already covered by already inscribed WHS (plus it really doesn't need any more tourists and publicity!).
---
The Historic Center of Sarlat has been on France's Tentative List since 2002. It lies in the Dordogne, in the same general area as the already inscribed Vézère Valley. Sarlat is considered to be one of the towns most representative of 14th century France, as modern times largely have passed it by and its historic district was 'saved' from destruction in the 1960's by then French Minister of Culture André Malraux.
My visit was a very short one: I stayed there overnight during my visit to the Vézère Valley, but had little time to explore Sarlat itself. I did a quick dash into the city center on Saturday evening, just to get a feel for it and search for a restaurant. I wasn't succesful with the latter: about half of the restaurants were closed for winter season and the other half were fully booked. The regional specialities here are duck breast and foie gras (the town even boasts a statue of 3 geese), so I can't say this was really a disappointment as both food options do not appeal to me much.
What stood out was how dark the historic centre was. Except for the main shopping street, the other streets in town are barely lighted (they use fake / vintage gas lamps for this). The medieval stone town houses are mostly high and narrow, adding to the somewhat spooky atmosphere. One can surely film a medieval costume drama here, or a historic detective series.
Sarlat's notable sights include the Cathedral, several Maisons (town houses) and a so-called 'Lantern of the Dead' (dating from the 12th century) – a "small stone tower pierced with small openings at the top, where a light was exhibited at night to indicate the position of a cemetery". Unfortunately I missed out on that one while I wandered around in the dark! It may have been a "lantern of the Moors" instead of "lantern of the Dead" anyway.
The TWHS has a very short description on the UNESCO website, as if it would be clear enough why Sarlat should become a WHS. But it's not the "cute small town with medieval roots" where the focus lies. Criterion vi (the link with events and living traditions) features prominently here; for its theatre festival and even being a "laboratory of democracy in our country" thanks to the French humanist La Boétie. I had never heard of the guy, but apparently we should remember him as "one of the earliest advocates of civil disobedience and nonviolent resistance" (wiki).
As a conclusion I give it a 'Thumbs down' – it is pretty but what does it add to what's already on the List? Some of us have already expressed our doubts about Provins and this feel similar in value. Sarlat also already draws huge numbers of tourists in summer, so it's not that it needs the extra attention. To my knowledge France never has seriously considered bringing it forward - in the long run I see this being dropped from a cleaned up Tentative List.
Read more from Els Slots here.
---
I spent time in Sarlat-la-Canéda, frequently called simply Sarlat, in the late spring of 2018 as part of a week-long stay in Périgord. Its charming medieval core is a maze of honey-colored buildings, narrow streets and passages, and hidden squares. Many of the major points of interest are clustered around wider spaces, such as Place de la Liberté or Place du Peyrou, but some are tucked away from the bustling central area.
The yellow Sarlat stone that is used in medieval buildings all over the department of Dordogne is the main architectural feature of the town, but there are also Renaissance stunners around, such as one of the visual symbols of Sarlat, Maison de la Boétie. They coexist with half-timbered belles, the legacy of Norman invasions of the 14th century. This mix of styles from different epochs makes Sarlat visually irresistible. Practically every building of note in the town center has a plaque or a stand in front of it with brief description of its history. You can give yourself a veritable guided tour of the town by focusing on those descriptions as you walk around.
Cathedral Saint-Sacerdos is relatively spartan in appearance, but not without a couple of standout features. The old church of Ste-Marie houses a small but delightful market. Manoir de Gisson offers a look into the living of local nobility.
I have certainly seen less atmospheric towns already bestowed with a WH designation. Sarlat is worthy of the inscription, whenever it may come, and would get solid 4 stars from me.
Read more from Ilya Burlak here.
---
I visited Sarlat in summer 2013, as part of my trip on the way to Santiago in France. The city is closed to Perigueux and not far from the Vezere valley.
Sarlat is recognised as one of the best examples of a medieval town in Europe. It retains a lot of monuments from the Middle Age and Renaissance periods. The city is a regional and national hub for cultural tourism. It is also a capital city for gastronomy.
---
Site Info
Full Name

Centre ancien de Sarlat

Country

Added

2002

Type

Cultural

Categories

Link
Site History
2002

Added to Tentative List
Visitors
68 Community Members have visited.